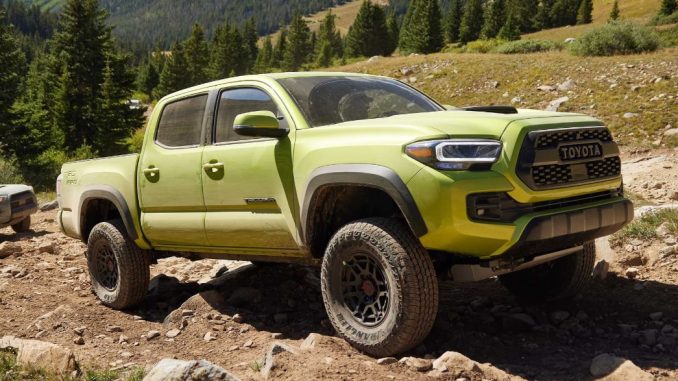 2022 Toyota Tacoma Off-Road – A Closer Look
If you're an off-road enthusiast, the 2022 Tacoma TRD model comes fully equipped for outdoor adventures. This mid-sized pickup truck is a competitive alternative to the Jeep Gladiator, Ford Ranger, or the Nissan Frontier.
The Tacoma TRD Off-Road comes with high performance shocks, manual gearbox, and plenty of off-road accessories. It's rugged, capable, and loaded down with tech amenities. Here's everything you need to know about Toyota's latest off-road pickup.
New Style of the 2022 Toyota Tacoma TRD Off-Road
The 2022 Tacoma TRD Off-Road rides high on a suspension lift kit. It has attractive styling for consumers who appreciate the rugged aesthetic of an old-school all-arounder. The 2022 Toyota Tacoma TRD Off-Road isn't a flashy pickup though. It comes with 16-inch wheels, black over fenders and a matching black lip in the front. For a bit of shine, the rear of the Tacoma has a chrome bumper.
The 2022 Tacoma TRD Off-Road can be configured with a 5 foot or 6 foot bed. The former is 60.5 inches long and 56.7 inches wide. The 6-ft. bed is 73.7 inches long. Otherwise, they are the same in width and depth. The truck bed itself is made of a heavy-duty composite that's resistant to rust and dents. It also has a deck rail system, and the tailgate can be completely removed from the truck bed.
Visibility is a big selling point for the 2022 Tacoma TRD Off-Road. It comes with projector beam headlights and integrated fog lights that span out with a wide-angle lens. The color choices are a bit limited. There are six in total, but the lunar rock paint job is the most unique. It's like a mix of green and grey that's definitely out of this world.
Performance Abilities of the TRD Off-Road
The Off-Road Tacoma has a 3.5 Liter V6 engine. The powertrain produces 265 pound feet of torque and 278 horsepower. It takes a while for the acceleration to kick-in though. The V6 power is most readily available once the RPMs get high.
The Tacoma Off-Road comes in 4×2 or 4×4 with options for a 6-speed automatic or manual transmission. It's not often that you find a six-speed manual transmission on a pickup truck, so that's a big plus for the Tacoma. Just keep in mind that you can't get the manual gearbox without four-wheel drive.
When it comes to showing off its off-road chops, the Tacoma gets Bilstein shocks and a locking rear differential. There's a multi-terrain select system with crawl control and other electronic stability controls such as hill start assist and multi-terrain monitoring.
The V6 Tacoma doesn't go light on fuel, especially if you're planning on putting it through its paces with some off-roading. The high riding pickup truck gets 17 miles per gallon in the city with a manual transmission and 21 MPG on the highway. Those kinds of numbers will keep you on a first name basis with the guy running the filling station.
Related: 10 Uniquely American Roadside Attractions Worth Seeing
Interior Specs for the 2022 Tacoma TRD Off-Road
There's room for five passengers inside the Tacoma, although the interior is not the Tacoma TRD Off-Road's strongest category. The interior has black fabric upholstery as the standard option with a leather-wrapped steering wheel and shift knob. The layout is function first, comfort second.
Unfortunately, the cab of the Tacoma doesn't have good passenger volume. Rear seat occupants have the worst of it. There's 38.3 inches of head room and 32.6 inches of leg room in the back. Compare that to the Jeep Gladiator and you'll see a big difference. The Jeep truck has 42.8 inches of head room and 38.3 inches of leg room for the back seat.
Surprisingly, this outdoorsman's truck from Toyota comes with plenty of high tech amenities. There are 3 USB ports and a wireless charging pad. It has Amazon Alexa, Android Auto, and Apple CarPlay connectivity. The center stack has an 8-inch touchscreen display. It's not too big, but the interface is easy to use, and the layout doesn't get in the way of other vehicle controls.
Safety Gear from Toyota
Adaptive cruise control, lane departure alerts and emergency braking are standard safety features for 2022 models. For a small additional charge, you can outfit the Tacoma TRD Off-road with a technology package. It's really a safety package. The 2022 Tacoma TRD Off-Road comes with blind spot monitoring, parking sonar and rear cross traffic alerts.
Related: Outdoor Camping Gear Essentials for Men
Final Thoughts about the 2022 Toyota Tacoma TRD Off-Road
The 2022 Toyota Tacoma TRD Off-Road has a base price of $34,690. Owning a TRD pickup truck will give you plenty of available accessories to add to the Tacoma rig. Like a kid in a candy store, it's going to be difficult to resist all the high-quality off-roading extras.
There's all-terrain tires, all weather floor mats, mud guards, side rails, and much more. In total, there are 33 different accessories that can turn this truck into the ultimate off-roader. After adding accessories and packages, the final cost could tip toward $50,000.
The TRD Off-Road is as trail savvy as a mountain Sherpa. It can jump out of ruts and crawl rocks. It can splash through mud and rip its way through loose gravel. With the automatic transmission, this seems all too easy, but the manual gearbox will make off-road adventures more fun.
If you want a rugged pickup truck, the 2022 Tacoma is as tough as they come.
Read Next: Does Driving a Pickup Truck Make You More Attractive?