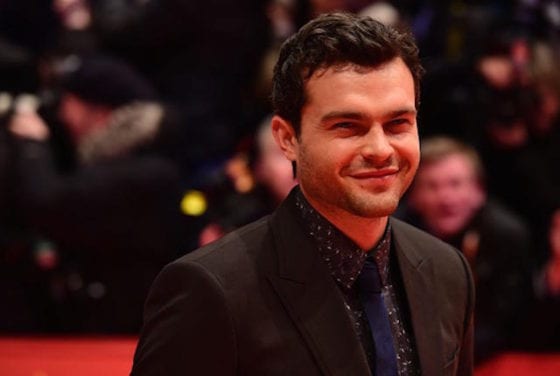 Alden Ehrenreich Facts
Did you know a they've found a new Han Solo? Yep, it's true. His name his Alden Ehrenreich and he's about to become a household name. The handsome Los Angeles native has been catching the eye of movie producers ever since his 2009 debut as Bennie Tetrocini in Francis Ford Coppola's, Tetro.
He's now been casted as the new Captain of the Millennium Falcon in one of the most iconic movie franchises in film history.
He's been compared to a number of well-known actors, including Oscar winner Leonardo DiCaprio and younger versions of Cary Grant and Paul Newman.
Given the popularity of Star Wars with readers of this blog (not to mention all over the planet), we thought we'd share 5 quick facts about the new Han Solo you might not know.
Are you ready? Let's jump right in!
Pop File: Alden Ehrenreich
Birthday: November 22, 1989, Los Angeles
Zodiac Sign: Sagittarius Cusp
Height: 5'9
Eye Color: Bluish Green
Relationship History: Whose Dated Who for Alden Ehrenreich
1. He was discovered by Steven Spielberg
Believe it or not, he was plucked from near obscurity by chance when a film short he helped to create at the age of 14 was seen by Steven Spielberg. The short piece was made for a friend's bat mitzvah where the Dreamsworks cofounder was in attendance.
One thing led to another and he was hooked up with an agent. The rest is history.
2. He's not new to acting
Whenever an actor lands a major role, it's easy to forget there were a series of past parts that helped to make them famous.
In Ehrenreich's case, he's got a number of credits under his belt. These include roles in movies like Hail Ceasar! and Stoker and TV shows like CSI: Crime Scene Investigation and Supernatural. See is IMDb file here.
3. He was inspired by western films and the Marx Brothers
In an interview given to the website, Coming Soon back in 2012, Ehrenreich shared that his inspiration for acting was largely influenced by movies that his parents would watch with him.
"When I was a little kid, my parents would show me Marx Brothers' films and westerns and stuff like that. That's where all my desire to be an actor comes from and probably most of my understanding of acting comes from for sure. I love movies."
4. He co-founded a theater and film company
While studying acting New York University, he helped to cofound a theater and film company with a friend, Zoë Worth.
It's called "The Collectin" and is a smallish theater and film outfit that (according to its webpage) "experimented with new techniques for writing and performance" via weekly workshops with writers and directors.
5. He's auditioned for major roles before
Ehrenreich has been a man on a mission. Way back in 2012, the fledgling actor was seriously considered to play the role of Harry Osborn in The Amazing Spider-Man 2. (The part went to Dane DeHaan.)
And other sources of gossip report that Ehrenreich also tried to snag a part in the role of Peter Parker.