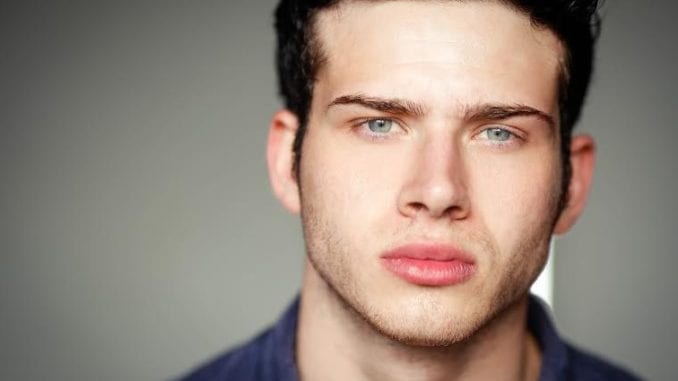 The blue-eyed actor has it going on!
Are you a fan of muscular men with dreamy blue eyes? How about guys in uniforms? Do tats turn you on? If the answer is yes to any (or all) of the above, then you are going to love Oliver Stark!
Not long ago, I found myself desperately searching something to watch (hint: it was during the Olympics). That's when I stumbled on the Fox television series, 911.
Have you seen it? If not, here's a basic thumbnail sketch. A group of first responders (police, firefighters, paramedics) finds themselves regularly thrust into over-the-top situations.
Examples include rescuing passengers after a plane crashes on the beach or saving people from a stuck a roller coaster.
But honestly, that's not why I am penning this post. Yeah, the plot of the show is okay but the reason I really tune in is to see Oliver Stark. He plays the part of a rookie firefighter, Evan "Buck" Buckley.
https://www.instagram.com/p/BrlmRfonKKP/
POP FILE: Oliver Stark
Birthday: June 27, 1991. London England
Sign: Cancer Man Through and Through
Height: 6'2
Eye Color: Light bluish
Shoe Size: 11.5 wide (rumored)
He may be young, but Buck is brave beyond belief. #911onFOX@oliverstarkk pic.twitter.com/H0K9c0LOhp

— 9-1-1 (@911onFOX) February 22, 2018
And let me tell you – the guy is a hunk. In every way that matters (read what you want into that) the man has it going on. Not that I would ever want to be in a position where I needed to be rescued… if I had to pick someone to do it, I'd be down with him.
I did some checking and found out the British born hunk has been on many shows in the past. Here's just a sampling below.
Venus vs. Mars (TV Show)
Into the Bad Lands
Badlands
Underworld Blood Wars
https://www.instagram.com/p/BdnuyjzlymS/?hl=en&taken-by=oliverstarkk
One of the things you may notice about Oliver is that he has red pigmentation on his face. Apparently, that is a birthmark; something he is very open about.
He even talks about it on 911. The writers cleverly wrote it into the first episode in a monologue.
Well, there you have it – Oliver Stark. Check him out on 911! Oh, by the way – the show does have a gay vibe because one of the female first-responders is in a same sex relationship.