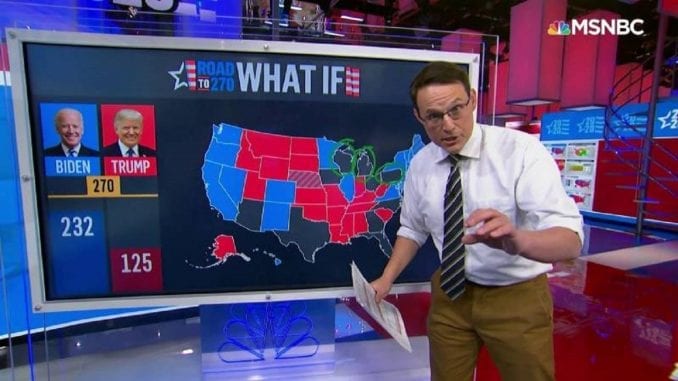 Steve Kornacki
What would we do if we didn't have Steve Kornacki?! During election week, many U.S. citizens were a wreck with ballot stress. Days felt like weeks as we awaited the results of the 2020 Presidential Election. It didn't help that states were taking longer than usual to count every ballot, as there was a record high of mail-in votes and voters in general. But through it all, one political reporter was there keep us updated on the numbers. And he went viral for it.
MSNBC reporter Steve Kornacki is not new to political reporting. In fact, Kornacki has been around for over a decade. But, the political reporter found himself trending online for his constant coverage of the 2020 Presidential Election. Many Twitter users, like celebrity Chrissy Teigen, could stop talking about him. But who is Steve Kornacki? What are some facts about the man behind the khaki pants? Here are seven facts to sate your curiosity.
https://twitter.com/_chloepaige/status/1324585547919220736
Pop File: Steve Kornacki
Birthplace: Groton, Massachuetts, USA
Zodiac: Leo
A message from @SteveKornacki. #TrackingKornacki pic.twitter.com/pY7hl6KAVc

— MSNBC (@MSNBC) November 4, 2020
1. He's A New Englander
Originally, Steve Kornacki is from the New England area. He spent his childhood, adolescence, and young adulthood there. Kornacki even went to Boston University to major in film and television. Though he later transitioned into political journalism, Kornacki eventually found himself back in the realm of television through his political reporting.
Kornacki also celebrated his Bostonian heritage in a heart-wrenching article for Salon after the 2013 Boston Marathon bombings.
"For the first 22 years of our lives—the 22 years that shaped us into who and what we are today—our world revolved around Boston," he wrote. "And many of the people and many of the memories that mean the most to us are still there. The farther our lives have taken us from it, the more it's come to feel like home."
2. He's An Author
All of that writing eventually led to Steve Kornacki deciding to write a book. Kornacki published a nonfiction book in 2018 titled The Red and the Blue: The 1990s and the Birth of Political Tribalism.
In the book, Kornacki tracks and recites the political battles between the Democratic and Republican parties during the 1990s. Specifically, he starts with Bill Clinton rising to the Presidency through the Democratic Party and Newt Gingrich staking a claim for the Republican minority in the House of Representatives.
Kornacki then transitions into folding in other big political moments of the '90s such as Hilary Clinton's rise to fame; Mario Cuomo's negative influence on the Bill Clinton 1992 campaign; the start of the Reform Party, which introduced Donald Trump to politics in 1999, and more.
As Amazon's summary explains, "With novelistic prose and a clear sense of history, Steve Kornacki masterfully weaves together the various elements of this rambunctious and hugely impactful era in American history, whose effects set the stage for our current political landscape."
This is incredible.
I won't ruin it for you.
Just watch what may be Kornacki's finest moment during this election. #TrackingKornacki pic.twitter.com/XpQTJ7M0d6

— Rachid Haoues (@RachidRouis) November 6, 2020
3. He Lives, Breathes, And Eats Political Journalism
Again, Kornacki has been writing about politics for years. He started his career in 2002 as a reporter for PoliticsNJ.com. From there, he freelanced and wrote articles for a number of publications, such as The New York Times, The Wall Street Journal, and The Boston Globe. Then in 2010, Kornacki was hired by Salon full-time. He later was promoted to their politics editor.
4. He's Used To Hosting TV Shows
But again, Steve Kornacki didn't stick with just writing for publications. He later made the move into television. Steve was hired by MSNBC in 2013. He then hosted several shows on the news channel such as Up with Steve Kornacki on Saturdays and Sundays, the Monday edition of Meet the Press Daily, and MSNBC's ensemble show The Cycle where he acted as a co-host.
Lately, Steve Kornacki has found himself acting as a National Political Correspondent for NBC News and MSNBC.
https://twitter.com/TRILLogy1/status/1324471979777253376
5. He's Gay
When Kornacki trended on social media during the election, many Twitter users expressed romantic interest in the reporter. Many people online expressed jokes (and sometimes serious statements) saying that they wanted to marry Kornacki. During all of this buzz, the internet was reminded of the fact that Kornacki is gay.
Kornacki came out in another heartfelt essay for Salon. This time, in 2011. Kornacki shared that he came out because he was seeing a man and didn't want to hide what was becoming a serious relationship. He also used that essay to come out to his parents, who were very supportive.
6. He Loves Diet Coke
But how did Kornacki keep going when he had to stay up for several days?! How did he keep up the energy to report the news, calculate ballot numbers, and entertain tv viewers? He drank lots and lots of caffeine!
In a recent chat, Kornacki shared that he kept himself going by drinking a lot of diet cokes. Or as he said more specifically, "Lots of Diet Coke. I'll drink a ton of Diet Coke. I think that's the main thing. Once we start getting election results, I feed off the energy. There's constant stimulus…"
Diet Coke. Lots and lots of Diet Coke! #TrackingKornacki https://t.co/tg407y2TkH

— Kay Angrum (@kayangrum) November 5, 2020
7. Kornacki's Khakis
Lastly, where did he get his outfit? While Kornacki trended online mostly for his good reporting and supportive personality, he also got some attention for his clothes. Specifically, Kornacki kept returning to television with the same khaki pants over and over again.
After the internet announced their love of his clothes, and suspicion that he was wearing the same pants day in and day out, Steve Kornacki shared that he not only owns several pairs of the kind of Modern Khaki pants in palomino brown, but that he got them all from GAP. So, there's a nice free promotion for you, GAP.
No matter what he's wearing though, the world had fallen in love with Steve Kornacki! We can't wait to see him on our tv screens again!