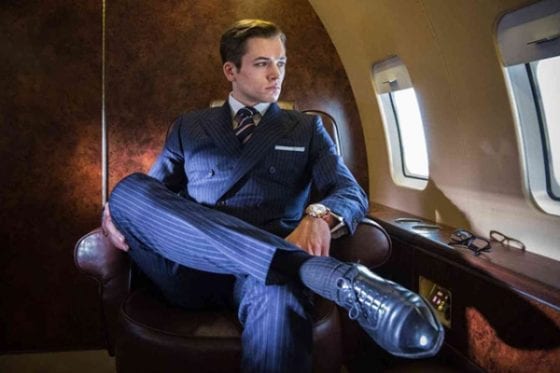 Taron Egerton Facts
Kingsman: The Golden Circle is out and we're happy to see the attractive, bold, and charismatic Eggsy back on our big screens. Though, what we're really happy to see is actor Taron Egerton back on our screens.
Taron Egerton was a relative unknown until he got the lead part in the first Kingsman movie, and now he's trying to make his way up as a bonafide movie star by acting in films alongside Tom Hardy and Hugh Jackman.
While we wait to see if Egerton's got what it takes to become a household name, we might as well get to know a little more about him.
Bio File: Taron Egerton
Birthday:  November 10, 1989. Birkenhead, United Kingdom
Height: 5'10"
Body tyle: Athletic
Eye Color: Green hazel-ish
Zodiac: Scorpio man
1. His Name Was A Spelling Mistake
Taron Egerton is very Welsh.
He's originally from Aberystwyth, he can speak Welsh and before he got into the Royal Academy of Dramatic Acting, he went to the Penglais Comprehensive School and the Aberystwyth Arts Centre in Wales.
To respect all that heritage, his mother tried to give Taron a Welsh name at birth, but unfortunately, she misspelled it. She meant to name him Taran, which is Welsh for thunder, but as Egerton explained, "My mom is not a Welsh speaker, so she misspelled it and she put an 'o' instead of the second 'a' so now it's Taron. But I like it, it's quirky."
2. He Likes To Draw As A Hobby
As a child, Taron Egerton liked loved art. He liked to draw and scupt. But, unfortunately, he let that passion go as he got more into acting in his teenage years.
But, he is finding a bridge between the love of art and acting by getting into voice acting for animation projects.
"Voices have always been my thing… The ambition to voice a character was something that kind of remained and that residual ambition has thankfully been satisfied this year," Taron said of his role in the animated move Sing.
Abba in Aberystwyth. pic.twitter.com/sjZmLwHzWC

— Taron Egerton (@TaronEgerton) March 25, 2016
3. He Can Sing (And Really Well)
Speaking of Sing, Egerton is very good at it.
On top of being an accomplished actor, Egerton was also a celebrated singer at his school. His lovely tenor voice awarded him the Stephen Sondheim Society's 'Student Performer of the Year' award back in 2011.
Plus, if you saw the Lumination animated film Sing, Egerton voiced the part of a singing Gorilla and he personally song all of the character's performances.
More: 7 Facts About John Boyega That Might Surprise You!
4. Taron Egerton is scared of dogs
In Kingsman: The Secret Service Taron Egerton's character Eggsy has adopt a dog and train it as his pet and partner. But, it seems that Egerton himself isn't too fond of canine companions.
During an interview with Belfast Telegraph, Egerton said:
"I like dogs, I just don't choose to spend time with them. You know what, It's something I've really only admitted to myself in the last couple of years. I think I'm a bit scared of them."
He later added that he's more of a "cat man" and hoped for a cat companion in the sequel (SPOILERS. It didn't happen).
5. He's Slowly Learned How To Be Stylish
Taron told the Shortlist. "At 17, I did the whole straightened-hair-over-the-eye thing – a bit like Justin Bieber, but not as good looking. That was my style low point."
6. He's Earned A Mentor & Friend In Kingsman Co-Star Colin Firth
As Taron Egerton told Yahoo:
"That's one of the real joys of Kingsman for me. Obviously, you always hope you're going to get on with people you work with. But when it's someone you so admire, it's a bonus if you become friends. And Colin and I got on really well quite quickly. Perhaps we have a similar sense of humor, maybe… I think there was something about being a new type of movie for him and obviously it was my first movie, so maybe that leveled the playing field a little bit. We were both equally unused to all that stunt stuff."
7 He's A Romantic & Prefers More Active Pursuits Of Love
Speaking more to the Shortlist, Egerton shared his thoughts on modern romance and how he prefers a more direct approach and doesn't trust using apps like Tinder.
"Actually, I have asked a girl out Kamikaze-style," He told them, "I stopped her on the Tube and said, 'I think you're gorgeous, I think we should go for a drink some time.' It's terrifying, but ultimately so much more rewarding."
Colin Firth, His co-star in Kingsman, asked "You reckless romantic. How did it go?"
Taron responded, "Oh God, this is going to be printed… Er, I took half a day off drama school and we went on a date. But, as much as I could do with a bit of Tinder right now, it's always going to make a better story if you offer someone an umbrella in the rain. When kids ask their parents how they met in 10 years, the answer is going to be, "I DM'd yer mum on Twitter." It's hardly the start of a romantic novel, is it?"