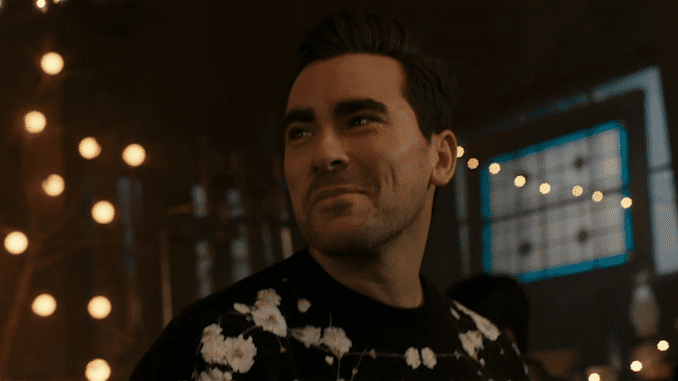 Daniel Levy Facts
Congratulations to Daniel Levy! Last week, the Schitt's Creek creator and star received several Emmy awards for his work on the Canadian dramedy. Now that the show has ended, Levy is being regarded as a rising star in the entertainment business. It helps that he's the son of actor Eugene Levy, though Daniel's success is purely based on his own achievements and hard work. Now that he's an Emmy-award winner and growing in popularity, you might want to know more about him. If so, here are 7 facts about Dan Levy!
Pop File: Dan Levy
Birthday: August 9, 1983
Birthplace: Toronto, Ontario, Canada
Height: 5 ft 11 inches (180.34 cm)
Weight: 157 lbs or 71 kg
Zodiac: Leo
1. He's Gay
Growing up with Eugene Levy and Deborah Divine, Daniel Levy was lucky to not only have a celebrated actor as a father but two loving parents. That's especially true when Daniel came out as a gay man when he was 18. According to Daniel Levy, his parents were "incredibly loving and supportive."
Love you, Mom! ❤️ https://t.co/JThbrY58cS

— dan levy (@danjlevy) June 24, 2018
Dan's sexuality then became a driving force in the art that he created. That included his shining work on Schitt's Creek. At the beginning of the show, Dan Levy knew that he wanted his character, David, to be pansexual. While pansexuality is different than homosexuality, Dan loved the idea of representing a different shade of LGBTQ life. Then as the show went on, he continued to represent LGBTQ people and even same-sex love with the introduction of David's love interest Patrick.
As he explains to the Advocate, "the amount of response I got from the third season of our show where we first introduced the character of Patrick was like, 'I really hope nothing bad happens to them.' It was a very conscious effort on my part to not have that happen. In fact, it's been a conscious effort to not ever show the other side on our television program. I have made a very strong point to not ever show bigotry, homophobia, or intolerance on our show because to me, it's a celebration of love. At the root of it, [Schitt's Creek] is a celebration of love between the family and between the relationships that we build."
2. He's A Host
That said, Dan Levy didn't start off as a tv producer. When Dan Levy was just beginning his career in entertainment, he was originally a host on reality tv. Starting at the age of 21, Dan Levy worked on MTV Canada and hosted or appeared on shows like The After Show, The Hills: The After Show, and MTV Live.
Regarding his time at MTV he said, "I had the time of my life on MTV. I was working at a video store before I got my job there. It brought me out of my shell. Being forced to talk to strangers every day will make anyone who is afraid of strangers kick that bad habit real fast. It was my first chance to show people that I was capable of not being just someone's kid. And more importantly, for me to figure out, am I good at this?"
.@danjlevy loves his job. #GCBS pic.twitter.com/frDnIi2nRN

— The Great Canadian Baking Show (@cbcbakingshow) November 8, 2018
Though, Dan Levy wasn't a big fan of being a host at certain celebrity events like red carpets.
"I hated working red carpets," the actor and producer explained to Interview Magazine. "I hated the whole celebrity interview process. I just realized I'd rather be the person somebody wanted to ask questions to than the person asking the questions. I wanted to contribute; sitting down and asking a series of very generic questions to someone in a press junket was not fulfilling enough. So I left MTV and started to write television, started to get involved in some improv classes, and then shortly thereafter came up with the idea for Schitt's Creek…"
For Dan Levy, hosting is best done on reality shows with real people. And even today, he still does some of it. Levy is currently hosting the Great Canadian Baking Show, a sister program to the popular Great British Bake Off.
3. Has His Own Line Of Eye Wear
But even then, that's not all that Dan Levy does for work. On top of hosting, producing, show running, acting, and more, Dan Levy is also a businessman. Specifically, Dan Levy has his own eyewear line called D.L. Eyewear.
4. He Grew Up With An Interfaith Perspective
But what are some more specific facts about Dan Levy as a human being? Well, Levy happens to be Jewish through his father, Eugene Levy. Though, Dan's mother, Deborah, is not Jewish. Because of this, Daniel Levy grew up feeling like a "halfie."
"One half of me is celebrating Hanukkah, the other half is decorating a tree. My body is confused," he wrote one time on Twitter.
This "halfie" identity is so significant to Dan Levy that he made it into a part of his Schitt's Creek character. He even delivered the wonderful line, "I'm a delightful half-half situation!"
One half of me is celebrating Hanukkah, the other half is decorating a tree. My body is confused. #halfie #chrismukkah

— dan levy (@danjlevy) December 9, 2012
The best thing I ever did for my Protestant family was marry a Jewish man. We learned that a combined world is an enriched world.

— deb d (@tingtime) October 30, 2018
5. He's A Dog Lover
But who is the greatest love in Daniel Levy's life? While we can't know for sure, we're pretty sure that his dog Redmond places pretty high on Dan's list.
6. He Was Inspired By Kim Basinger
And where exactly did Daniel Levy get his inspiration for Schitt's Creek? Well, part of it came from actress and former model Kim Basinger.
"We were in the early stages of figuring out what the backstory was,"  Levy explained to Vanity Fair. "We started to research different ways that people had lost tremendous amounts of money or gone bankrupt. In the process, I stumbled upon an article about Kim Basinger having bought this town in Georgia."
It turns out, Basinger bought a Georgian town called Braselton for $20 million in 1989. While Basinger bought the town in hopes to increase its tourism and make it a hotspot for tv/film production, her plans did not pan out. It turns out that by the third year into her purchase, the town's only businesses were a furniture store and a dental office. Basinger then sold the town for a humbling $1 million. In Levy's case, he and the production team decided to have a rich family buy a poor town as a joke and then end up living there after losing their money.
7. His Self-Description
Through it all, who is Daniel Levy if not a workaholic with a witty personality and outlook? Well, according to the man himself, he is "a proud ball of anxiety in front of a computer, that is the reality."