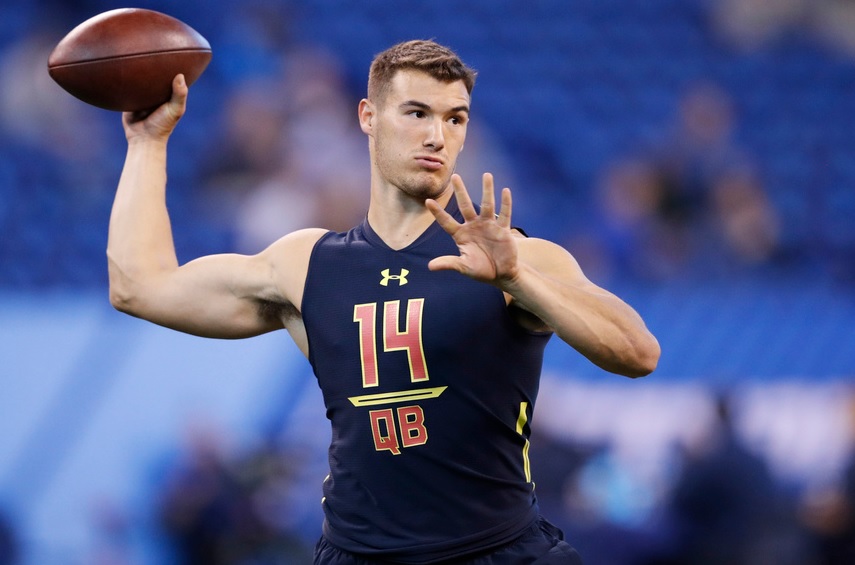 Mitch Trubisky Quick Facts
In case you haven't heard, the Chicago Bears just got a new Quarterback. His name is Mitch Trubisky and you know what? The guy is super cute!
This brief post is designed to give you a quick rundown of the stud, plus a few fun pictures along the way. Hey, we are a Chicago blog so we had to cover him 🙂
Gay Pop File: Mitch Trubisky
Birthday: August 20, 1994. Mentor, Ohio
Height: 6'3
Shoe Size: 14 (rumored)
Eye Color: Brown Hazel
Body Type: Ridiculously hot jock
Zodiac: Leo Guy
1. Nickname Biscuit
Yep, that's right. According to published reports, Mitch has the nickname of Biscuit. We kind of like that name and wonder where the affectionate name came from?
2. His first spoken word was ball
According to a NFL draft video that features Mitch in it, his first spoken word was ball. Apparently, when he was a baby, he threw a perfect spiral to his dad (per the video).
3. He comes from a sports family
The entire Trubisky family is into sports. In fact, Mitch's parents met while his dad was a quarterback. His mom describes the family as very competitive.
4. Mitch is oldest of four kids
Mitch has three siblings and he is the oldest of the group. From what we saw, all of the Trubisky kids are adorable! Mitch's mom describes him as the leader of the group.
5. Down to earth personality
Friends describe Mitch as very down to earth and not egocentric. He's also been described as humble and really interested in just playing football.
6. Attended University of North Carolina
After redshirting his first year at North Carolina in 2013, Trubisky played in ten games as a backup to starter Marquise Williams in 2014. He declared for the 2017 NFL Draft on January 9, 2017, opting to give up his final year of college eligibility.
7. Happy to be in Chicago
In his first ever press conference, he shared his excitement and enthusiasm to be in Chicago. There is a rumor floating around, however, that he's a Green Bay Packers fan. Packers and Bears fans don't always get along. We wonder if he likes Aaron Rodgers?
In any event – welcome to Chicago, Mitch!