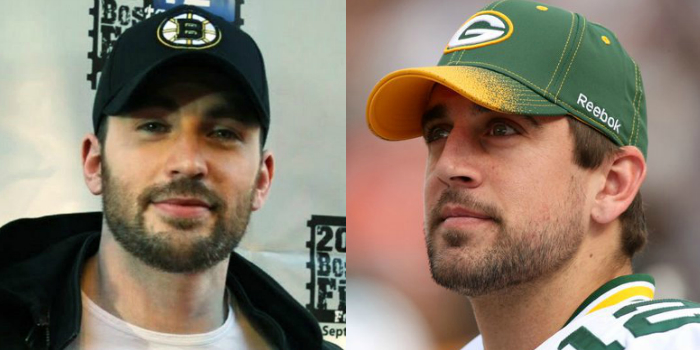 Tawdry, Cheap Gossip!
If you haven't heard the news, super-jock Aaron Rodgers is apparently back on the market. Word is the 33-year old Green Bay Packers Quarter Back is no longer romantically attached to actress Olivia Munn. Moreover, the two apparently won't be keeping in touch!
According to a report in People, "They haven't been in contact for several days, and I don't think that they'll keep in touch," says the source. "He's definitely not trying to get back together with her. Not because there's anything wrong with her or that he hates her, but they both want to move forward."
After three years of being an item, the duo announced recently they've decided to head their separate ways. The breakup came just two months after the couple started engagement rumors when Olivia was seen wearing a diamond ring on her left ring finger.
Why Rodgers and Munn split is still a mystery. There was a line of gossip that Munn was pushing hard to get married and that Rodgers was resistant. According to an unnamed source in the Globe (yes we read that!) "Olivia really put a lot of pressure on Aaron to forget about his family, who loathed the 36-year-old X-Men: Apocalypse beauty."
But another source from People seems to dispute the rumor. "This had nothing to do with Aaron's family," says tattles People's snitch. "He's making personal decisions about the next steps for all areas of his life, but he's going to keep the details about to himself right now."
In any event – the end result is that Aaron Rodgers is back on the market! Not that we should be getting our hopes up. It was only a few years ago that gay rumors about Rodgers were running wild.
But all that buzz came to an end when he said:
"I'm just gonna say, I'm not gay. I really, really like women. That's all I can say about that."
Be sure to read an excellent post that appeared in Out Sports about the matter. Now that the super jock is unattached, we wonder who he'll get with next?
Moving on to
super star Chris Evans
!
Did you hear the news? Chris Evans spilled about the details of his very first sexual experience. And what he shared makes him all the more adorable!
A few weeks ago, the Captain America Heartthrob appeared on Late Night with Seth Myers. Somehow, the topic of sex came up and Chris's first time. Here's what he shared about how things went down, which by the way shows just how close he is with his mom!
"My whole family, we're just very open with a lot of things," Evans dished to Meyers. "If I had parties in high school, half the party [was] upstairs talking to her about inappropriate things. She's a really, really cool woman."
Apparently, he was so excited about that first hook up that he wanted to tell someone he could trust. That person happened to be his mom!
"I raced home and I said, 'I did it! I don't know what I was doing, but I think I did it!" told his mom.  Meyers jokingly said in response, "And I didn't cry!" However, Evans made sure to set the record straight. "Oh no, I didn't say that," he laughingly said. "She may have as well."
The studly actor didn't feel weird about the sex talk with his mom. "I think she was happy that I was willing to share it with her. I think as a parent you just want to have honesty," he told Meyers. "That's one of the best things my parents both achieved. Somehow, they felt like my friends. You don't want to be so cool with your parents that you can do anything, but when big things happen, you wanted to share it with them."
So there you have it folks – a bag full of cheap gossip that's worth exactly zero.  But the thought of Evans losing his virginity is worth the price of gold!