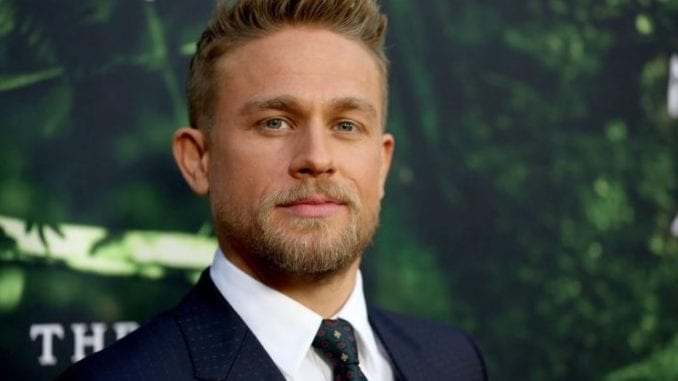 Charlie Hunnam Facts
We've written about actor Charlie Hunnam in the past. He's the attractive, blue eyed entertainer who made several statements about how he stays in shape through intimacy. Given that he's starred in a the movie called King Arthur: Legend of the Sword, we thought it might be kind of fun to pen a piece about him by way of background.
What follows are seven fun tidbits about Hunnam, an actor who is probably best known for his work in Sons of Anarchy and Fifty Shades of Grey. Along the way, we've tossed in some photos as part of the post. As usual, we'll start out with some biographical information.
Let's jump right in!
Gay Pop File: Charlie Hunnam
Birthday: April 10, 1980, Newcastle upon Tyne, England
Eye Color: Bright Blue
Height: 6'1
Zodiac: Aries Man
Shoe Size: 11.5 (rumored)
1. He doesn't read about himself
Hunnam has stated in public interviews that he doesn't like to read about himself in the media. In an interview with Men's Health he shared, he said, "I don't ever read anything [about myself]. Sometimes fans will say, 'I heard you're such a nice guy.' And I'm like, 'From where? Where are you getting your information?"
2. Discovered at 17
When he was 17 years old, Hunnam was discovered in a shoe shop on Christmas Eve by a production manager of a local Newcastle children's show. He was then cast in his first role as Jason in a three-episode production.
3. He has a bedtime New Year's Eve Tradition
Hunnam has stated in interviews that on New Year's Eve, he has an interesting tradition. Specifically, he likes to go to bed early. Then, on New Year's Day, he gets up while it's still dark outside and goes for a hike.   "I just take a couple hours and have a post-mortem of the year," he said to Men's Health.
4. He has a shoe fetish
Growing up poor, Hunnam couldn't afford much. That may explain why he purchased 85 pairs of Nike's Airmax 90's brand shoes, according to an interview. "That was poor-boy syndrome of not being able to afford the sneakers that I wanted that all the other kids had a school, and then getting to 25 years old and being like, 'You know what? I can buy all the f—ing sneakers I want."
5. He got physically ripped for King Arthur
In an interview Hunnam gave with USA Today that appeared in its May 9 printing, the blue-eyed actor revealed that he really worked hard to get himself into shape. "I met the goal of doing 1000 pushups a day at a minimum for six months. I'm a little crazy so if I didn't get to a 1000, I'd would punish myself and have to do 2,000 the next day."
6. More "King Arthurs" May Come
If the movie is successful, Hunnam has stated that there could be more installments of the film. Reflecting on this possibility, he shared with USA Today, "I grew up on Excalibur. I must have watched it four dozen times. I would hope (future movies) would be with Guy. That's always a roll of the dice for an actor who signs on to this type of things."
Update 11/17: The film doesn't appear to have been a box-office winner. But we'll see what the future holds.
7. Briefly Married
While auditioning for Dawson's Creek, he met actress Katharine Towne. They dated for approximately four weeks and got married in 1999 in Las Vegas. It didn't last long. The two divorced in 2002. He's been dating Morgana McNelis since that divorce and is very protective of her, per a report in The Daily Mail.