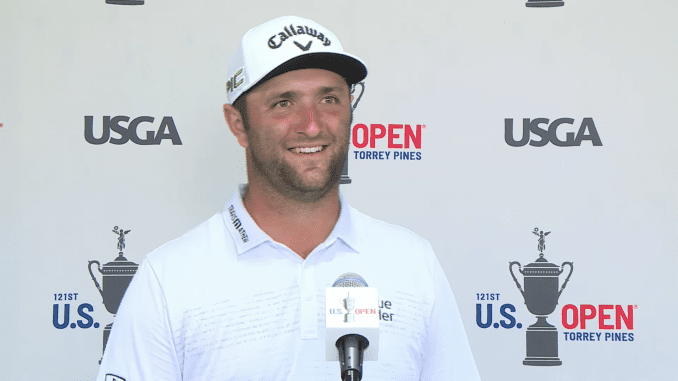 Jon Rahm Facts
Let's learn some facts about Jon Rahm. Jon Rahm is a professional golfer. More specifically, he's one of the best golfers around at the moment. Going into this year's PGA Tour, he was the expected frontrunner. And while he's currently in 3rd place, many are still hoping that he ends up on top.
But who is the man behind the successful golf swing? What are some facts about Jon Rahm? From his dating life to his mental health, here are 8 facts about Jon Rahm.
Pop File: Jon Rahm
Birthday: November 10, 1994
Birthplace: Barrika, Spain
Zodiac Sign: Scorpio
Height: 6 feet 2 inches (187.96 centimeters)
Eye Color: Hazel
Body Type: Average
1. Golf Is A Family Tradition
As with many professional athletes, Jon Rahm found it hard not to fall in love with golf. After all, he was raised around the sport. After attending the 1997 Ryder Cup, Jon Rahm's parents, Edorta and Angela, took up the sport. Jon then followed in their footsteps. It was even Rahm's father who pushed for the athlete to move to the United States, as he believed the U.S. was held the key to golf's future.
Related: Nine Facts About Baseball Star Christian Yelich
2. He Loves Hip Hop
Bring from Spain, Jon Rahm is not a native English speaker. But, he did learn the language after moving to the U.S. To help learn English, Rahm listened to hip-hop music. You know that old idea that you should engage with the culture to learn the language? Rahm did just that. And Jon Rahm's two favorite songs were Eminem's "Love The Way You Lie" and Kendrick Lamar's "Swimming Pools."
3. He Was A Winner In College
Jon Rahm's history with golf is extensive. And while it goes back way before he attended college, his career in the sport really started to skyrocket during that time. While attending Arizona State University, Jon Rahm participated in the sport and collected 11 collegiate victories. This makes his success rank at second in the school's history. He was only bested by Phil Mickelson's 16 wins.
And if you're worried about how Jon Rahm kept up his studies during that time, you don't have to worry. Despite not knowing English very well, Rahm managed to secure a 3.6 GPA in his first semester at the university.
4. He's Married & A Father
But what about his life love? Well, Jon Rahm is married to Kelley Cahill. Rahm met the love of his life during his college years. While at Arizona State University, Cahill was a javelin thrower. So, sports and athleticism were something the two had in common. The relationship then continued for several years and the couple got married in Spain in December 2019. The wedding was even held at Jon's old church. The couple then welcomed their first child together in April of 2020.
5. He Loves Many Sports
While Jon Rahm is known for his success in golf, the athlete enjoys playing many sports. As he shared in an interview with Golf Digest, Rahm grew up playing several sports, like soccer and kung fu, and used that experience to bond with his wife during their early days.
"I've actually always been into tennis but only watched it," he explained. "But I did play a lot of sports with rackets and paddles growing up, like pelota [a Basque game that's a cross between jai-alai and racketball]. But I never told her that. So she came away impressed … and maybe a little mad for a day or two. I had a pretty good forehand and decent backhand, and she taught me how to serve. She was someone who thought golfers aren't athletes, so she assumed I couldn't do anything else, really. But I had played so many sports when I was a kid before I decided to focus on golf."
Related: 8 Facts About NY Giants Quarterback Daniel Jones
6. He's Working On His Mental Health
Jon Rahm has been known to have an angry outburst or two while on the golf course. In 2019, the golfer shared that he was looking into fixing that problem because he saw it as "immaturity."
"I'm becoming more aware of that and realizing sometimes that I look stupid acting that way," he admitted to Golf Digest. "I'm not happy about it. I'm not proud of some of the tantrums I've thrown."
To help fix that problem. Jon Rahm is working with a mental coach named Joseba Del Carmen. Carmen, who is a former bomb-disposal expert, works with Rahm to address his angry outbursts in everyday circumstances.
"Most of what we work on is real-life stuff, things that are outside of golf, and then it translates over to my golf game," Rahm explained. "That's the goal, anyway."
7. His Golfing Inspiration
But who does this rising golf legend look up to? Who is Jon Rahm's hero? He says it's Sergio Gargia.
"It just motivates me. We've played together a bunch this year. I've played against him in the match play. He's beat me many times," Rahm told Golf Today.
"I've seen him play. And I see what he can do. And I know what I'm capable of. It makes me believe that I do think I'll be able to win a major some day," he added. "A close friend of mine winning a tournament motivates me. A Spaniard winning a major is always going to motivate me."
8. His Favorite Golfing Club
But where does a golf professional go to relax? When he's not on the golf course for his professional time, where does he go in his casual time? Apparently, another golf course. And which golf course is his favorite relaxation club? Well, Jon Rahm is a member of Whisper Rock Golf Club in Phoenix, Arizona. That club is where he goes to play for some practice but most for a lot of fun and community. It's always nice to have a spot like that.