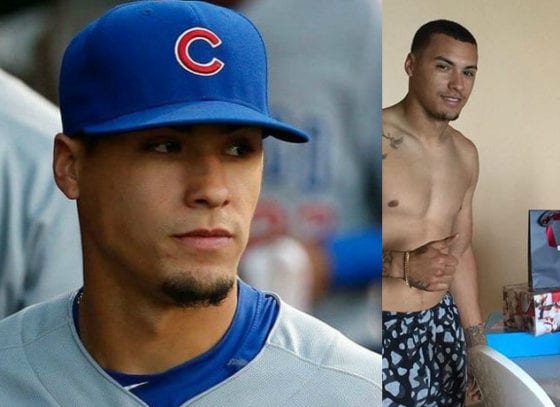 Javier Baez Quick Facts
Chicago Cubs baseball player Javier Baez is a wickedly hot man that I can't get enough of. With jet black hair and a million-dollar smile, this infielder makes are our hearts go pitter patter!
At MV, I love talking sports, particularly when a player is muscled up with tats. That's why I thought it might be kind of fun to post an article about Mr. Baez.
How could I not cover this guy – I mean have you taken a look at him? Every inch of the guy spells sexy!
What follows are 7 facts about Javier Baez you might not know. We've tried to focus on the yummier aspects of this man, which totally wasn't hard to do.
OMG Javy – You are ridiculously handsome.
Bio Pop File Javier Baez (Nickname Javy)
Birthday: December 1, 1992 in Bayamon, PR
Height: 6'0
Zodiac Sign: Sexy Sagittarius
Shoe Size: 12-13 (Visual inspection)
Eyes: Brown
Body Type: Athletic
1. Born in Puerto Rico
Javier is from Bayamon, Puerto Rico and comes from a working class family. Bayamon is considered part of the metropolitan area of San Juan. It's also the island's second most progressive city.
He moved to Jacksonville, Florida in 2005. Many young Puerto Ricans are currently moving to Florida because of Puerto Rico's difficult economy.
2. He had some difficulty adjusting
When Javier first moved to Jacksonville, he had a rough go of it. The main reason is because he struggled with English because Spanish was his native tongue.
Through a process of trial and error, he spent three years memorizing words and then focused on learning their actual meaning.
3. He went Major League in 2014
Javier's lifetime dream of becoming a major league baseball player happened on August 5, 2014. And what a day it was!
In his rollout that day, he hit his first career home run; the game-winner in the nail biter 12th inning win against the Colorado Rockies. This made him the first player since Miguel Cabrera in 2003 to hit an extra innings home run in their debut.
4. Javier Baez has HOT tattoos
Javier has a number of tattoos. One of them is the MLB logo tatted to his neck. He got this inked on him before he went major as part of a family tradition.
Javier also has tattoos on his forearms, with a particularly wolfish Puerto Rican flag on his right forearm. Yes Javier, we're drooling over them!
5. Some tragedy
Javier is the third of four children. Sadly, the youngest of the kids named struggled with Spina Bifida. Javier was extremely close to her.
On April 8, 2015, she passed away just before Javier could visit her one last time at the hospital. Her death deeply impacted him.
6. He's built like a brick sh*thouse!
When you take a look at Javier Baez's Instagram page, you can't help but notice how built this guy is. The photographic evidence suggests he has a set of six pack abs and digs Calvin Klein underwear.
Here we go, rookie day. #RT pic.twitter.com/yGJUQFzYVE

— Javier Báez (@javy23baez) October 1, 2015
7. He's done drag at least once
Don't you love when a hot, masculine dude that's all tatted up can feel comfortable putting on woman's clothing?
Check out this cute picture Javier put on Instagram for Rookie Day. You can't miss him – he's in the blue dress with the inked forearm!
Javier Baez Fantasy Date Poll
Now that you have reviewed the 7 facts about Javier Baez, it's time to vote in our poll. Remember, you can only have one choice so choose wisely!
[Poll closed]