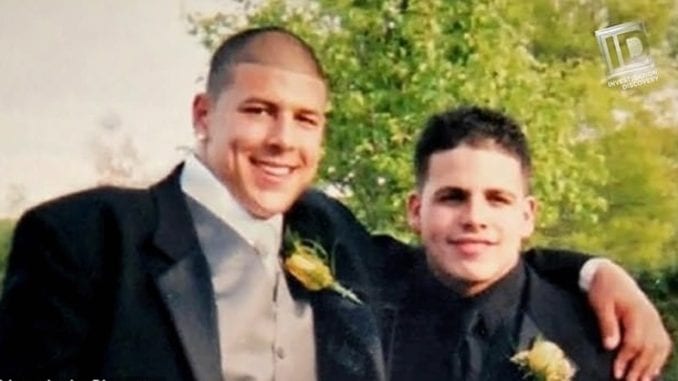 Aaron Hernandez
Aaron Hernandez is in headlines again. Is it for yet another documentary? Yes. But, it's also because of an old boyfriend coming forward too.
Yes, it seems an old flame from Hernandez's past has come forward to share info about his time with the late and controversial athlete.
But first, who's Aaron Hernandez? If you don't know, Hernandez is a former NFL star who was at the center of a whirlwind of murder trials. Or rather, two to be exact. Yes, Hernandez was ultimately convicted of the 2013 shooting of Odin Lloyd and accused of the 2012 Boston shootings of Daniel de Abrueu and Safiro Furtado. But unfortunately, the actor was later found dead in his cell of an alleged suicide.
We say allegedly because some believe the death was too sudden and random. After all, Hernandez had been acquitted of the de Abrueru and Furtado murder just a few days before his death. He just had to live out his time in jail for the murder of Lloyd, who was dating his fiancee's sister, and he would have been free.
On top of that, there was the strange circumstance of his hanging. The authorities found him with "John 3:16' written in ink on his forehead and written in blood on a nearby wall. The bible verse reads, "For God so loved the world, that he gave his only Son, that whoever believes in him should not perish but have eternal life."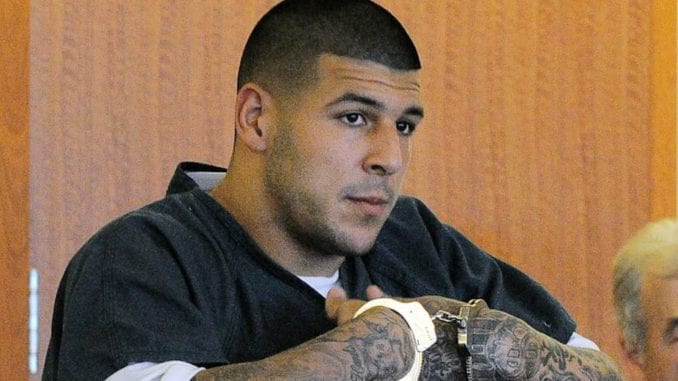 More: Netflix Drops Trailer For The Aaron Hernandez Murder Series
Bisexuality?
Some believe though that the suicide was real and because Hernandez couldn't take his bisexuality becoming public knowledge. Yes, Hernandez was bisexual and allegedly had boyfriends in high school, in college, and in prison. And now, that high school boyfriend has come forward to talk about his time with Hernandez.
Speaking to Investigative Discovery, a man named Dennis SanSoucie says he had a sexual relationship with Hernandez in both middle school and high school. The two, who were on the Bristol Central High School's football team, first had a close bond that then turned physical during middle school. They then continued that relationship into high school.
"It didn't matter what age we were, we wouldn't even know how to live with ourselves," he said during the documentary. "We had shared some sexual activity together and it continued into high school but we didn't want anyone to know."
"We were just in complete denial of what was really going on," he added.
SanSoucie also talked about Hernandez's mental health. Hernandez was not only struggling with his sexuality and with depression, but his autopsy brought the discovery that the former athlete had a brain disease too. To SanSoucie, this news wasn't surprising. It was clear that Hernandez needed medical and psychological help. Sadly, he went untreated.
"He was tired, depressed, struggling, what was he supposed to do? he wasn't gonna come clean. I mean, he couldn't," argued SanSoucie.
We may never fully understand Aaron Hernandez. His life, career, and crimes will continue to haunt us for years to come. And the mystery from them will continue to be told by true crime producers for years to come too.