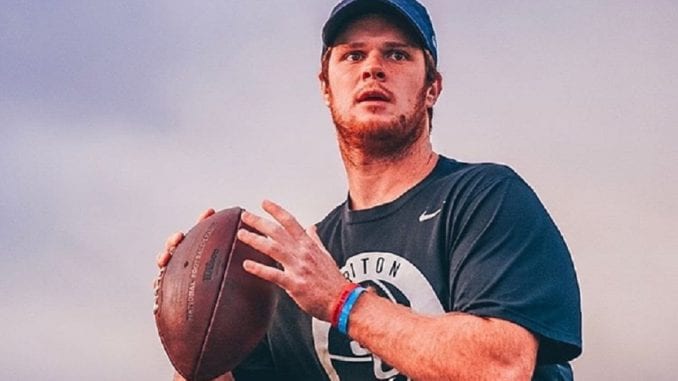 If you were to look on Twitter earlier, you'd see that "Sam Darnold" and "Mono" were trending. "Why," you might ask. Well, for a story that's as strange as you might be guessing.
Jets, Darnold, And Mono
Football season is just kicking into full gear with the first few official games of the season underway. But for the New York Jets, the season has already been derailed.
New York Jets quarterback Sam Darnold has been sidelined and will probably stay on the bench for a good few games of the season. The reason? Darnold has been diagnosed with mononucleosis, according to coach Adam Gase.
And this isn't a quick little cold that Darnold will get over in a week and then get back to the game. According to Dr. David Chao, the former Chargers team physician who now runs the website profootballdoc.com, this diagnosis means that Darnold will be out of the game for at least four to six weeks.
"He's going to miss a lot of time," Chao said to the New York Post on Thursday. "This isn't just about how does he feel. It's about more than that."
According to Chao, the real issues is the potential health complications that could arise from the illness. Mono typically causes the spleen and/or liver to enlarge. Because of this, someone with mono has to avoid physical contact or else risk rupturing an organ. Second, fatigue and weight loss increase because of the illness. This problem could continue on for multiple weeks. Then, of course, Darnold can be anywhere near the rest of the team or else risk infecting others.
Because of all these reasons, Darnold won't be playing for the rest of September and possibly for part of October too.
"This is a big deal," Chao said. "With this diagnosis of mono, an injured-reserve stint is not off the table. I'm not saying he's going on injured reserve but this starts at four to six weeks. Any four-to-six-week injury puts IR in the conversation."
Related: Can Taylor Rapp Prove Asian Men Can Thrive In Sports?
The Jets
So what will the Jets do in that time? They are down their Quarterback, and that's not all. The Jets lost their starting wide recieveer Quincy Enunwa to a season-ending neck injury this week as well. Plus, running back Le'Veon Bell underwent an MRI this Thursday to evaluate shoulder soreness. Thankfully, it looks like he has no major damage or tear. Though, the player will surely be taking it easy for the next few weeks to be sure.
"We don't think it's anything worse than [soreness]. We're just trying to be a little extra cautious," said Gase to ESPN.
All of this bad news comes after a Week 1 loss to the Buffalo Bills. Things are looking pretty shaky for the Jets with only one official game into the football season. But, Jets deputy quarterback Trevor Siemian is trying to hold the fork for the next few weeks until Sam Darnold returns.
As he said on Monday night before this big Darnold revelation, he will try to "do my job, run a clean operation and get the ball in the end zone. It's pretty simple. … I feel pretty comfortable with what we're doing. I'm excited to compete, for sure."
Here's hoping the Jets are able to stay strong for the next month or two. Or perhaps here's hoping they don't (depending on which football fan you ask).