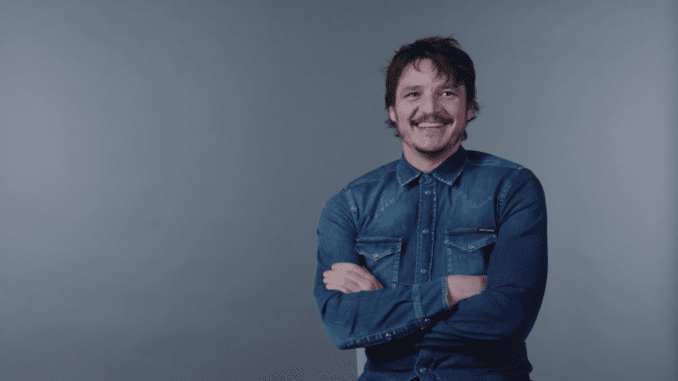 Pedro Pascal. We love him and we'd love to learn more about him. From starring in popular shows like Narcos or The Mandalorian to appearing in popular properties like Wonder Woman: 1984 or Game of Thrones, Pedro Pascal has instilled himself into our collective minds as tv and movie lovers. But who exactly is Pedro Pascal? From his escape from Chile to his former swimming career and his upcoming projects, we've collected a bunch of fun facts about the star. You can read them all below.
Pop File: José Pedro Balmaceda Pascal
Birthday – April 2, 1975
Birth Place: Santiago, Chile
Height: 5 ft 11 in (190.5 cm)
Zodiac: Aries
1. He Came to America On Asylum
First, we have to share what may be the most interesting news about Pedro Pascal. He came here on political asylum with his family. You see, when he was very young, Pascal's parents were a part of political groups. Specifically, they were involved in the opposition movement against Chile's military dictator Augusto Pinochet. They also supported his opponent Allende. Unfortunately, that eventually led to the family getting into trouble and danger. They then sought political asylum in the U.S.A. Once inside, Pedro Pascal grew up in Orange County, California before moving to San Antonio, Texas.
2. He's A Former Swimmer
But once he made it to America, what did Pedro Pascal end up doing? Well, he was a successful swimmer in his youth. Pedro Pascal won several awards and took part in the State Championships in Texas at the age of 11.
Related: 7 Interesting Facts About Oscar Isaac
3. He Got Into Acting Because Of Reading
Pascal's time in the pool didn't last forever, however, as he later found a love for acting. Pascal discovered that love by first falling in love with reading. After moving to California and then again to Texas, Pedro Pascal felt like an outcast. He found solace in reading classics like The Graduate and Who's Afraid of Virginia Woolf. That eventually lead to him reading drama and gaining an interest in theatre.
4. He Lost 17 Jobs In His Early Days
But Pedro Pascal wasn't a top-notch actor from the start. Everyone has a rough time of it when they're just beginning. Pascal is no different.
Pedro Pascal admits in interviews that he got representation when he was in high school, but failed to nail a role. He then supported himself by waiting tables. Unfortunately, he wasn't good at being a waiter. The actor got fired from around 17 waiting jobs while trying to make it as an actor. Now, he's thankful he doesn't have to try out an 18th job.
5. He's Also A Stage Actor
Again, Pedro Pascal first fell in love with acting because of literature and stage roles. This led to him being invested in theatrical work. Pedro Pascal has worked in Off-Broadway shows like Maple and Vine by Jordan Harrison, Beauty of the Father by Nilo Cruz, Roberto Aguirre-Sacasa's Based on a Totally True Story, Trista Baldwin's Sand, and more. Pascal is also a member of New York City's LAByrinth Theater Company.
6. He Was Engaged Before
But what about his personal life? Has Pedro Pascal had a lover or two? It turns out, he may have had a very intimate relationship with a former Game of Thrones co-star. But, things eventually ended. Despite Pascal being a fairly secretive man, when it comes to his personal life, its been revealed that Pascal used to date actresses Maria Dizzia and Lena Heady. When it comes to Game of Thrones' Heady, the relationship went so well, at one point, that they were caught shopping for engagement rings. That said, the two never officially confirmed that they were dating and it looks like they are no longer seen together.
Related: 9 Facts About SNL Comedian Pete Davidson
7. His Sister Is In the Industry
But what about Pedro Pascal's family? What are they like? Besides his political parents, Pascal's younger sister is also big names in their own right. Pascal's younger sister, Lux Pascal, is also in the acting business. Lux is an actress in Chile.
In addition, Lux recently came out as transgender. She revealed in a magazine feature that she identifies as a woman and goes by the name Lux Pascal. In the interview, Lux noted that her brother has been supportive of her transition 100%.
"Pedro has been an important part of this," Lux explained. "He's also an artist and has served as a guide for me. He was one of the first people to gift me the tools that started shaping my identity."
Meanwhile, Pedro, who updated his Instagram profile to say "he/him," posted to social media, "My sister, my heart, our Lux."
8. He Always Plays Fathers
Maybe Pascal's natural loving tendency is why his career has found a trend of playing father-figures. From Din Djarin in The Mandalorian, to Maxwell Lord in Wonder Woman: 1984, to his upcoming role as Joel Miller in HBO's The Last of Us, Pedro Pascal is starting to get typecast as the accidental father figure. And you know what? We love that.
9. He Was Almost On Wonder Woman Before 1984
Speaking of Wonder Woman: 1984, our last fact for you is the fact that the film was, ironically, the second Wonder Woman project the actor has been tied to. In 2011, Pascal was set to appear in a Wonder Woman tv adaption, but the show never got picked up. Maybe it's because the Wonder Woman film franchise was about to kick off. Then funny enough, Pascal got cast in a Wonder Woman property anyway.
If nothing else, Pedro Pascal is a man with a lot of talent, a lot of heart, and a good dash of luck. And we love him for it.