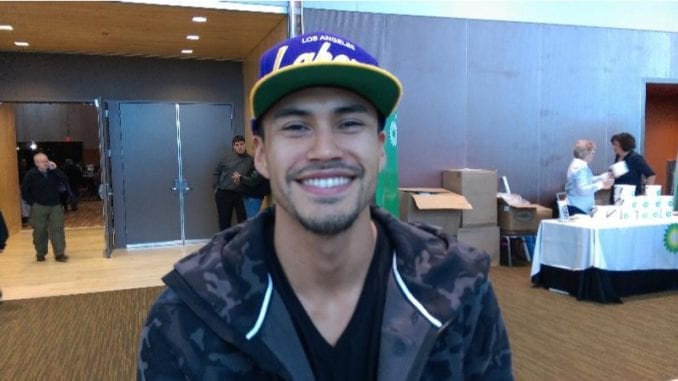 Martin Sensmeier – A Closer Look
You may have seen actor Martin Sensmeier on television or in movies but what do you really know about him? Recently, I became aware of Sensmeir after seeing him on CBS's FBI: Most Wanted.
What grabbed my attention about this entertainer is his unique look.  In case you don't know, Sensmeier is Native Indian, also referred to as Native American.
With jet-black hair and brooding brown eyes, Sensmeier has a strong presence on camera. Moreover, his acting skills are impressive with an ability to go beyond typecasting.
Given interest in this celebrity (and my own interest), I've done a bit of research and put together seven facts on Martin Sensmeier you might not know.
As an aside, I've got to say that it is really nice to see a Native Indian in the entertainment world, know what I mean?
OK, check it out.
POP FILE: MARTIN SENSMEIER
Birthday: June 27, 1985, Anchorage, AK
Eye Color: Deep Brown
Shoe Size: 14.5 W
Sign: Cancer man
1. Born in Alaska
Sensmeier was born in Anchorage Alaska but raised in the town of Yakutat. This is small community.
We're talking less than 700 people according to the most recent census.
2. Part Native Indian and German
Sensmeier parents are Raymond and Eva Sensmeier. His father is German-Tlingit and his mother is Koyukon-Athabascan from Ruby, Alaska on the Yukon River. MHis paternal grandpa was Gilbert Michael Sensmeier. Born in Indiana, he was of German descent.
3. Used to be a welder
You may be used to seeing Sensmeier onscreen, but did you know he used to be a welder? Yep, it's true. He spent time on an oil rig for Doyon Drilling.
While attending the University of Alaska, he traveled to Los Angeles for acting lessons. In 2011, he quit his job on the oil rig and moved to LA for modeling work.
4. Men's Fashion Model
Not Surprisingly, Sensmeier was a model. Many up and coming actors find their beginnings in the fashion world. Examples include Tom Welling from Supernatural and Chris Evans.
Related: Secrets of male underwear models
Modeling provided the financial resources to allow Sensmeier to live in California while making important connections in the entertainment industry.
5. Magnificent 7  
In 2015, he was cast on the Magnificent 7, playing the part of Red Harvest (a lead role). This once in a lifetime opportunity helped put Sensmeier on the map.
Co-stars included Denzel Washington, Chris Pratt, Ethan Hawke, Byung-Hun Lee, Manuel Garcia-Rulfo, and Vincent D'Onofrio.
Here's what he said about the experience in an interview:
"I just didn't believe it and then when I finally did, it didn't come with this big intoxicating feeling like I thought it would. I was like "Dope! Now it's time to get to work!" I was definitely star struck when I met Denzel Washington!"
Sensmeier joined the cast in the second season of the HBO television show Westworld (2018) in the recurring role of Wanahton.
6. He values his Native Heritage
It's clear Sensmeier cares deeply about his Native Indian background. He is an ambassador for The Native Wellness Institute, plus the Boys & Girls Clubs of America.
Sensmeier advocates for wellness among Native people of all Nations- focusing largely on youth. Here's a quote from an interview he gave with Men's Fashion Post.
"I do two workshops a year with the Native Wellness Institute for the youth. One takes place in Oregon and another takes place in San Diego. And one of them revolves around athletics and getting these kids active. We've got kids that have never worked out before and in three days they're running and doing all kinds of activity and they love it.  This is my form of activism to be involved with these kids. We try to find a way to uplift our people who are underrepresented."
7. Grew Up Poor
One of the things that endearing about this actor is his personal story. The hard truth is, Sensmeier grew up like a lot of Native Indians – in poverty.
Here's what he had to say about this topic:
"Because one thing I know from being poor and growing up in poverty like that, it can break you and it can bring you to a place so low that you feel deprived. But when you're kid you don't know you're being deprived unless someone tells you or makes you aware. Other kids had things I didn't have but my parents taught me."
Bonus: Loves the outdoors
In many of his Instagram pictures, you'll see Sensmeier spending time outdoors, engaged in some type of physical activity.
None of this is shocking. His public interviews demonstrate he has a great love for the environment.
Wrap Up
Well, there you have it – a quick rundown on Martin Sensmeier. While I can't be sure, I have a feeling you will be seeing a lot more of this actor in the future.
At the time of this post, the public record shows his girlfriend is Kahara Hodges. How accurate that is remains to be seen because Sensmeier leads a very private life.