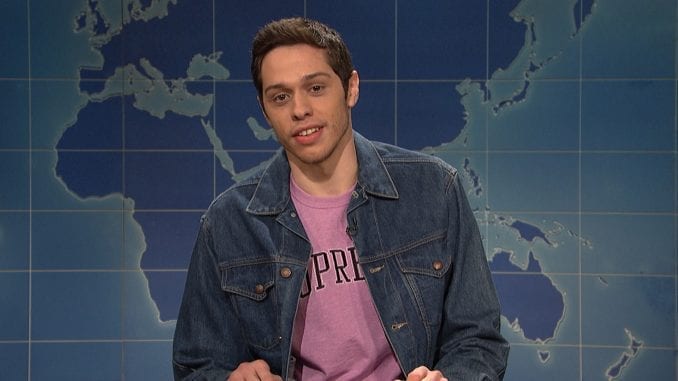 Pete Davidson Facts
Pere Davidson has gotten our attention! And now, we can't help but want to get to know the man a little better.
Comedian Pete Davidson has been a part of SNL since 2014. In all of that time, he has delivered us plenty of iconic sketches and characters. Then this weekend, Davidson went viral for kissing Jack Ryan star John Krasinski. With the assured boost in interest for Pete Davidson, we thought it'd be fun to share some facts about the comedian and actor. In fact, here are 9 facts to get you started.
Pop File: Pete Davidson
Birthday – November 16, 1993
Birth Place: Staten Island, New York, U.S.A.
Height: 6 ft 3 in (190.5 cm)
Zodiac: Scorpio
https://www.instagram.com/p/CKmUWuTjSrW/?utm_source=ig_web_copy_link
1. He Was Bullied In School
One thing you should know about Pete Davidson, he loves telling stories/jokes that are true, awkward, and are backed by a lifetime of pain and realness. Yes, he's one of those kinds of comedians. But, that's what makes him so great.
Davidson's origin story, if you will, starts with a tough upbringing in Staten Island. There, he went to three high schools; St. Joseph-by-the-Sea High School, Tottenville High School, and Xaverian High School. Why did he jump from one school to another? Because he was the frequent target of bullying. Davidson didn't start to find happiness, or at least a way out, until he went to college and left Staten Island. How much do you want to bet those old bullies now gloat about growing up with Davidson?
2. He Suffers From Crohn's Disease and Borderline Personality Disorder
Unfortunately, Pete Davidson didn't only grow up dealing with bullies. He also dealt with physical and mental health struggles too. Davidson was diagnosed with Crohn's disease when he was a teenager. Crohn's disease is a chronic condition that causes irritation in your digestive tract. While there's currently no cure, Davidson does have access to medication to manage the illness.
On top of that, Davidson also suffers from borderline personality disorder. This condition limits his ability to regulate his emotions and control his impulses. If you've ever watched his comedy routines or his SNL sketches, you might have seen some traces of this.
https://www.instagram.com/p/CE_4aAMDzDe/?utm_source=ig_web_copy_link
3. His Father Was An American Hero
As for his family, Pete was close to his parents. Though, there is trauma there as well. Specifically, Pete looked up to his father, and still does in a way, while growing up. You see, his dad was a firefighter. But, Pete's dad was present during the 9/11 attacks and, unfortunately, his father lost his life while saving others.
4. He Loves His Mom
That said, Pete Davidson still has his mother. And the two are very close. In fact, Davidson still lives with his mom. Though, like Michael B. Jordan, his mother lives WITH Pete and not the other way around. Pete's mom, Amy Waters Davidson, is roommates with her son and Pete makes several jokes about their relationship, their living arrangement, and his desire for his mother to find love again. What a lovely mother-son duo.
5. He Became A Comedian Because Of A Dare
That's a lot of trauma and baggage to carry. So, what led to Pete Davidson deciding to do comedy? Well, first, it's often people who experience so much trauma who make great comedians. Then second, Davidson decided to pursue comedy after a dare (which is funny in and of itself). At the age of 16, Davidson was at a bowling alley with friends. A stand-up show was happening in the building and his friends dared him to go up on stage. Davidson has yet to get back down.
6. He's The First '90s Born Saturday Night Live Cast Member
Pete Davidson's personality and professionalism quickly got him in the big leagues. Well, as quick as 7 years can be. Pete got a small role on Amy Schumer's Trainwreck and met SNL alum Bill Hader there. Hader was so impressed by Davidson that he recommended the young comedian and actor to SNL executive producer Lorne Michaels. Once cast on the show, at the age of 23, Pete Davidson became the youngest member of the cast at the time and the first person born in the 1990s to be cast on the show.
https://www.instagram.com/p/CIyTgnjBo_i/?utm_source=ig_web_copy_link
7. He Has Many Tattoos
But what are some fun and random facts about Davidson and his personality/life? Well, Davidson is a BIG Harry Potter fan. The comedian remembers loving the books and movies most of his life and he even remembers seeing the first film in theaters on his birthday. To honor his love of the show, Pete Davidson has a tattoo of the Deathly Hallows symbol.
But that's not all. Pete Davidson is a big fan of tattoos and has many of them. Some signify important aspects of his life and some are just fun to him. For instance, Davidson has a tattoo of the number 8418 on his left arm. This was the badge number of his late father. In addition, Pete Davidson has a tattoo honoring Hilary Clinton, whom he wanted to win the 2016 Presidential Election. Davidson also has four tattoos to signify his ex-fiancé, Ariana Grande. This includes her initials, their favorite song, and a heart tattoo that used to be a bunny ear logo.
8. He's Dated Many Famous Women
With that, Pete Davidson has dated many famous women after he became a famous comedian. This includes fellow comedian Carly Aquito between 2014 and 2015, Larry David's daughter Cazzie David from 2016 to 2018, singer Ariana Grande in 2018, and actress Kate Beckinsale in 2019.
https://www.instagram.com/p/CJcOfsrhL3u/?utm_source=ig_web_copy_link
9. He Collects Sneakers
It seems Pete Davidson is a collector, of sorts. Not only does he collect tattoos but he also collects sneakers. The comedian owns hundreds of pairs of sneakers that range in style, brand, and color. Davidson, ever the comedian, has even joked about his shoe obsession and says that he has a shoe fetish at this point.
Pete Davidson has been working as a comedian for over a decade now, and we look forward to seeing what he does next in the entertainment world. Until then, we hope you enjoyed this facts list.