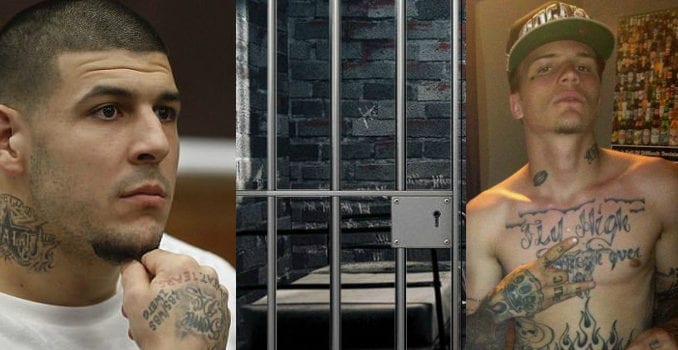 Aaron Hernandez wanted to share a cell with his alleged "prison boyfriend"
In recent days, new information has come to light regarding Aaron Hernandez, former New England Patriots tight end and convicted murderer.
According to Larry Army, Jr, the attorney who represents the purported jailhouse lover of Aaron Hernandez, there was a formal request put in by Hernandez for the two to share a cell.
"Aaron Hernandez had requested to the prison that my client, Kyle Kennedy be his cellmate,' he shared with the Daily Mail. "If he was going to be in with someone else why not Aaron Hernandez," added the lawyer.
The request was apparently made in September of 2016, according to Daily Mail sources. And for a short period of time, that request was approved. But the superintendent overruled it.
A mysterious note
An unnamed source for DM added the following:
"He said [the superintendent] didn't want Aaron Hernandez sharing a cell with anyone. It was partly because Hernandez was a high-profile prisoner and partly because he was one of the toughest guys in there. He had gotten into a lot of altercations."
Kyle Kennedy's attorney also confirmed that one of the suicide notes (there were reportedly three) was intended for his client, as shared by the New York Daily News.
"If he was going to be in with someone else why not Aaron Hernandez"
Apparently, Mr. Kennedy is demanding to read that note.
"Neither I, nor my client, have seen the letter," Army shared with the Daily Mail. "We will be requesting that the letter be turned over to my client as soon as possible."
Until recently, Mr. Kennedy was on suicide watch in the immediate aftermath of Hernandez's passing. He's now been removed from this status – some six days after the former New England Patriot's star was found hanging from bedsheets in his cell.
"My client is obviously saddened by the loss of his friend, Aaron Hernandez,' said Mr. Army in his interview Daily Mail.
Synthetic Marijuana
In related information regarding Aaron Hernandez's passing, Newsweek is reporting that a preliminary autopsy of Hernandez's remains tested positive for K2, a synthetic form of marijuana.
The sources given was two law enforcement personnel, who apparently have direct knowledge of the case.
Moving to Overturn Conviction
Lastly, lawyers for Mr. Hernandez have filed a motion in court to have his previous murder conviction overturned, per a report by TMZ.
Just prior to the former football star's passing, GPB reported that Hernandez's attorney had made public statements indicating that his client's previous conviction would be overturned – something that would have allowed Hernandez to be free.
h/t: Daily Mail