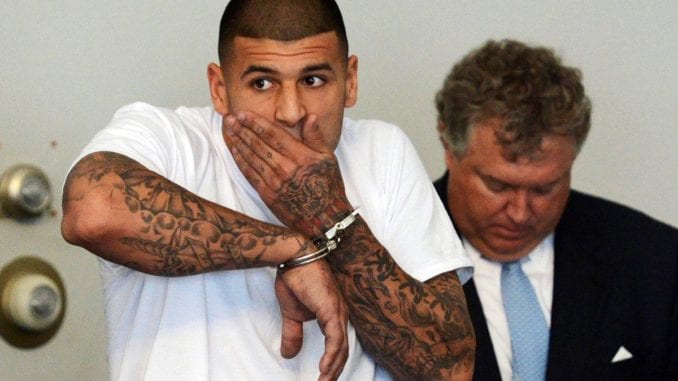 Killer Inside: The Mind of Aaron Hernandez
Aaron Hernandez is back in headlines and he'll soon be on our computer and tv screens.
Back in 2017, Netflix announced that it would be creating a documentary series about the Aaron Hernandez murder story. And now, the streaming service has released the first trailer ahead of a January 15, 2020 release.
Aaron Hernandez
Hernandez was a former NFL star who was found dead after hanging himself in prison. This was after the athlete had been at the center of a murder trial over three different shootings, the 2012 Boston shootings of Daniel de Abreu and Safiro Furtado and the 2013 shooting of Odin Lloyd.
The former New England Patriots Pro Bowl tight end was serving a life sentence for the Lloyd shooting, a semipro football player dating the sister of Hernandez's fiancée Shayanna Jenkins-Hernandez. The authorities found him with "John 3:16' written in ink on his forehead and written in blood on a nearby wall. The bible verse reads:
"For God so loved the world, that he gave his only Son, that whoever believes in him should not perish but have eternal life."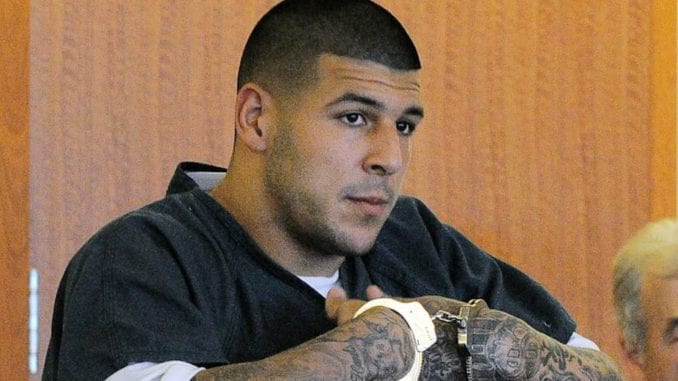 Some think that Hernandez ended his life due to the trial bringing up hidden truths about his sexuality. Specifically, it was discovered that Hernandez was bisexual and had a male lover. It was later revealed that Hernandez broke down when he found out his secret would become public knowledge through the trial.
That said, there is some suspicion that Hernandez did not take his own life. There are some who believe the former athlete was murdered. After all, Aaron Hernandez was later acquitted of the double homicide just five days before his death. In fact, Hernandez's fiancé has adamantly said the former athlete did not kill himself. This is despite the suicide note left by the body.
"Shay, you have always been my soulmate and I want you to live life and know I'm always with you," reads the note, in part. "I told you what was coming indirectly! Tell my story fully but never think anything besides how much I love you. This was the supreme's, the almighty's plan, not mine! I love you!"
Killer Inside: The mind of Aaron Hernandez. From the studio that brought you Making a Murderer and Evil Genius, witness the rise and fall of the infamous athlete Aaron Hernandez. How can someone who had everything throw it all away? January 15, only on Netflix. pic.twitter.com/tak2JAwXj5

— Netflix (@netflix) December 19, 2019
The Trailer
Again, Netflix is getting ready to release their documentary series next year. The documentary tv series was produced by Geno McDermott's Blackfin. Blackfin is behind several other true-crime series such as I Am Homicide and the upcoming Escobar's Millions. The company started up production for Hernandez's series since early 2017, according to Deadline, and worked with writer Dan Wetzel to cover all angles of Hernadez's story.
And now, Netflix has dropped the first trailer for the crime series titled "Killer Inside: The Mind of Aaron Hernandez." In the trailer, which you can watch above, we hear a phone call recording of Hernandez as he confesses to the original double murder.
"My whole body's shaking right now," Hernandez states. A woman is heard on the other end of the phone call and she asks, "What happened?" Hernandez then replies, "You know my temper …" The trailer then eerily cuts out.
To caption the trailer on Twitter, Netflix US wrote:
"Killer Inside: The mind of Aaron Hernandez. From the studio that brought you Making a Murderer and Evil Genius, witness the rise and fall of the infamous athlete Aaron Hernandez. How can someone who had everything throw it all away? January 15, only on Netflix."