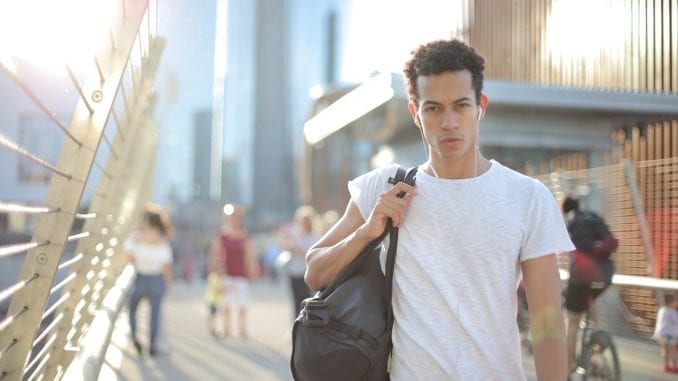 Men and Bags
Boy bags. Man purses. Call them whatever you want, but the trend of men wearing fashion bags is the new wave. It's not just a look for the runway, fellas. Purses, totes, shoulder bags, and backpacks are a new way for men to showcase their confidence and carry their stuff.
Womenswear has traditionally been the place to find handbags, but menswear has changed dramatically in recent years. From jewelry to handbags, men are finding new ways to express their style and the result has been absolutely fabulous.
Celebrities and influencers are leading the pack, but modern men, both straight and gay, are following close behind. Here are some of the latest fashion bag trends for Spring 2021.
Prada Chest Bags and Sporty Sling Bags
The chest rig trend isn't going anywhere. Now, Prada has jumped into the pool with their latest Tactical Crossbody Harness bag. Prada did this same harness bag back in 2019, but the wave was still building and not that many guys were wearing it.
Well, fast-forward to 2021 and you'll be hard-pressed to find Prada's new bag. It's just that popular. It's made of nylon fabric with adjustable straps that hug the upper body. Metal fasteners add contrast and so does the red latex Prada logo stripe that spans the front.
It has a padded back and two zipper compartments. The Prada chest bag comes in black or marble white. The marble white has an arctic camouflage design that really stands out from the crop. It retails for $1,220. You can cop it on the Prada website.
If you like men's tactical rigs and sling bags, you don't have to drop loads of cash on designer labels. There are some great alternatives that are just a click away on Amazon. Check out this polyester sling bag from Champion. It's got a durable exterior finish and a USB charging port. It's perfect for jaunts to the gym or adding some extra style points to an athletic outfit.
Jansport and the Reimagined Backpack
Jansport is throwing everything but the kitchen sink into their latest bag. You might not have looked twice at a Jansport backpack since your days at school, but maybe it's time to look again. Jansport has collaborated with Japanese retailer BEAMS to create a custom version of Jansports' iconic backpack.
It's essentially 3 bags in one. You get a fanny pack, a backpack, and a removable utility pouch. Fittingly, it's called the PLUS PACK. It's available in black and blue and can only be purchased through the BEAMS online store. It retails for about $150 bucks and goes on sale in mid-March.
There's another trend involving backpacks that's heating up the fashion scene for Spring. Japanese designer Junya Watanabe has made a series of backpack and outerwear hybrids. Basically, the backpack is fused into the fabric of a light jacket. It's Watanabe's signature design.
He collaborated with the North Face and Mystery Ranch to create the In and Out Jacket. It's made of synthetic tactical fabrics with plenty of storage pockets and an entire backpack woven into the back. If you love adventure outerwear, then check out this backpack from Watanabe. Find it on the Dover Street Market website.
 Givenchy and the Big Tote Bag
Givenchy is one of the most forward-thinking designer labels when it comes to gender fluid fashion. Their creative director Matthew M. Williams is blazing hot right now with celebrities and pop star icons. The Weeknd wore a Givenchy blazer in his Super Bowl performance. Playboi Carti was seen rocking a big tote from Givenchy, too.
https://www.instagram.com/p/CK9nBSKL0nn/
The glossy calf-skin bags rake in high visibility views. They have heavy metal accents that give the Givenchy Antigona bag a more traditional, high end tote bag aesthetic that would've been unheard of for men just 10 years ago.
Did you know that Nike makes a tote bag? The Nike AF-1 tote bag has durable parachord straps with contrast stitching and a polyester fabric bag. It has one big pouch for carrying anything from a laptop to a whole gym outfit and towel.
The AF-1's simple unisex design makes it ideal for guys who don't want to perform an extreme gender bend with their tote bag but are open-minded enough to embrace the emerging trend of man purses. It's a well-recognized brand name with a simple, uncluttered design.
The AF-1 tote bag sells out fast. So, be sure to check the Nike website, Ebay, and Amazon to find one. It normally retails for $100, but you can probably find it on sale for around $70 bucks.
Louis Vuitton and Genderless Shoulder Bags
Jaden Smith has been working with Louis Vuitton and designer Nicholas Ghesquiere since 2016. When he was just 17, Jaden Smith posed for a LV ad campaign for women's clothing. Well, he's back on the scene to promote the new Louis Vuitton Spring/Summer 2021 collection. If the new collection had a theme it would be the contradiction of gender norms.
The new line of Louis Vuitton handbags swing from subdued traditional to bubbly versatile without skipping a beat. You'll be able to find the complete line of Louis V bags creeping up on the website in February and gracing the pages of fashion mags in March.
You might not be ready for a Louis Vuitton price tag but appreciate the aesthetics of their over the shoulder bags. They're a nice in-between size for a guy whose looking for something like a messenger bag that can also be used as a style element. There's this over-the-shoulder bag by LAORENTOU that is well-crafted and functional. It has pockets galore, made of genuine leather, and comes in black or brown. You can find this shoulder bag on Amazon.
The Takeaway
If you're looking for a way to start rocking fashion bags, then start with something functional. Think about what you would use the bag for – gym, work, date nights, or just for fun. Then, find something that just makes you feel great – colors, fabrics, and accents that vibe with you.
As you can see from this review, you can get big style points with the right designer bag. However, you can really get in over your head if you start chasing labels. These bags carry 4-figure price tags and collecting them can become addictive.
There are lots of bargain labels that copy the style of designer bags but bring you the trend at a more comfortable price point. That would be a good way to add versatility to your collection. Part of the fun (as men are finding out) is hunting the perfect bag. So, enjoy yourself and keep it classy.