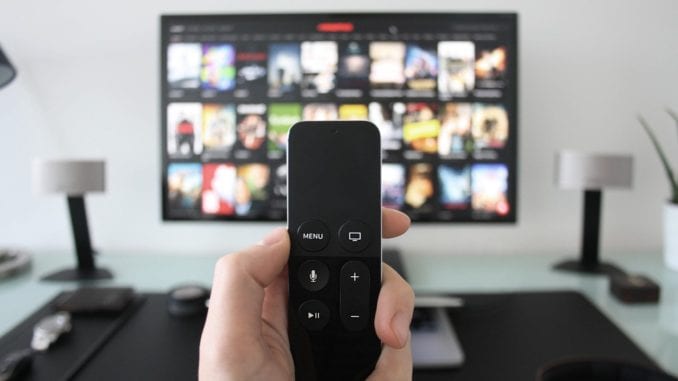 Lately, everyone's been talking about Tiger King. The Netflix documentary has become a sudden sensation online thanks to the fact that many people are stuck at home and watching more programming than ever before. The only problem is, the show is incredibly addicting and only 8 episodes long.
So, what are tv and movie watchers doing after finishing their Tiger King binge? Looking around like confused ducklings. But look no more! Here's a list of content to jump into after you've finished up with Joe Exotic.
Ozark (Season 3)
Ozark is back with its third season just in time for us to binge it. This crime drama series stars Jason Bateman and Laura Linney as a married couple who are forced to relocate their family to the Ozarks. After making some powerful enemies, the family are forced to launder money for a Mexican drug cartel. Things, of course, get crazy from there. You can watch it all unfold on Netflix.
Love Is Blind
Before there was Tiger King, there was Love is Blind. Yes, it seems that the "most talked about program" changes by the week. While Tiger King is all the rage this week, it was Love is Blind that everyone was talking about last week.
Love is Blind is a Netflix reality dating show where thirty men and women hoping to find love congregated to one location. Then, the group went through ten days of speed dating. The catch was, the people ended updating while in "pods." Between those pods was a thin wall that allowed the couples to talk. By the end of the ten days, people had to decide whether or not they found someone worth marrying. They then spent a couple's retreat in Playa del Carmen before heading home preparing for a wedding in a week.
Again, you can check out the show on Netflix.
Watchmen
But maybe you want more of a slow burn type of watch. If so, HBO's Watchmen is the show for you. If you're familiar with the iconic comic at all, you'll be excited to watch this cable series.
HBO's Watchmen is a "sort of" sequel to the original Watchmen comics. The comics and their storyline are canon to the mythology of the show. That said, what happens in the show is entirely the creation of HBO and its team. And according to internet buzz, it's a slow burn but its also a crazy joyride for fans of the original story.
Brooklyn Nine-Nine
With all the drama going around, it might be time to watch a comedy. If you agree, Brooklyn Nine-Nine might be the right watch for you. This wacky show starring SNL-alum Andy Samberg follows a funny team of New York City detectives as they solve cases and problems in their personal lives. The show starts with the team getting a new captain and seeing their world gets flipped upside down, and trust when we say it's all laughs from there. If you want to check it out, watch it on Hulu or NBC.com.
The Witcher
The next show that everyone's talking about is The Witcher. The popular IP has been a success in novels and in video games. So, of course, it would do well on streaming too.
The action-packed fantasy series follows a monster-hunting warrior named Geralt (played by the man of steel himself, Henry Cavill). Though the show only debuted a week ago, many have already binged what Netflix hopes will be its own Game of Thrones (violence and sex included). To join them, check it out on Netflix.
Onward
With all the movie theaters cutting out and Disney not being financially great right now, Onward got released digitally early. Onward, starring the voices of Tom Holland and Chris Pratt, follows two brothers on an epic journey in a world that's both fantastical and modern. The two elven brothers Ian and Barley Lightfoot, Holland and Pratt respectively, receive a wizard's staff in a world where magic was thought to be lost. The staff was a gift from the boys' father who died before Ian's birth. Along with the item comes a single spell to bring their father back to life for 24 hours. Unfortunately, things go wrong and only his legs return. The boys then go on a quest to retrieve the rest.
If this sounds right up your alley, you can buy the movie at most digital streaming sites now. Or, you can wait till April 3rd when it appears on Disney Plus.
Fleabag
This Emmy-award winning comedy could also be the funfair you're desiring right now. Fleabag is a British comedy-drama television series created by, written by, and starring Phoebe Waller-Bridge. Waller-Bridge stars in the show as a free-spirited and sexually active but angry and confused young woman in London. This show about a dry-witted woman, known only as Fleabag, navigating life and love in London, while trying to cope with tragedy, is the type of show that's best just dived into. But know that it is an Emmy-award winning show that's been celebrated time and time again. If you want to check it out, watch it on Amazon Prime Video.
The Mandalorian
Next, we have the only Star Wars project that hasn't erupted into flames in the past few years. When Disney's streaming service Disney+ arrived a month ago, many were excited for The Mandalorian. After all, it was one of the only new content found on the site at launch.
The series follows the end of the original Star Wars trilogy. It's an action-packed story following the adventures of its titular hero across space. And even better, he is accompanied by Baby Yoda, whom you probably already know of. He is basically the new icon of internet memes. So watch the show and catch up with what everyone's talking about!
Self-Made
This "inspired by" drama is much like many other "inspired by" stories. It's great programming but may not be as accurate as you'd like. That said, the story brings attention to a very important but often forgotten historical figure, Madam C.J. Walker. Starring Octavia Butler, this drama follows C.J. Walker, America's first self-made Black female millionaire. If you want to watch, you can check it out on Netflix.
Killing Eve
Speaking of Phoebe Waller-Bridge, this is yet another show that she led as a showrunner (at least in its first season). Killing Eve is a British spy thriller starring Grey's Anatomy's Sandra Oh. The show follows Oh as a British intelligence investigator tasked with capturing psychopathic assassin, but as the game of cat and mouse continues, the two quickly become obsessed with each other.
Watch the two obsessed killers on BBC America. Even better, Killing Eve will return for its third season on April 12.
You
Late last year, #You was trending on Twitter. Why? Because the second season of the thriller series dropped on Netflix.
The simplistically titled You follows a young man who is obsessed with a girl. He then will stop at nothing to get closer to her. Meaning, he's willing to stalk her and kill any of her friends/exs that get in his way. Clearly, this isn't a show for the faint of heart. The first season got many people talking due to the crazy antics of You's psychopathic lead character. And you can join the conversation too. Just check it out on Netflix.
The Good Place
Wow, that's at lot of killing and violence. If that was too much for you, maybe it'd be better to focus on what comes after death… the afterlife and the hilarity that ensues. The Good Place just finished its run earlier this year, and that means it the perfect time to binge-watch it. The show starts out following Kristen Bell's Eleanor who thinks she's been wrongly placed in the Good Place. She then tries everything she can, including learning philosophy, in order to stay there. Again, hilarity ensues.
If you want to watch it, most of the episodes are on Netflix. That said, the final season is currently available on Hulu.
The Great British Bake Off
This British competition show is more about charm than competition. The show celebrates British citizens joining together to bake. Whether its bread week, pastry week, cake week, cookie/biscuit week, or whatever else, there's plenty of competition and plenty of foods being made in that tent. But again, this show isn't charming because of the competition but because of the British air and poise that breathes from every episode. Check it out on Netflix to see for yourself.
Bonus: Old Favorites
Lastly, we have to give a shout-out to our old favorites. Now that we have so much time in our days, we have more time to enjoy tv shows and movies that we used to love. This includes past popular programming like The Walking Dead, Game of Thrones, Breaking Bad, Lost, Doctor Who, and more. Or, you could even go further back and watch favorite programs from your younger years like old cartoons found through Amazon or Disney Plus. The time is now to indulge in programming, and there's a lot to enjoy!