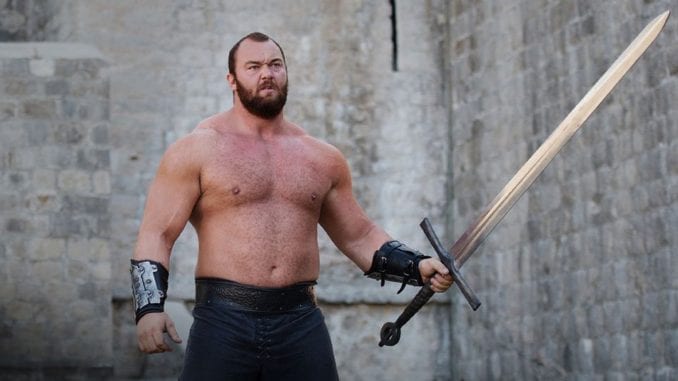 The Mountain has done it again!
After the end of Game of Thrones, many fans may have thought they heard the last of Hafthor Bjornsson. But it turns out, they were wrong. While he may not be acting in a juggernaut property anymore, Bjornsson has gone back to his roots and dominated it.
The strongman, and sometimes actor, has recently won the Arnold Strongman Classic 2020. This makes it his third time winning the annual competition.
"1st place baby! I won the Arnold Strongman Classic 2020! 3 years straight!!! Words can't describe how happy and grateful I am for the support around me," Bjornsson wrote on Instagram. He then shared that the event initially seemed to be in danger of getting canceled because of the Coronavirus (like the Amazing Race and many other events across the globe). Thankfully, the event continued.
Despite that initial craziness, Bjornsson went into the competition with confidence and support by his coach, his nutritionist, his wife, his dad, his mom, and other athletes.
"I was very confident this year that I was going to do well, because I knew that I had put in the work, but I was pushed so hard by the other amazing athletes… I am so grateful for the support team I have had working with me for this competition."
In order to claim the title, Hafthor Bjornsson lifted 1,026 pounds (or 465 kgs) during the Elephant Bar Deadlift. This, however, didn't match his record-breaking lift from earlier this year when he lifted 1,058 pounds. Of course, that lift did not officially count as he lifted with straps and no deadlift suit.
Since he took away the 1st place title and trophy, Bjornsson is also taking home a prize of $72,000. Coming up behind him were Mateusz Kieliszikowski  (a 26-year-old Strongman from Poland) and Martins Licis (29, Latvian-American) in second and third place respectively. The two then brought home $22,000 and $17,000 for their placings. But that's not all. Cash prizes were delivered all the way down to the 10th place winner Matjaz Belsak who won a respectable $2,000.
But what's next for Hafthor Bjornsson? We'll see in due time.