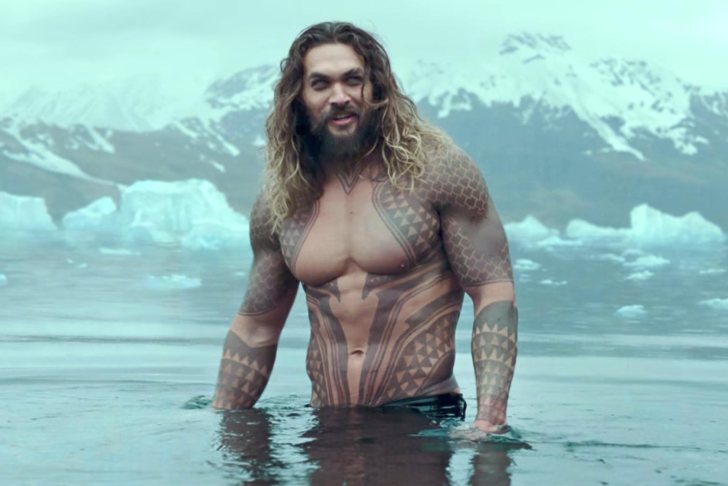 Why Body Shame Jason Momoa?
People are trying to shame Jason Momoa for not having six-pack abs anymore.
Just a few months ago, we were all graced with the majesty of Momoa playing water-based superhero Aquaman. Obviously, the role demanded a good few shirtless scenes. And Momoa delivered with one of the hottest superheroes to date.
But now that he's no longer preparing for such a big role, Momoa has allowed himself to relax a little with his diet and look. And let's be honest, the man still looks amazing. Better than most everyday citizens do. But for some reason, Twitter users had to pick a fight (as they always do).
Yes, it seems that even when you're as in shape as Momoa is, there will still be people looking to knock you down. Us Weekly shared the below photo of Momoa out in the wild (aka, near a pool). Unfortunately, some people in the comments had to share negative thoughts about the star's look.
"Omg, what happened to the abs?" wrote one user.
"12 year old boy status now," wrote another.
"Y'all forgot to Photoshop some abs on him or what," joked a third.
Related: Fans Want Jason Momoa Imitator Jack Matthews Off Big Brother
Dad Bod?
Thankfully, there were plenty of people who came around to share praise of Momoa and his looks. From people thirsting after the star to people saying the negative ones are wrong. Plenty of people came out to support Jason Momoa.
And honestly, we're not even sure Momo's look counts as a dad bod. Far be it from us to judge someone based on their looks. But if we have to put up criteria for body types,  Momoa's look is fairly fit for a dad bod. Even without overly defined abs, Momoa's body is still tighter than what we imagine when we think "Dad Bod."
And many internet users agree.
"If that's a 'dad bod' I'll take two and one for the road!" wrote one Instagram user.
"If you're honestly trying to imply Jason Momoa has a Dad bod, then it's clear you don't know what a Dad bod is," wrote another.
So apparently people are shaming Jason Momoa's Dad bod… you know the body where he looks like an above average fit man instead of a Spartan Warrior? pic.twitter.com/7s51iv3xC5

— Justin Cupcake (@J_CupcakeTV) July 6, 2019
People are actually criticizing Jason Momoa for having a "dad bod" in this pic………

……………………….. pic.twitter.com/oLnY0LfiVj

— Joey 🌊 (@justjoey_99) July 5, 2019
If you're honestly trying to imply Jason Momoa has a Dad bod, then it's clear you don't know what a Dad bod is.

— She Calls Me Daddy Too (@YourLocalJacob) June 19, 2019
Move Along
Dad bod or not, Jason Momoa is looking just as good as he did in Aquaman. And daring to body shame Jason Momoa or judge someone based on less muscle definition is a shame to men, the fight against body issues, and everyone involved.