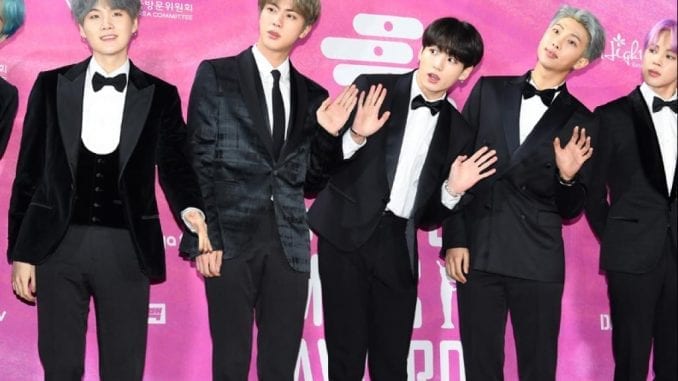 BTS Award
Is there anything that BTS can't do? Hitmaking boyband BTS dominated 2020 as South Korea's most popular export and won Global Artist of the Year from the IFPI.
BTS made history by winning the top spot for Global Artists of the Year earlier this week. The meteoric boy band is the first act to win from South Korea, the first non-English speaking group and the first Asian band to win the title. With their blend of Korean and English language hooks, hip-hop dance moves, and eboy style cues BTS has managed to appeal to a global audience.
There was some heavy competition for this award. BTS had to knock out Taylor Swift, Drake, and The Weeknd among others. BTS came close to winning the IFPI award before. They came in seventh place in 2019 and second place in 2018. Their number one placement on the IFPI global charts was almost inevitable.
BTS is a boy band with seven members. Each guy has their own unique style or flavor. There's RM, Jin, Suga, J-hope, Jimin, V and Jung Kook. Some of the members are well-known for dancing, singing, or rapping, but all of the BTS boys are fashion icons.
Related: How to Dress Like A TikTok Star in the E-Boy Style
The International Federation of the Phonographic Industry or IFPI is a non-profit music industry organization that was first formed back in 1933. The IFPI campaigns for recording rights of artists, produces industry market data, and campaigns for the intrinsic value of music.
Congratulations to @BTS_twt for topping @IFPI_org's #IFPIGlobalArtistChart 2020! Of course, they are the first 🇰🇷 South Korean and first Asian act to take the title. #BTSNo1GlobalArtist💜 pic.twitter.com/eZu03KK3PM

— U.S. Embassy Seoul (@USEmbassySeoul) March 5, 2021
In an IFPI press release, chief executive Frances Moore congratulates the K-Pop boyband by stating, "BTS are a global phenomenon. They have had another outstanding year, releasing three albums, and continually finding creative and engaging ways to share their story with the world. They truly show the power that music has to bring joy and happiness to people the world over."
BTS is one of the top selling musical acts in the world. To win the coveted Global Artists of the Year award, a musical act is evaluated on their success across both digital and physical platforms. BTS isn't just selling a ton of albums. They're selling out arenas, raking in millions of streams, and cashing in on their own success.
Related: Popular Boyband BTS Earns Millions as Their Label Goes Public
BTS is getting used to breaking records. They were the first K-POP group to make it to the number one spot on the Billboard Hot 100. BTS was nominated for a Grammy – the first ever for a K-Pop group.
Recently, BTS released their fourth album Map of the Soul: 7. The album was number one in more than 20 countries and was one of most pre-ordered albums of all time. They even released a Japanese language version of the album that became the best-selling album in Japan by a foreign male artist or group.
Their lead single "Dynamite" raced to number one in the US and broke streaming records for Spotify. Their song "Dynamite" was a global hit with a catchy classic pop vibe. It was their first song recorded exclusively in English. Their music video for "Dynamite" on YouTube has over 800 million views. It's a great way to get a taste of what makes BTS so popular.
Related:
18 Male Celebs on OnlyFans
BTS has solidified their title as the most popular musical group on the planet. By winning the Global Artists of the Year, these young boys have placed themselves in the record books again. Their fame and success isn't an accident either.
Rapper RM was the first member to join the group and taught himself English by watching episodes of Friends. Jimin regularly donates to educational charities in his hometown. Jung Kook joined when he was just 15 years old and wants to become a filmmaker.
It's clear to see that the boys of BTS are more than just choreographed cuties. With time on their side, BTS is sure to make a global impact for many years to come. What do you do after global domination? Well, fans of BTS will just have to wait and see.