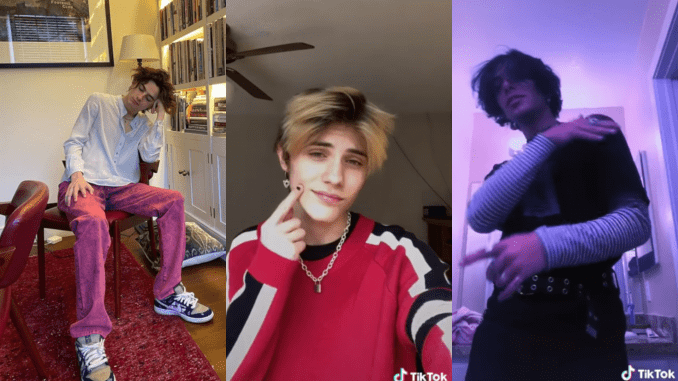 The Eboy Trend
Now that TikTok is saved (or at least, for the moment), it might be time to understand the blossoming fashion trend that first fostered on the app.
If you like fashion or keeping up with fashion trends, you've probably already come across the Eboy style. If you haven't, you're about to learn about the newest viral trend that's taking younger generations in men's fashion by storm and catching the eye of grown-up/professional fashion circles. And if you like the grunge/skater look of the 2000s, you'll love this 2020 update.
https://www.instagram.com/p/CE_xUQzgGH4/?utm_source=ig_embed
What Is It?
But first, what exactly is the Eboy style and where did it come from? Well, the Eboy style is an alternative fashion aesthetic that's popular with teenage boys and young men. The term Eboy refers to a young man and originally was tied to a social media influencer. This is because the style originally gained popularity online.
More specifically, the style started to form online in the late 2010s. This was in part due to the growing popularity of Kpop (Korean pop) and the flashy styles exhibited in music videos and performances of that genre. Simultaneously, there was a rise in another fashion style and persona, the E-girl. As E-girls and vsco girls became more popular, there became an inherent call for a male equivalent (as seen below). Ironically, that equivalent was also heavily influenced by Billie Eilish and her baggy but casual clothing style, which was so masculine that young men adopted it as their own.
Then as 2019 rolled around and TikTok solidified itself as the next big social media app, especially for Gen Z and young adults, the online influences there helped to solidify the Eboy style. That's when the world started to see a personality and persona take over the look, which is a necessary step in any big fashion style.
If you want a better look at the Eboy style, check out the eboyfashion subreddit.
https://www.instagram.com/p/CE7ruebFTmI/
Staples Of The Style
But what exactly makes up the look of the Eboy?
Due to the Eboy style still being fairly new, there isn't a locked-down definition and there's plenty of room for versatility. That said, there are some aspects that have been established as factors that you can play with and make your own within the broad style.
Style-Influences
The Eboy style is a combination of many different influences. From the grunge and alternative fashion styles to Kpop flashy looks to skateboarder culture, and more. One big influence within the Eboy wardrobe is the gothic aesthetic. Yet, the Eboy style is an evolution and next step from that. Because of this, the Eboy style and persona have that edgy/sad boy vibe with a more polished look. In terms of fashion, that polished look comes with formal clothing pieces like big sweaters.
Colors
Another way that that gothic influences come across is in the main colors that are used with the Eboy style. Eboys typically have a minimalist color pallet that includes monochrome greys, blacks, and pops of white or denim. Though with the blossoming style, there are many who have gotten away with wearing brighter colors like reds, baby blues, and neon greens. This then touches more closely to the Cyber Goth style.
Fit & Patterns
One of the other fundamental elements of the Eboy look is consciously dynamic clothes sizes. Pairing big shirts or sweaters with skinny jeans or cuffed pants is a great way to go. Eboys thrive when they're wearing a mixed fit of apparel. Layering is also a great idea. Have a short sleeve t-shirt over a long sleeve to add depth and variety to your look.
It's also good to have some variety with the patterns on your clothes. Incorporate a few pieces with wide stripes and checkerboard prints. Then experiment with streetwear and skatewear brands like Thrasher, Nike, Off-White, and Rick Owens. Many find their unique clothing at thrift stores and vintage shops. Some DIY touches like distressing and bleach dying would also work!
https://www.instagram.com/p/CE9x6YMJfeh/
Hair
After you've got the outfit going, it's also good to work on the hair. Right now, longer hair is becoming more popular with young men. While you can certainly prosper and thrive without long hair, a lot of the men who are being celebrated for the look have longer hair. For Black men, this could equate to having braids, dread locs, or an afro.
Hair is also where you can experiment with color. As the style continues to evolve, young men have started to bleach or dye their hair pastel blues, neon greens, platinum, and more. This could be because of either the Kpop or internet influences. One other big hair style that's been going around is the Cruella Devil hair, which is one half dyed and one half natural.
Accessories
Lastly, accessories! Dressing like an Eboy means you can liberally add rings, beanies, earrings, chain belts. As for footwear, a good pair of Converse or Vans is the best choice. Though, some Doc Martens or Black leather oxfords could also work. That's if you want to play up the formal wear side of the Eboy style more than usual.
Also, don't be afraid of makeup. Add to your look by getting some eyeliner going, getting some nail polish, or adding little touches like a teardrop under the eyes.
https://www.instagram.com/p/CEciM12Hx9B/
Where To Start
In the end, the Eboy style is a mixture of gothic meets alternative. The look is very mix-matchable but is all about putting in a lot of conscious effort while appearing as casual as possible.
Some beginner clothing items that you could acquire to adopt the Eboy look is:
oversized white T-shirts (relaxed fit, longline)
crewneck sweaters
long sleeve striped T-shirts (layer underneath a short sleeve shirt)
vertical stripes (button-ups, T-shirt, pants)
distressed denim (any wash works fine)
black joggers
Cheap Shirts To Get Your Started:
https://www.instagram.com/p/CE_w5eIF6n9/
The Spirit Behind The Look
In the end, remember the spirit behind the look is all about smashing sad boy vibes with edgy punk vibes. The look is all about the energy that comes with it, and that's why the Gen Zers and young millennials have gravitated around the Eboy style.
And if you are older than those two age brackets, you can still find a way into the Eboy style. In fact, high-end designers are starting to make professional designs based around the Eboy style. While the pandemic has pushed off major fashion shows for the moment, there were talks of major New York, London or Paris retailers preparing grown-up versions of Eboy apparel.
The Eboy has arrived folks. Now you just have to wonder, is it the look for you?