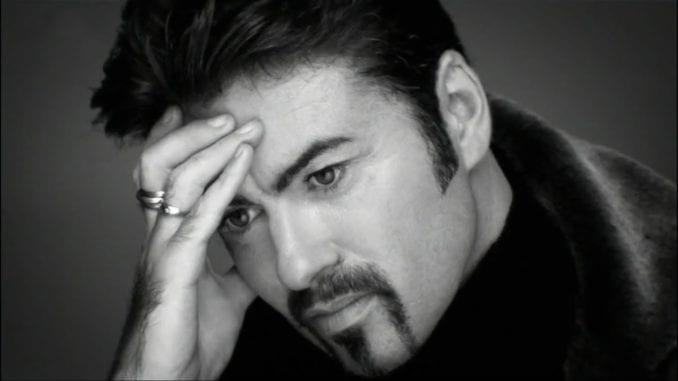 A New George Micahel Song?
From Michael Jackson, to Prince, to Whitney Houston, and now George Michael. It seems even death can't end the music industry's use of musicians. After all, they can always release singles posthumously.
A new track by George Michael has been released in conjunction with the upcoming film Last Christmas starring Emilia Clarke, Henry Golding, and written Emma Thompson.
The song, titled "This is How (We Want You To Get High)" sounds like a very odd choice for a Christmas romcom, but the movie and song collaboration has been in the works for years. The song was written back in 2012, according to Rolling Stone. Then Michael approved of its use in the movie back in 2013. The song was then recorded in 2015 before Michael's death on Christmas day of 2016. As such, this isn't a moral or legal grey area as Prince's posthumous Super Bowl appearance with Justin Timberlake.
In that case of Prince and Timberlake, the "Purple Rain" performer's image was projected during Timberlake's Super Bowl Half-time show. In addition, Timberlake, who notably had a turbulent relationship with Prince, sang Prince's song "I Would Die 4 U." This display was not appreciated by many of Prince's fans.
Rumors of a Prince projection leaked before the show and Sheila E., a close friend of the late singer, tweeted that Timberlake himself assured her that there was no hologram. This seemed like a direct insult to the words of Prince in an 1998 Guitar World magazine interview where he expressed hatred of posthumous releases.
"That's the most demonic thing imaginable," he said. "Everything is as it is, and it should be. If I was meant to jam with Duke Ellington, we would have lived in the same age. That whole virtual reality thing … it really is demonic. And I am not a demon. Also, what they did with that Beatles song (Free as a Bird), manipulating John Lennon's voice to have him singing from across the grave … that'll never happen to me. To prevent that kind of thing from happening is another reason why I want artistic control."
But would George Michael say the same? This newly released song is a different story and situation, but is it in respect to the late singer? Would he have released the song as it is now or would he have wanted to work on it longer? Flesh it out more. As The Guardian writes, the piece does sound like it hasn't been worked on since its original creation.
"It's very much a product of the 2000s, both in its sound – the vocals have a liberal application of Auto-Tune – and in the fact that it's not the kind of nailed-on, giant-chorused pop smash that Michael once turned out in profusion but were less numerous on his final studio album, 2004's haunted and troubled Patience. This single is more compact and punchy than that album's gauziest moments, but the mood is similar. That said, if you want poignancy, This Is How (We Want You to Get High) has plenty of it, albeit by default rather than design. 'I was always trying to get my life together,' offers Michael at one point. 'I guess we always knew it would be.'"
Rolling Stone also adds:
"The song has an upbeat vibe, but leans on heavier topics in the lyrics. 'So you raise another glass looking for a different space,' Michael croons over the Latin-inspired beat. 'I was leaning on the grass dreaming of a sunnier day/Oh it never came, how could it have baby/Where the present meets the past it's hard to be more than we've seen.'"
So while there's certainly a conversation needed to be had about releasing music of singers after they die, it appears that this one still has the heart of George Michael behind it. In addition, it was planned for release before his untimely death. As such, it's not a betrayal of his words, life, and legacy as the Prince Super Bowl projection was.
But again, the song will be added to the Last Christmas soundtrack, no matter what. If you want to hear it for yourselves, you can listen to the music right now. To do so, all you have to do is click on the video below.
h/t: Rolling Stone, The Guardian