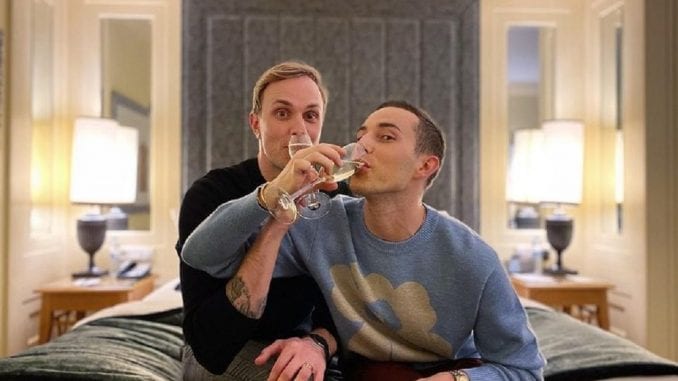 Celebrities Using Dating Apps?
Get ready for a glimpse into the world of celebrity dating. And funny enough, that world touches on our own. We've already shown you that there are several celebrities who dated, and married, people who weren't famous. But did you know that even more celebs have used dating apps like Tinder, Bumble, and Raya? To convince you further, here's a list of a few celebs who have tried out online dating.
1. Adam Rippon
The Olympic figure skater Adam Rippon, who became the first openly gay athlete to participate in the Winter Olympics, has been on dating apps. He then swiped right on Jussie-Pekka Kajaala's Tinder profile in 2018. The two then got engaged in Kajaala's native Finland earlier this year. But what did Kajaala say to start the two on their journey.
"We matched on Tinder in Finland when I was there for a competition, and his opening line was, 'Are you here for business or are you here just to meet me?'" Rippon shared on Dancing with the Stars.
2. Andy Cohen
Speaking with Chrissy Metz on his SiriusXM show about Bumble, reality show mega-producer and host Cohen revealed that he's technically on Tinder. Though, he tries not to use it too much.
"I'm on Tinder. I never check it, but I'm on Tinder," he told Metz, adding he's "been kicked off Tinder for people saying I was impersonating me."
Related: 8 Dating Apps To Help Your Next Relationship Hunt
3. Noah Centineo
The To All The Boys I've Loved Before star shared with Entertainment that he has tried dating apps. Though, he's not a fan of them.
"I think when I was younger I tried the gauntlet of [dating apps]. And then, I just don't use them anymore," he admitted. "I used Raya for a little while, but I deactivated it."
"It's just, for me, I'd rather meet people doing things that I enjoy doing, because then we already have similarities between us," Centineo explained. "It's like, if I go to a yoga class, and someone is in that yoga class and I think she's cute, we already are off to a great start because we both like yoga."
4. Hannibal Buress
Broad City star Hannibal Buress shared in 2015 with told Cosmopolitan that he'd given Tinder a shot.
"I've used Tinder, but I have never met anybody from it," he said. "I'll match with people, and then they'll reference my character from 'Broad City,' and then that feels weird. They'll be like, 'Is this really Lincoln?' And I'm, like, 'That's not my real name. You see my name, it's on the profile.' So I've been on it, but I just haven't met anybody from it."
5. Sam Smith
British pop singer Sam Smith shared in 2014 with Metro that they are not a fan of Tinder. While they've tried it, they feel its ruining romance.
"No offense to people who go on Tinder, but I just feel like it's ruining romance, I really do," Smith argued. "We're losing the art of conversation and being able to go and speak to people, and you're swiping people."
Smith also shared that they tried Hinge but was later removed from the program, "They chucked me off of it after one night cause they thought I was a catfish pretending to be me."
6. Ryan Lochte
Olympic swimmer Ryan Lochte met his future wife Kayla Reid through Tinder.The two now have tow kids. As Reid told the Daily Mail, that the way they met was simple.
"He was on Tinder," she explained. "I might be on Tinder. That's all I'm going to say about it."
Related: 12 Male Celebs Who Got Divorced
7. Ben Affleck
The fact that Justice League and Gone Girl actor Ben Affleck once used Raya became big news a couple years ago. That was after Page Six reported seeing Affleck was on the celebrity dating app. Affleck then confessed on social media and used the moment to promote a beautiful charity group.
"HA, you got me. I'm dating. But let's be serious for a moment and talk about something that is actually important," he wrote. "I have been in recovery for over a year and part of that is helping out others. @themidnightmission is an incredible organization that helps those in need with housing, training, development and recovery."
8. Chace Crawford
Former Gossip Girl star Chace Crawford once revealed to the U.K.'s Now magazine that he had "a bunch of different accounts that nobody even knows about" to help him find love.
9. Joshua Rush
After appearing as the Disney Channel's first gay main character and coming out as bisexual himself, Joshua Rush revealed on Twitter in March 2020 that he had joined Bumble. The former Andi Mack star posted a, now deleted, screenshot of his profile and asked fans if they would swipe right on him.
10. Austin Mahone
During a game of "Never Have I Ever" with AccessOpens, singer Austin Mahone revealed he's used Raya before, but he didn't last long on the program.
"I made an account and I had it for, like, a couple days and I was like, 'Nah, I'm not feeling this let me just take it off,'" he said.
11. KJ Apa
Riverdale star KJ Apa joined Bumble! And like Ben Affleck, Apa used that fact to support a good cause. KJ held a contest, where one woman who swiped right on him won a date with him. But, that date was a full day volunteering for the ASPCA. Bumble also joined the moment by donating $50,000 to the charity.
12. Zac Efron
Lastly, there's Zac Efron. Efron shared that he has also tried Tinder. As he he told The Times, "Amazingly, when I signed up for Tinder, nobody swiped me! They thought [my profile] was fake."
Celebs On Dating Apps
So, it turns out celebs are all over dating apps. Though, many have chosen to leave them for one reason or another. Have you ever seen a celeb on a dating app? Tell us your stories down below.