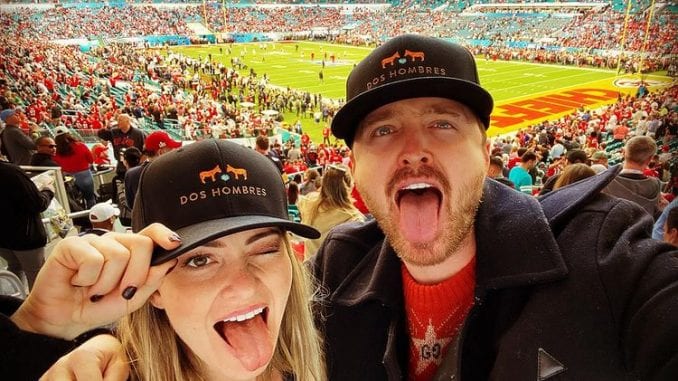 Stars who have dated or married non-stars… it's more common than you may first think. Initially, you might believe that Hollywood actors, directors, and the like live in very secluded worlds. Their work is their lives, you might think. And because of that, they often hang out with and date people they meet in the entertainment world. But in fact, that couldn't be farther from the truth.
There are many male celebrities that have dated or even married people who weren't actors or directors. And to prove it to you, here's a list of 11 male celebs who have done just that.
1. Zac Efron
After he trended online last week, we couldn't help but have Zac Efron on the mind while writing up this list. When he first became a Hollywood star, Efron was dating fellow Disney Channel darling Vanessa Hudgens. But after that relationship ended, Efron opened up his dating pool to beyond his co-workers. Though, he, funny enough, ended up dating another Vanessa. Vanessa Valladares, specifically.
In 2020 and 2021, Efron dated Valladares. He'd met her while visiting a café she was working at. He had even considered buying a home in Australia for when he visited his, now ex, girlfriend.
"He started seeing her in July and they have been together ever since," a source told E! News. "She spends the night at his rental house all the time. They have fun together and hang out a lot. He loves the area and the lifestyle and she has shown him a lot of great places. He's in a good place and happy down under."
2. Riz Ahmed
Oscar-nominated actor Riz Ahmed also met his wife, writer Fatima Farheen Mirza, at a coffee shop.
As Ahmed recalled on The Tonight Show, "We were both jostling over the same laptop plug points."
3. Kevin Jonas
The eldest Jonas Brother met his wife, New Jersey hairdresser Danielle Deleasa, while on a family vacation in the Bahamas. And while Deleasa did recognize an attraction to Kevin, she initially wasn't interested in pursuing that attraction.
"'I'm never going to see this kid again, so why would I spend time away from my family while we're on vacation?'" she told PR.com in 2012. "I was like, 'Why should I waste my time?'"
But Jonas wasn't willing to let her go. He even told Glamour that he may have "went overboard" in his pursuit of her.
"I cyberstalked her after we met and cyberstalked to see what flight she was going to be on coming home, and then I called her the minute she landed," he revealed. "That might have been a little overboard, but I just went for it."
Read More: Older Man. Younger Woman. Will it Work?
4. George Clooney
Famous Hollywood bachelors, George Clooney fell in love with Lebanese-British human rights lawyer Amal Alamuddin when introduced to her by a mutual friend. The two are now hotly discussed as a charming power couple.
5. Jesse Williams
Grey's Anatomy star Jesse Williams is the type to stick around for a long and solid relationship. Specifically, he ended up marrying his longtime girlfriend, Aryn Drake-Lee in 2012. Sadly, though, the two divorced in 2017.
6. Matthew McConaughey
Matthew McConaughey is another Hollywood star to marry someone outside of the entertainment business. Though, his Brazilian wife Camila Alves, whom he met at a club, is still famous in her own right for her design work.
7. Ken Jeong
Community, Hangover, and Dr. Ken actor Ken Jeong is another star to marry someone outside of the entertainment business. Before becoming an actor, Ken Jeong was a general practitioner. In his time as a medical expert, Jeong met physician Tran Ho at a happy hour for single doctors. The two have had a solid relationship ever since. That includes getting through Tran Ho's breast cancer and Jeong's hectic career.
8. Aaron Paul
Breaking Bad and Westworld star Aaron Paul met his wife Lauren (née Parsekian) at Coachella. While enjoying the festivities, they hit it off and even had their first kiss on a Ferris wheel. And while Paul spends his days acting, Lauren runs the Kind Campaign, a non-profit organization that fights bullying among young girls.
Read More: 5 Powerful Words and Phrases for Dating
9. Matt Damon
Oscar-winner Matt Damon met Luciana Barroso when he was filming Stuck on You in Miami. At the time, Barroso was a bartender.
"I literally saw her across a crowded room, literally," he explained on The Ellen DeGeneres Show in 2011. "I don't know how else our paths would've crossed if that didn't happen. If all those things didn't happen…When you're tired, suck it up and go to the bar and you might meet your wife."
"A lot of it boils down to luck: my wife's a civilian and that takes a lot of pressure off," Damon added in a conversation with The Guardian. "It's really sex and scandal that moves those magazines, and there's nothing scandalous about a guy who's married and has kids. If they come outside where I live, they are going to die of boredom—there's just nothing really going on that would sell a magazine."
10. Eddie Redmayne
Eddie Redmayne is another actor who's been in a longstanding relationship. He met former financial publicist Hannah Bagshawe when he was attending the all-boys boarding school Eton College. He met Bagshawe when she and her friends were throwing a fashion show for charity. Redmayne agreed to walk the runway.
"I was this pasty, freckly guy and when I came on, the girls in the audience didn't take much notice of me," Redmayne told DailyMail before sharing her started a 12-year friendship with Bagshawe after the event. Someone did take notice, however, and so began the 12-year-long friendship: Redmayne caught glimpse of Bagshawe from across the room at an after-party: "She was very beautiful and very funny and she loves the arts and theater just as I do, so we became friends."
11. Paul Rudd
Lastly, Paul Rudd is married to Julie Yaeger. Rudd moved to New York in the late 1990s. There, visited his publicist's office where Yaeger happened to work. Late for an audition, Rudd asked Yaeger to drop off his bags to his friend's apartment. A few days later, he called Yaeger for lunch as a way to make a new friend in the city. But in the end, he ended up making a lasting romantic relationship.