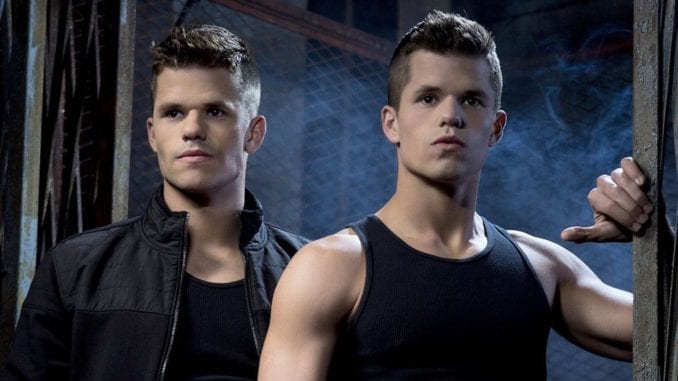 The Teen Wolf twins are about to return to our screens, but this time on the big screen.
According to the AV Club, Charlie and Max Carver have signed on to appear in Matt Reeves' upcoming The Batman movie. They join many notable talents like Robert Pattinson (Batman), Colin Farrell (The Penguin), Zoë Kravitz (Catwoman), and Andy Serkis, (Alfred Pennyworth).
The movie is currently filming and has already released official video/footage of Pattinson in the batsuit and standing by the batmobile. It is currently unknown which roles will be played by the twins, though comic fans are hoping they'll be playing villains Tweedledum and Tweeedledee (henchmen of the Mad Hatter) or max and min (henchmen of Two Face).
This will be the first major movie role for Charlie and Max Carver. The two started out in minor roles for tv in shows like Desperate Housewives, Teen Wolf, and The Leftovers. But for most viewers, the two became recognizbel for their (often shirtless) roles in Teen Wolf as Ethan and Aiden.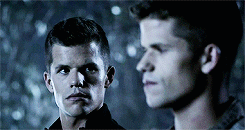 Charlie's Coming Out
In addition, the two gained public attention after Charlie came out as gay in 2016.
"I […] knew, however abstractly, that I was different from some of the other boys in my grade," he wrote to caption an Instagram post at the time. "Over time, this abstract 'knowing' grew and articulated itself through a painful gestation marked by feelings of despair and alienation, ending in a climax of saying three words out loud: 'I am gay'."
Charlie then explained that he struggled with his private and public image as a Hollywood talent. But over time, he realized the importance in coming out because of his job and influence.
"Coming Out' is different for everyone. You can always Come Out to yourself. Coming Out as Gay/Bi/Trans/Non-Binary/Yourself or What-Have-You is at first a personal and private experience. If you're ready and feel safe, then think about sharing this part of yourself with others."
He added:
"I now believe that by omitting this part of myself from the record, I am complicit in perpetuating the suffering, fear, and shame cast upon so many in the world. In my silence, I've helped decide for to you too that to be gay is to be, as a young man (or young woman, young anyone), inappropriate for a professional career in the Arts (WHAAA???) So now, let the record show this- I self-identify as gay."
Now, Charlie is joining his brother in a major superhero film. In addition, he has also been cast in Ryan Murhpy's upcoming film adaption of The Boys in the Band. Exciting things are up ahead for Charlie and his brother Max.
Source: The AV Club