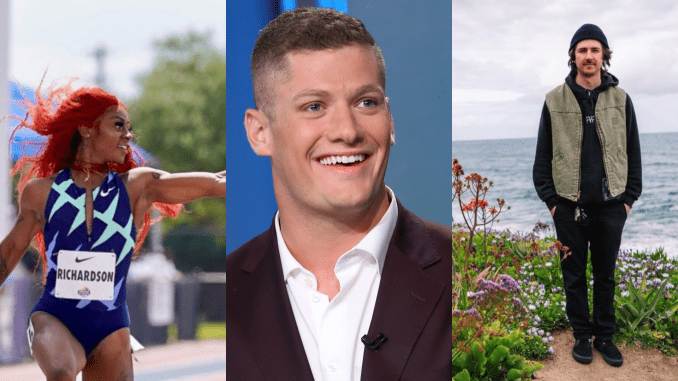 Athletes Who Came Out In 2021
Out pro athletes, you gotta love it. It seems like more and more athletes are coming out as LGBTQ+ in some way or another. Whether they come out through social media posts, through displays of affection with the ones they love, or through interviews, it doesn't matter to us. What matters is that more openly LGBTQ+ athletes are appearing by the day.
But what about the year? How has 2021 faired when it comes to out pro athletes? Who are some names we should be aware of and thankful of? To find out all of that and more, check out this list of 14 professional athletes who came out in 2021. (Also, side note. We are including professional wrestlers in this list.)
1. Carl Nassib
We, of course, have to start this list with the man of the hour. Carl Nassib recently became the first actively playing pro American football player to come out as gay. While there have been many pro football players to come out before, they have usually done it after retiring.
Nassib decided to come out through an Instagram post where he also shared that he'll be donating $10,000 to the Trevor Project, a nonprofit that supports suicide prevention within the LGBTQ community.
"What's up people," Nassib said at the start of the video. "I'm at my house in West Chester, Pennsylvania. I just wanted to take a quick moment to say that I'm gay. I've been meaning to do this for a while now but finally feel comfortable getting it off my chest. I really have the best life, the best family, friends and job a guy can ask for."
2. Jason Brown
Former U.S. National Champion, Olympic medalist, and current Olympic-hopeful Jason Brown came out in the earlier half of June. He also came out through Instagram.
"I've grown up surrounded by beautiful, creative, strong, proud, successful, and supportive LGBTQ+ role models," he wrote. "Whether it be family members, coaches, skaters, teachers, friends, or others I've had the privilege of crossing paths with, my perception of what it's like to be LGBTQ+ was far from one dimensional."
He later added, "I believe that love will always win, and every story will unfold differently for each individual. Mine unfolds a bit now. I'm gay, and that's a story still being written…"
3. Nikki Hilts
American middle-distance runner Nikki Hiltz came out as trans on Transgender Day of Visibility in April. Hilts had initially came out as gay in college but now shares that she prefers she/they pronouns.
"Hi, I'm Nikki and I'm transgender," Hiltz shared in an Instagram post. "That means I don't identify with the gender I was assigned at birth.
Though, Hiltz also explained that they are also non-binary, "The word I use currently to describe my gender is non-binary. The best way I can explain my gender is as fluid."
Hilts went on to say that their gender identity is "complicated and complex."
Related: 24 Celebrities Who Came Out In 2020
4. Jack Dunne
22-year-old Irish rugby player Jack Dunne came out at the end of Pride month this year. He shared that he identifies as bisexual and had difficulty accepting that fact growing up.
"When you're bisexual it's almost a blessing and a curse because you can hide it way easier – you can still go out with the lads on Saturday night and do all that stuff, but then at the same time it's easier to hide it and it's easier to not be true to yourself," Dunne explained.
He added, "So eventually, I think it was in sixth year, and I told one or two people and they took it really well, so I was like, you know what, I'll just tell everyone and if someone has a problem with it, that's on them."
He now, however, fully accepts his sexuality and has been out to friends, family, and teammates for years. And now, he's out to the public.
5. Kayla Braxton
27-year-old professional wrestler Kayla Braxton, known as Kayla Becker, came out as bisexual in March.
"My whole life, I've had to choose. Are you Black? Are you white? Which bubble do you fill in on the SATs?" she started to explain over Twitter.
"I always filled in 'other' because nothing applied to me," she added. "Tonight, I choose to be over having to choose. Hello, world. I'm Kayla. Oh. And yeah – I'm bi."
For years, I've struggled with my identity. Too worried about how others would feel or think about me. I've finally gained the courage to openly express that im Pansexual. Thank you @NylaRoseBeast for being my inspiration, supportive and holding my hand throughout this process.

— Mr. (PWI 457) GRIM (@MRGRIM_IS4_HIRE) January 1, 2021
6. The Hitman For Hire, Mr. Grim
Another professional wrestler, this time Mr. Grim, came out in early January.
"For years, I've struggled with my identity," Grim tweeted. "Too worried about how others would feel or think about me. I've finally gained the courage to openly express that I'm Pansexual. Thank you @NylaRoseBeast for being my inspiration, supportive and holding my hand throughout this process."
A member of the community and an ally. Thank you for sharing this with us, Toni Storm. We couldn't be more proud. 💖💜💙 #Pride #PrideMonth #WeAreNXT

(via @WWENXT's Instagram Story) pic.twitter.com/IowBaiTM5R

— WWE NXT (@WWENXT) June 22, 2021
7. Toni Storm
Professional WWE NXT wrestler Toni Storm also came out as bisexual in June.
"I'm bi and it feels good to say it," Storm shared while taking over WWE NXT's  Instagram stories. "It's something I've been really comfortable with for a long time. I just never expressed it."
"I just never really found the right time and it's Pride Month and I'm on your Instagram so now's a good time I guess," Storm added.
8. Connor McDermott-Mostowy
Champion long track speedskater Conor McDermott-Mostowy came out to the public as gay in March. While he has already been out as gay to his close ones, the 22-year-old decided it was time to come out to the public.
"I think I've kind of always had that at the back of my mind," McDermott-Mostowy explained to OutSports. "I don't want to talk about being gay, because there's a stereotype that gay guys aren't athletic, and I don't want that to be held against me or used to justify a bad result."
"I've been uncomfortable with that," he added. "But I feel like at this point, no one can say anything."
Related: Brian J. Smith Came Out As Gay
9. Kumi Yakoyama
Japanese soccer player Kumi Yakoyama came out in June through an interview video with former Nadeshiko Japan teammate Yuki Nagasato. Yakoyama, who has since moved to the U.S. to play for the Washington Spirit team in the National Women's Soccer League, shares that seeing the LGBTQ visibility in the U.S. allowed them to feel comfortable with their gender identity.
"I've dated several women over the years but I had to stay closeted in Japan," Yokoyama shared. "In Japan, I'd always be asked if I had a boyfriend, but here I'm asked if I have a boyfriend or girlfriend."
They added, "When my girlfriend said there was no reason for me to stay closeted, it really hit me. Coming out wasn't something I was enthusiastic about, but if I think about my life going forward, it would be harder to live closeted so I found the courage to come out."
10. Corey Walsh
BMX rider and champion Corey Walsh is one of the most high-profile cyclists in the world. And back in March, he made headlines for coming out as gay.
"If you were to tell me a year ago that today was going to be the day where I said fuck it and let the world in on my personal life I would have told you that's never going to happen," the 26-year-old wrote in an Instagram post.
"Trust me, I'm not the person who wants to let people in on my personal life and in a perfect world I would not have to," he continued. "But the reality is there are a lot of people still struggling with the same situations and I just wanted to let people know that they are not alone. I feel like the world is shifting into a more understanding place and now is the time to open up the conversation within our communities every chance we get. So here we are."
11. Kaitlyn Weaver
Canadian ice dancer Kaitlyn Weaver came out as a queer woman in June. Like many of the others on this list, she shared this fact with the world over Instagram.
"Over the last year, with a lot of time to think, feel, and connect with myself, I've come to a place of acceptance. I identify as queer woman and this is something I've known for a long time but was not ready to face," Weaver wrote. "For years I really hated a big part of myself, and that took a huge toll on my mental health — especially when the world stopped and the only thing I could do was look in the mirror. There's nothing worse than hitting rock bottom and not wanting to climb out."
12. Marco Lehmann
Professional Swiss basketball player Marco Lehmann came out as gay in January. The athlete shared, through a recent essay and video with the International Basketball Federation, that he'd gotten too comfortable with living a double life (as an athlete and as a closeted gay man). So, he decided to change things.
"I had been switching personalities for so long now, that it was affecting my mental health," Lehmann wrote. "Every week the same old thing: my boyfriend would drive me to the airport and the minute I would go through security, the happy gay man in a relationship turned into the emotionless pro athlete, who didn't want to talk about his personal life."
"In December 2019, I hit rock bottom," he confessed. "I started to have emotional outbursts, tears, cold sweat running down my back. And for what? Just thinking about the next practice. Are we talking about practice? I just couldn't stand the thought of having to switch from my home personality to my competitive one once more."
Related: 17 Male Celebs Who Came Out In 2019
13. Justin Laevans
In January, the then-19-year-old Belgian cyclist Justin Laevans came out as gay.
"I had been thinking about it for two years. It was a big step," Laevens explained to SportNU.be. "My parents were very positive about it. I was especially afraid of the reactions of bigger riders or teams, that they would look at me differently, but I don't think that's the case."
He then added, "Being out in the sports world is difficult. I hope I can set an example for other athletes, for riders or for cyclo-crossers who may still be hidden in their shell."
14. Sha'Carri Richardson
After qualifying for the Tokyo Olympics, 21-year-old Sha-Carri Richardson thanked her family and her girlfriend for supporting her. Specifically, Richardson shared that it was her girlfriend that suggester her eye-catching ginger hair color.
"My girlfriend actually picked my [hair] color," Richardson told USAToday nonchalantly. "She said it like spoke to her, the fact that it was just so loud and vibrant, and that's who I am."