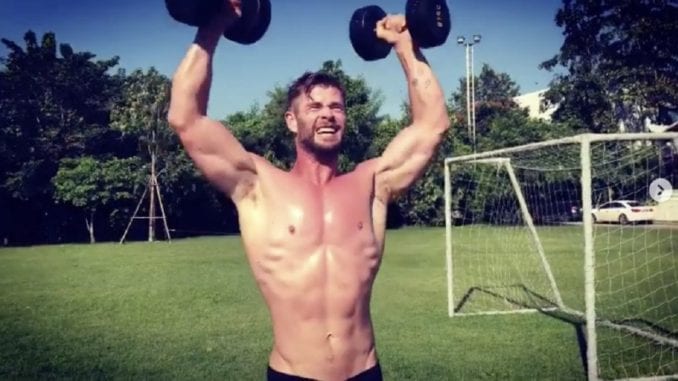 Thirst Traps And Hemsworth
Ready to roll your eyes and laugh a little? Chris Hemsworth says he's never heard of a thirst trap before.
Yes, you read that right. The god of thunder and the Australian actor known for posting random videos of himself exercising while shirtless hasn't heard of the term "thirst trap."
Hemsworth revealed this hilarious thought while talking to Refinery29 for an interview.
"Thirst trap? Thirst trap? What is that?" he said. "Tell me, this is fascinating."
If you have even briefly visited social media services like Twitter or Instagram (heck, even Facebook in some spaces), you will have probably crossed a thirst trap. A thirst trap is essentially a post where a person posts themselves is a sexy pose, position, in sexy clothes (or without very much clothes at all). The main purpose of the post is to get followers and strangers lusting and thirsting after the poster. That then boosters their likes, comments, and follows. Sometimes, these posts are presented in a way that the user pretends to not realize they're attracting others' lust. Say, for instance, Chris Hemsworth recording himself exercising while shirtless.
To explain this concept further, R29 posted the above picture of Chris's younger brother Liam. While the post isn't as much about being sexy as it is about being cute and wholesome, it can still be considered a thirst trap by some.
"Oh, so it's like, you're trying to play it down like it's casual, but you're doing like a…. Thirst trap," said Hemsworth.
Now, we'll be real. We hope that Chris Hemsworth was joking when in this interview. A man who is pictured shirtless so often HAS to know what a thirst trap is. After all, he's an honorable thirst trap king.
But on the chance that Hemsworth really didn't know that he was a thirst trap king, we felt the need to share this story with you all. And now that he has been told (or reminded) of the thirst trap world, it looks like Hemsworth is game to play along.
"We'll try to get more of those [thirst traps] going," Hemsworth told the news source.
It's no surprise that we are very interested in seeing what these purposeful thirst posts look like. We'll be waiting with bated breaths.
h/t: Refinery