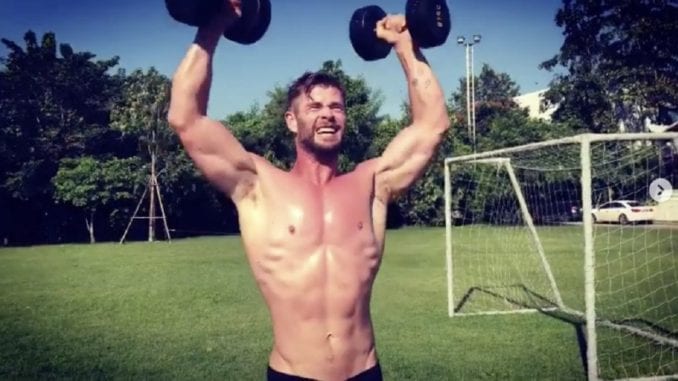 Working Out With Chris Hemsworth
We have more info on how to work out like Chris Hemsworth. And, the info comes straight from the God of Lighting himself.
The Thor: Ragnorak and Men in Black: International star is opening up again about his exercise routine. Of course, we are very aware that he's doing so as a way to promote himself, get people talking about his body, and get more customers for his health and wellness app, but we're appreciating the post all the same.
While the actor is preparing for future projects like Thor: Love and Thunder and his untitled Hulk Hogan biopic, he is busy on social media to get more subscribers to his better health app Centr. We've talked about the app before on this site, but it is generally run by Hemsworth, his wife, Elsa Pataky, and a long list of fitness trainers, nutritionists, psychologists, and more. All of it is meant to help others get as fit as Hemsworth (or as close as they can without a movie star's connections) and healthy on the inside too.
In order to help promote the app, Hemsworth has been showing off some of the exercises shared on the service. And it seems these workout videos are getting more revealing by the day. Last month, Hemsworth released a video in which he got together with his fitness trainer Luke Zocchi. Joining them was fighting expert Jorge Blanco. The three muscular men then played around with some balls… for fitness. Or as Hemsworth wrote to caption the video, "Wrestling some iron with Jorge and Zoco while yelling loudly and playing dramatic music."
The three underwent a wide series of exercises to challenge their bodies. The exercise included a series of instruments such as kettlebells, barbells, slam balls, and dumbells. The three men then went through a series of moves such as rows, crawls, kettlebell halos, and more.
But despite the three-man power of this older video, its Hemsworth's latest video that's gotten the internet's attention. And it's simply for the fact that he's shirtless while doing it.
As we've shared before, the internet, and society as a whole, love the male body more and more by the day. And Hemsworth, knowing very much his market and viewer base, exploited that for all its worth.
We'll be honest with you, we don't even know much about what exercises Hemsworth is doing in this video. We may have been just as distracted as the rest of the internet when watching this one. But can you blame us?