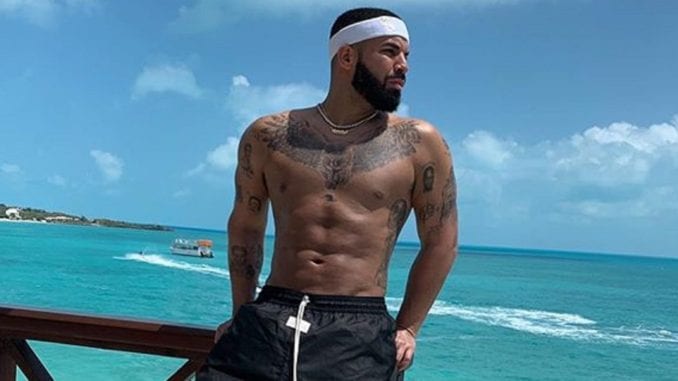 Did Drake Get Six-Pack Ab Surgery?
Did you know that six-pack abs surgery is a thing? And apparently, some think Drake got it.
The Canadian-born wrapper, and former Degrassi star, is currently ignoring claims that he did "whatever it takes" to get six-pack abs.
Last week, the music artist shared a picture of himself enjoying a vacation by the water. His Instagram account was then flooded with comments of thirst and appreciation.
But it wasn't all compliments coming his way, as friend DJ Carnage decided to mock Drake.
"You got fake ab surgery in Colombia you ain't foolin anybody," DJ Carnage said in a comment that now has more than 20,000 likes.
Unperturbed, Drake immediately responded with, "Is this cause you are angry about the one thing that happened with that one person the other day that you thought was your wifey."
Carnage then said, "DONT YOU DAREEEEE!!!!!"
LMFAO #drake pic.twitter.com/Kzwcut1Fth

— 𝙻𝚎𝚊𝚜𝚑𝚊𝚊𝚊 🔮 (@fauxless) May 17, 2019
Clearly, this was just a conversation between two friends. The closest of friends mock each other in good fun, and this is no different. But it seems that bromantic moment raised some questions from internet users. Namely, did Drake get six-pack ab surgery?
But Drake's trainer, Johnny Roxx, simply commented on the matter by saying, "holla at me I'll get you right too." Drake has also credited his trainer when sharing shirtless pics on Instagram too.
Related: 5 Moves To Help You Copy America's Butt
Six-Pack Ab Surgery
But is six-pack ab surgery even a thing? Turns out, yes.
A procedure called abdominal etching exists that expands on liposuction to give patients the etched abs of their dreams.
According to a paper published in the journal Plastic and Reconstructive Surgery, plastic surgeons suction fat from the abdomen to then dig up the patient's natural ab lines.
Of course, all shortcuts come with limitations. For instance, the surgery only focuses on the fat on top of the abs. So, you'd still have flab over your pecs and around your hips. In addition, there is a worry about risks like infections and nerve/muscle damage.
Then, of course, getting the surgery doesn't mean that you'll keep the look forever. If you don't change your life habits, you'll just end up regaining the fat. Plus, it might grow awkwardly because of the surgery. Because of this, patients for the study worked with nutrition and fitness experts to rework their mentalities around keeping fit bodies.
Ultimately, the doctors suggested the surgery for patients who exercise and eat healthily, but "have certain resistant areas of fat that hides the desired muscular definition." Those are the optimum patient for the surgery.
Related: How to Get Superhero Arms Like Chris Hemsworth
Drake and His Abs
At the end of the day, people wondering, "Did Drake get six-pack ab surgery" are being unnecessary. Most likely, Drake didn't get the procedure. Instead, he exercised hard and ate right to cut down the fat and accentuate his ab lines. We shouldn't make a joke out of that effort.
But even if he did conduct the surgery, so what? Drake's got all that money and can clearly afford it. Let him use it however it wants. Plus, he can then afford the health advice to keep his abs showing afterward.
No matter what, we have to agree that Drake's looking pretty great lately. And he does because he put in the work. Good for him.