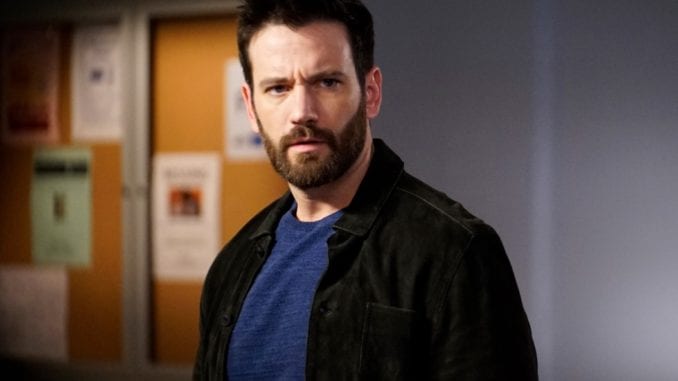 Colin Donnell Quick Facts
Colin Donnell is one of those actors that is known for his looks. With crystal blue eyes and a dark beard, he's hard not to spot. Beyond his appearances on Chicago Med (NBC) and The Arrow (The CW), what do you really know about him?
Well, my hope in penning this piece is to help provide answers. If truth be told, I became curious about this actor after seeing him on TV and wanting to copy his beard style. Yes, that sound ridiculous, but I am just being real with you.
In case you don't know, facial hair has made a real come back in recent years – and guys who sport them are viewed more as more attractive than their smooth-faced counterparts.
But I digress. What follows are 7 facts about actor Colin Donnell you might not know. Are you ready?
Let's jump right in!
Pop File: Colin Donnell
Date of Birth: October 9, 1983 St. Louis, MO
Height: 5'10
Shoe Size: 10.5 (rumored)
Eye Color: Blue
Sign: Libra Zodiac
Body Type: Athletic
1. He's part French and part Irish
In a 2011 online edition of Irish Central, Colin reported that he traces part of his ancestry back to County Donegal in Ireland.
This may explain why his eyes are so blue. The mix of French and Irish gives him much of his unique look.
He has shared in online interviews that he gets the "French" from his mother's side of the family.
2. He's an "Anything Goes" kind of guy
Even though a lot of his followers think its cool that Colin is fairly open to new things, our reference above relates to the fact that he starred in the Broadway Musical, Anything Goes where he played the role of Billy Crocker.
Be sure to check out this interview on the site, Broadway.com and notice how down to earth the guy is. Sort of cool, don't you think?
3. The Rumors Are Linked to Broadway Work
In this day and age, one would think "gay rumors" area thing of the past but sadly, they aren't. One of the main reasons that float around about Colin Donnell is because – right or wrong – he has an extensive background on Broadway.
The handsome star has appeared in productions like Mamma Mia and Wicked, which happen to be gay fan favorites. Stupid, right? But it is what it is.
4. You saw him on Arrow as Tommy Merlyn
If you are a fan of Arrow on the CW, you have seen Colin playing the part of "Tommy Merlyn". Sadly, his character was killed off during in the season 1 finale.
Other stars who you have seen on Arrow include the well-known Amell boys. Specifically, we are talking about flip a quarter on his abs, Stephen Amell and "Duff" star, Robbie Amell.
Apparently, Stephen and Colin are close friends. Look at this funny bromance picture of the two hanging out on the couch. There's lots of these on the web by the way and all of them are funny.
5. He has tattoos
Are you into tats? Colin is because he's got a few. According to the interview he gave with Broadway.com back in May of 2011, the tats are of the personal nature. One is of a tree and the other of a flower/lily symbol.
"I have a tattoo that I got in Memphis, and another I got in Dayton. Memphis is a sort of family tree with five silhouettes of birds, one for each member of my family," he says, and in Dayton he got, "A fleur de lis. Because my Mom is French—not because I'm a huge New Orleans Saints fan!"
6. He's married to actress Patti Murin
Some people wonder if Colin is married. The quick answer is yes.  He started dating Patti Murin in 2013 and the two got engaged in December of 2014. They met while working together on the musical adaptation of the production, Love's Labour's Lost.
Colin and Patti tied the knot in June of 2015 in New York City. Patti talked about the wedding on Twitter and shared a really nice photo.
Here is a bonus fact – Colin has been a long supporter of marriage equality and has tweeted about it several times. As you
Wrap Up
Colin Donnell is an actor and entertainer with lots of versatility. If you want to learn more about him, be sure to visit his IMDb file.
Are you a fan a Colin fan?
—
More Reading: