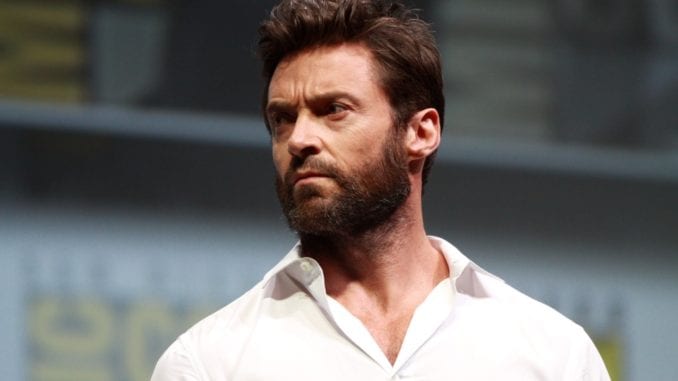 Hugh Jackman Facts
Isn't Hugh Jackman an amazing actor? The man is a wolf and daddy, all rolled up into one! He also happens to be a favorite of straights and gays alike. What's not to love? Not only does he have a hot bod, he's also a very gifted entertainer.
Hugh Jackman is probably best known for his role as Wolverine. But his reach as an actor extends over well 20-years!
FYI: The scruffy faced Aussie has shown his range in lead roles before, including the action flick Van Heising and the Kate & Leopold.
What's more, Jackman has also hosted the Tony Awards four times! Pretty impressive, huh?
Given our love for wolves and other furry creatures around this blog, here are 10 things about hunky Hugh Jackman that might surprise you!
1. Crush on Olivia Newton John
What if we told you that Hugh Jackman once had a crush on gay favorite, Olivia Newton John? Well guess what, according to interviews Jackman has given – he did!
So much so that he even kept a poster of the Grease star nearby. Sometimes, he'd even smooch it!
2. Likes singing at weddings
You may already be aware that Hugh Jackman can sing. But did you know he's really good at doing wedding performances? It's true, he is!
He famously serenaded Nicole Kidman and Keith Urban back in 2006 on their big day. Maybe you can book him to sing at yours?
3. He's played queer roles
One of the reasons queer rumors fly around about Hugh Jackman directly relates to his theater work. Yep, the Wolverine has an extensive theatrical past with one particular part that people still talk about.
In the show, The Boy From Oz, Jackman played the part of a gay pop icon. In fact, that's when gay rumors about the star began to really take off. How could they not when websites and tabloids were saying things like: "He was very convincing!"
Jackman talked about playing gay roles with the LGBTQ magazine, Advocate. Be sure to check it out!
4. Bitten by acting bug early
Hugh Jackman holds a BA in Communications from University of Technology in Sydney. He graduated in 1991.
But during his final year of studies, he enrolled in a drama theory class and was instantly bitten by the acting bug. We're thankful he took that course – otherwise, he may never have been inspired to move into entertainment!
5. Loves wrestling
Do you like watching guys wrestle with one another; grabbing different body parts and getting all sweaty? We certainly do. And guess what – so does Hugh Jackman!
In 2011, the fuzzy faced celeb showed off his massive moves in a mini-matchup with WWE's Dolph Ziggler! Speaking of wrestling and massive, you might want to check out this insightful post on Dwayne Johnson!
6. Big body
The silver screen really doesn't do justice to the largeness of Hugh Jackman. First, the man stands at 6'2. Second, he is thought to wear a size 12 shoe.
But what's really impressive about his bod is his overall girth. We're talking about one thick slab of beef here. Check out this article on Coach Mag and see for yourself. Yum!
7. Pumped Gas
It's easy to think of Jackman as always being an actor. When you have such a long spanning career, it's hard not to! But here's the thing – the Aussie stud has humble beginnings.
Before he got all famous, he used to pump gas as a service station attendant. And to make extra money, he even took on gigs featuring him as a birthday party clown!
Imagine him pumping your petro!
8. Married with kids
OK, you may know this one but we're going to mention anyway. Hugh Jackman is married. He's also got kids.
He married Correlli co-star, Deborrah-Lee Furness back in 1996. Since then, they've adopted two children – a son and daughter.
9. Really prepares for roles
If you're wondering how Jackman is able to get so massive, it's because of how he prepares. And it's not just the workouts either.
Back when he was getting ready for X-Men Mutant, he was taking in a whopping 6,000 calories a day!
10. Has his own beverage line
Did you know that Hugh Jackman is in the beverage industry? What if we told you he owns a company? Guess what – he does!
Jackman launched Laughing Man Coffee and Tea back in 2011 (see Amazon). And what's cool is that part of the proceeds go to charity through the Laughing Man Foundation!
Thanks for stopping by. And Hugh, if you're reading – you rock!
—
Main photo credit: Flickr