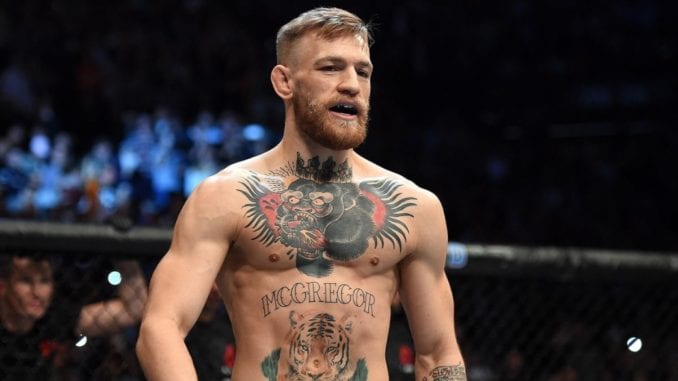 Fighter arrested for smashing a fan's phone
In news that will come as no surprise to many, MMA star-fighter Conor McGregor was arrested in Miami Beach Florida for smashing a fan's smartphone, according to a new report published in the Miami Herald.
The incident happened outside of the posh Fontainebleau Miami Beach hotel. Cops charged McGregor, age 30, with felony strong-armed robbery and criminal mischief, according to the Miami Beach police.
Going by the official arrest report, the MMA fighter and the fan were leaving the resort at the same time; a place that also happens to be home to the LIV nightclub, a little after 5 a.m.
Apparently, when the fan attempted to snap a photo with his cell, McGregor "slapped" the smartphone out of his hand. He then stomped on it several times, according to the report.
Then, McGregor picked up the phone and decided to walk away with it. The smartphone is valued at $1000, says the cops.
There doesn't appear to be a question that the incident happened. It was caught on surveillance video.
WATCH: Footage from moments ago as MMA star #ConorMcGregor leaves jail in Miami-Dade County. He was arrested earlier today after allegedly smashing a man's phone and taking it. Read the latest here: https://t.co/EdMPjTYBMp pic.twitter.com/hDASDqwV3C

— CBS4 Miami (@CBSMiami) March 12, 2019
McGregor was booked into a Miami Dade jail on Monday night. After posting bond, he was released from the Turner Guilford Knight Correctional Center shortly after 10 p.m.
His Miami defense attorney, Samuel Rabin, shared in a statement that his client "was involved in a minor altercation involving a cell phone that resulted in a call to law enforcement. Mr. McGregor appreciates the response of law enforcement and pledges his full cooperation."
The Irish born fighter has been vacationing in South Florida as he prepares himself for a return to the UFC. On Instagram, he recently posted pictures of himself at the famous Versace Mansion on South Beach in celebration of his mom's 60th birthday.
Related: A person's ugly mood can change with laughter
This is not the first time McGregor has had run-ins with the law. He was arrested a year ago in New York City after cops said he threw a dolly through the window of a bus transporting several UFC fighters.
After being initially charged with two felonies, he pleaded down to disorderly conduct. He was sentenced to a three-day anger management course and five days of community service.