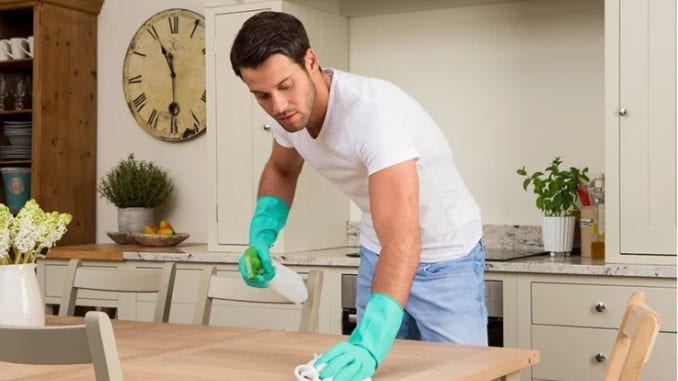 Coronavirus gives spring cleaning new urgency
With the coronavirus keeping everyone stuck at home, cleaning sounds like a fun-idea that can help you kill boredom. In fact, this year, spring cleaning becomes even more important with the pandemic.
Spring is the time for re-birth. The trees are blooming, and the birds are chirping happily again. It is also the time for us to get busy on some serious spring cleaning. There is less that we can do during the winter to clean up our home and spring is the best time to do it.
Men, its time to close the gender gap!
Here are some easy ways to make your home sparkling cleaning once again and surprise the woman of your life:
Clean and disinfect your home's high-touch surfaces:
Researchers have found that the novel coronavirus is capable of living on surfaces such as cardboard for 24 hours, but up to two or three days on plastic and stainless steel. So cleaning and disinfecting high-touch surfaces is a step we should all take.
The quickest and easiest way to do this is with disinfecting wipes or disinfectant spray.
Just adding these to your daily routine can help lower the risk of infection for you and anyone else in your household.
If you cannot find store-bought disinfectants, you can simply make your own:
Homemade Bleach Disinfectant Spray:
4 teaspoons household bleach
1-quart water
Pour both into one-quart spray bottle, shake vigorously
Spray on surface to disinfect, let sit for 10 minutes, wipe away with wet cloth
Dust And Mop Every Room – Use your vacuum to get rid of dust and dirt from each of your rooms. Then, get a mop and bucket to clean the floor thoroughly. Consider using a safe homemade floor cleaning solution to reduce the presence of toxic materials at home.
Related: How to stay social during social/physical distancing 
Clean The Basement And Attic- it's a pain to clean these two areas of your home, but you need to do it each spring. Move things around and consider removing some of the unused items. You may sell, give away or throw away these items.
Wash Clothes and Update your Dresser Drawers And Closets- some of your clothes could be too small, worn out or out of style. Free up some space in your closet by donating your excess clothes, hats, pants and shoes.
Just washing your clothing with regular laundry soap and drying it at a slightly higher temperature than you might have otherwise is all you have to do to disinfect your clothes. Don't forget to clean your coats and backpacks. Wiping the inside off with a disinfectant wipe should do the trick unless your jacket is machine washable.
Reorganize Your Garden Area- spring is a good time to plant trees and flowers. Remove or relocate your plants as needed. If you want to replace plants or flower types, this is your best opportunity. Seeds grow quickly during spring and you will have a well-organized garden area for summer. Throughout the winter, leaves, twigs and other debris are hidden beneath the snow. You need a sturdy trash can, shovel, rake, broom and trash bags to clean up your garden area.
Repaint Outdoor Furniture- after being exposed to adverse winter weather, you need to recoat and repaint your outdoor furniture. If possible, you should sand the furniture first. Use coating to seal the sanded wood surface and then apply weatherproof paint on top of it.
Add some automatic air fresheners, essential oils and air fragrance sprays in your favorite scents throughout your home. There's nothing better than a nice-smelling home. – It also turns women on! 😉