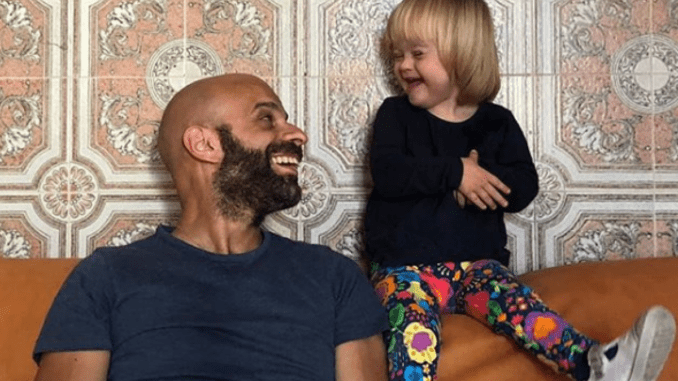 Luca and Alba Trapanese
If you want to smile and cry tears of joy, check out Luca Trapanese and his daughter Alba.
Naples, Italy native and Instagrammer Luca Trapanese is a single father of young Alba. Young toddler Alba is very fortunate to have met her father Luca. A large reason being that the poor girl was rejected by 20 different families before meeting her adoptive father.
41-year-old Luca Trapanese has spent years volunteering to take care of people with disabilities. He was first inspired after his childhood best friend died of cancer at 14. Trapanese then aspired for the life of a clergyman but falling in love with another man ended that dream. A door then opened toward public service. Trapanese had even created a charity around such efforts. It's that experience and skillset that made him the perfect adoptive father for Alba.
In 2017, Luca Trapanese was struggling to adopt a child. He had separated from his boyfriend, whom he founded the charity with, and was looking to adopt while single. Unfortunately, Italian law makes it difficult for single people to adopt by themselves. Even if Trapanese had a partner, Italian law states that same-sex couples cannot be listed as co-parents on birth certificates.
"I was told that I'd only be given a child with an illness, a severe disability or with behavioural problems," he told the BBC. "I was absolutely OK with that."
While we don't quite see the sense of having single parents only take on high demand adoptions, we won't judge… too much.
https://www.instagram.com/p/B5dtfsBK2cU/
Then in July of 2017, Luca was called by an adoption agency. He was told that there'd finally been a match with a child, young Alba. Alba had been abandoned by her mother 30-days after her birth. She was then rejected by 20 other prospective families. Thankfully, Luca Trapanese instantly fell in love with her.
"When I first held her in my arms, I was overcome with joy," he told the BBC. "I felt she was my daughter straight away."
Now, two years later, Luca and Alba Trapanese are living life happily as a father and daughter. On top of that, Luca shares pictures and videos of their lives through Instagram. Trapanese's Instagram account, which has over 189 thousand followers, shows the two in cute daddy/daughter poses or exploring the world as the happy family that they are. And honestly, we love watching every second of it.
We hope the best for Luca and Alba Trapanese. May the happy days keep on coming.
h/t: The Independent, Metro