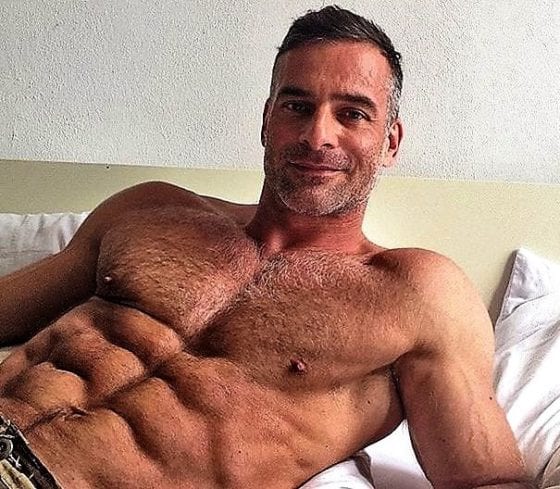 DaddyBear's CEO Apologizes
Last month, we talked to you about DaddyBear.
DaddyBear is a new sugar daddy app that started off terribly. The app uses language that ultimately adds to the stigma against men living with HIV and states that it is catering to all men who aren't HIV-positive.
The app did this by stating it focused on healthy gay men and that gay daddies (sugar/generous or not) were focused on staying healthy after going through the AIDS epidemic.
More specifically, the initial press release at the app's launch stated:
"Most mature gay daddies grew up under the macro environment of AIDS epidemic and scare, so they know how to protect themselves and you, and enjoy safe sex with you."
Then, when people started to get offended the CEO came out of the woodwork to explain, ironically to Grindr's news site INTO, the app's mentality more clearly.
"No one would like to date people living with HIV unless he is living with it. Most gay sugar daddies are not living with HIV, so they don't want to bring home any unwanted souvenirs. However, we support that gay men living with HIV have the right to date with other gays with HIV. But many rich and successful gay sugar daddies do not want to date with gay men living with HIV, which is the reason why we launched this app to meet their needs."
But of course, sites like ours continued to be offended by the app and it looks like the app's creators took notice.
Justin, the CEO/creator of DaddyBear whose last name is uknown, shared a press release late yesterday night where he and the company apologized for their earlier anti-men living with HIV message.

"He realized the real current situation of HIV and started to regret for what he had done and decided to make a sincere apology here."
In addition, the press release shares the story of why this Justin created the app in the first place. Apparently, he had the idea for the app after his ex-lover dumped him. He found out later that the boyfriend had cheated and contracted HIV from the other guy. Justin then took it upon himself to be upset at that stranger and all men with HIV enough to make an app excluding them. (Paraphrased in my words of course).
Here's the actual story in his words:
Justin wants to firstly express his gratitude towards Mark S. King, a writer who pointed out our mistake directly in his article, which made us to know why it is not right to promote a gay app that excludes HIV-positive men from joining. Justin would also like to apologize and wish Mark could forgive him for not figuring out the reality before making a wrong statement. In order to make it right, Justin and his team had a deeper look at recent study results towards people living with HIV. Then we realized that there are many hiv positive guys out there and most of them are receiving systematic treatment which can help them have an undetectable viral load and highly prevent HIV transmission. Besides, it is hard to know if someone is truly HIV+ or HIV- according to his profile on a dating app. So we do not advocate unprotected sex.
At the end of the press release, it states that "DaddyBear is a great gay dating app for gay sugar daddies, gay sugar babies and all gay men," but we'll see if DaddyBear actually changes its ways or if this is an insincere apology to get some of the heat off their backs.