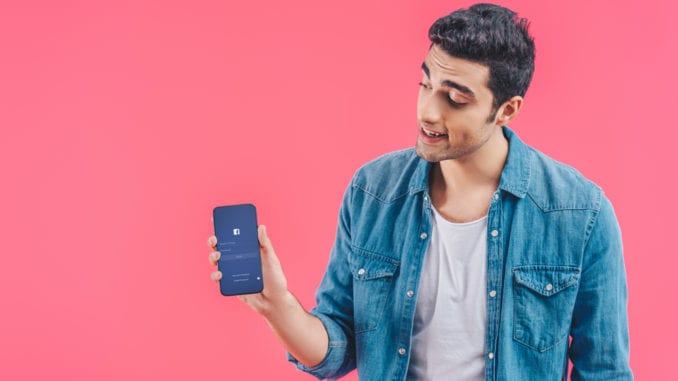 Facebook's Dating App -A Closer Look
You might already be using Facebook for dating hook-ups, but now there's a more official way to use Facebook for online romance. Surprisingly, this could be the most comprehensive dating app ever. You can integrate your Facebook groups, Instagram photos and stories all in one place. The point is to provide a more complete picture of your real life for potential daters.
After all, Facebook is such a repository for peoples' likes, dislikes, interests, and favorite things. No other dating app can compete with that level of data accumulation. In theory, Facebook Dating should be the best online matchmaker ever created.
You Like What I Like. Let's Get Together
The app is a real departure from the swipe right randomness of other dating apps like Tinder and Grindr. There is less emphasis on raw attraction and more attention is paid to mutual interests. Two parties must agree to have a conversation before you can message each other and it's based on the types of interactions you would have in the real world.
The Facebook Dating app is focused on your activities and preferences. Facebook plays algorithm matchmaker; it doesn't play wingman for online stalking. You'll automatically receive suggestions from Facebook about potential matches based on your activities, your existing groups and any events that you might be attending in the future.
Cut to The Chase
What Does It Cost?
Facebook Dating doesn't cost you anything. It's an app that's embedded in the existing Facebook Mobile platform. You might incur extra data charges from your mobile service provider. So, be mindful to watch your device's data usage.
Who Can Use It?
It's available to mobile users who are over the age of 18 in the United States and about 20 other countries. The dating app is due to roll out in Europe sometime next year. You'll also need to have the latest version of the Facebook app installed on your device.
When Is It Available?
On September 5th, Facebook launched their new dating app. It's not available on your desktop though, at least not yet. You have to use a mobile device with either Android or iOS.
Is It Safe?
Good question. Facebook has placed new security measures in place for the dating app, but you should use your best judgment when meeting new people online. There's a shield icon for added security. When you go on a date just enable that shield and you can select a friend or family member to share the details of your meet-up.
Potential Concerns about the App
Facebook doesn't exactly have a great reputation for keeping user data safe and confidential. The company has been mired in legal concerns over how it stores and shares user data. So, it's only natural that people are skeptical about disclosing even more information about their dating life to a company like Facebook.
Facebook admitted to exposing 419 million user IDs and phone numbers to advertisers last year. They also had a couple of data breaches in 2018 that left private messages and user information dangling in the wind. There is a genuine concern that details commonly disclosed to dating apps could wind up in the hands of advertisers if Facebook is left unchecked.
Related: 7 fun LGBTQ Facebook groups
Facebook isn't oblivious to these concerns. It has put new security measures and privacy screens in place just for the dating app. It seems like developers at least are acknowledging potential concerns and doing their best to mitigate them. You don't have to worry about everybody knowing your business.
Facebook's dating app doesn't post any updates about your online romances to your friends' news feed. Your sexual preference and other details about your online romances won't be accessible by your existing network of friends.
Getting Started on the Facebook Dating App
You can find the dating app embedded in the Facebook mobile app. You'll be prompted to opt into the service, and you'll need to create an entirely separate profile. One interesting thing about setting up a profile is that you have an inclusive list of options when it comes to gender identity and which type of people you want to be matched with, including bi, trans, and non-binary.
One of the first things you're going to want to do with the app is head over to the privacy settings. You can decide right here if you want to be potentially matched with your friends' friends. Facebook will use its algorithm to choose people that you might already be loosely connected to, so make a decision on whether or not this is right for you.
If you want to be matched up with your friends, then you need to enable "Secret Crush" and pick up to nine people from your existing friends list. You won't receive potential matches from your existing friends network unless you enable the "Secret Crush" feature.
You can express interest in a few of your existing friends or followers with secret crush and if there is a real chance at romance from both parties, Facebook will let you know. In the privacy settings, you can also block certain people from seeing your profile and being chosen as potential mates.
Then, you can start browsing potential partners. You can drop a comment on their profile or a "like" if you find someone cute. If the feeling is mutual, then you'll be able to send more detailed messages and arrange for meetups through the app.
Should You Try Facebook Dating?
Facebook Dating is at least worth a try if you're single and interested in finding someone who shares your interests. That's an important detail. Facebook went old school with this one. There's no random-fire online picking and choosing like other apps.
Finding someone who is linked to your friends network, likes the same books you like, or attending an upcoming event that you're interested in sounds a lot like how people used to find romance before the advent of online dating.
You're better off being genuine with this dating app. Remember, Facebook knows you better than OK Cupid or Tinder or Grindr. On those apps you can say that you're really into long walks in the park and going to dance clubs. However, with Facebook and Instagram being linked together now, the dating app will know if you've really been out walking in the park and whether or not you've put on your dancing shoes in the past year.
Related: How smartphone designers get you addicted
It's a gamble for sure. Do you really want strangers to know that much about you? You might also get matched up with someone who you already know shares your same preferences – you know, like your ex who you unfriended a long time ago. Who knows, maybe you should give them a call. Facebook thinks you two might be a match.
Will you try the Facebook dating app?