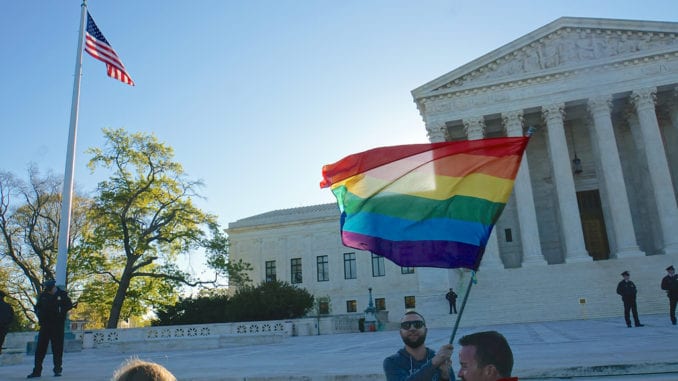 Ex-gay conversion therapy ban to remain in place in California
In a blow to proponents of so called "gay conversion therapy", the United States Supreme Court has decided to let stand a law in California that bans licensed mental health professionals from working with children to try and alter their sexual orientation from gay or bisexual to straight.
An appeal had been before the court that made the argument that the ban violated religious rights.
As reported in Bloomberg Politics:
"The rebuff leaves intact a federal appeals court decision upholding California's 2012 first-of-its-kind law. The measure prohibits the form of counseling known as "conversion therapy."
The ban was challenged by three people, led by licensed therapist and minister Donald Welch, who said it interferes with their right to practice their religious beliefs.
California officials urged the Supreme Court not to hear the appeal, saying the law doesn't restrict what religious leaders can say, except in the context of a state-licensed therapy session.
The law applies to licensed doctors, psychologists, family therapists and social workers, and it subjects violators to discipline by state licensing bodies. The law lets licensed providers refer minors to religious leaders."
More: Why "corrective rape" needs to stop now
Conversion therapy made illegal in many states
California made illegal conversion therapy in 2012, stating it ineffective and harmful. Other states, like New Jersey, Illinois, Oregon, Vermont, New Mexico and the District of Columbia have passed similar laws, per the Human Rights Campaign, an LGBTQ rights advocacy rights group. The nation's highest court also turned away an appeal to New Jersey's law back in 2015.
There are a number of approaches used in gay conversion counseling, including hypnotherapy and so called dating-skills training. Other extreme measures have included aversive techniques designed to induce pain and/or electric shock upon looking at same sex imagery.
The lead plaintiff in the case is Rev. Donald Welch, a minister who is also a licensed family therapist.  He provides counseling at the evangelical Christian church, Skyline Wesleyan, in San Diego.
He has stated in the past that he believes sexuality belongs only in sanctioned marriage between a man and a woman
Rev. Welsch, who apparently underwent "conversion therapy" wants to offer it to others and claimed the state law is unconstitutional.
The American Psychological Association has long been on record in opposition to conversion therapy and has stated in numerous public venues that this type of counseling is extremely harmful.