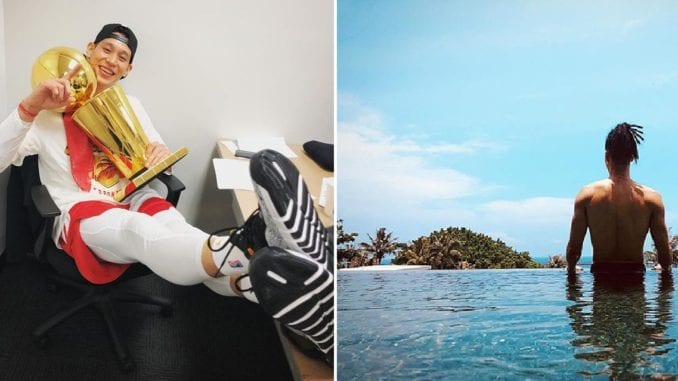 Jeremy Lin's Leaving The NBA?
Is Jeremy Lin's career in the NBA over? Unfortunately, it looks like it, and even the athlete feels that way.
After having a few disappointing years playing basketball, Lin expressed his doubts while at a church in Taiwan. The once-celebrated basketball player, who was given the term "Linsanity," expressed that his future in the NBA was not looking too well after remaining a free agent.
"NBA has kind of given up on me," noted the basketball player.
Me having @JLin7 as one of my Vets, I'll tell you I'll ALWAYS be a fan of him!! Dude can HOOOOP, But is never selfish, it's always about others and the Team First… The real ones know Bro!! I'll always have your back… You not done yet💯 #LINSANITY https://t.co/F07NAnuXIt

— Trae Young (@TheTraeYoung) July 28, 2019
The player then reflected on his thoughts while at an event in Shanghai earlier this month. At that time, Lin realized that, "Ironically, to be able to be OK with your weakness is one of the strongest things you could do."
But how did Lin get here when at the start of the decade he seemed to be at the top of the world? Deadspin explains down below that Lin had a thrilling rise to prominence with the Knicks during the 2011-2012 basketball season. But his career has slowly dipped from there.
"That opportunity in Brooklyn was a kind of culmination for Lin, and it went almost immediately to shit due to persistent hamstring injuries that cost him most of his first season, and then a devastating, season-ending knee injury suffered in the very first game of his second season. Lin wound up playing just 37 total games with the Nets, and was eventually traded to the Hawks, where his role was to mentor Trae Young on a team with absolutely no intention of competing for anything meaningful. Another dump trade brought him to the Raptors and got him a championship ring, but by the end of last season he'd become an afterthought, a 31-year-old guard with too much recent injury history and a somewhat glaring dearth of recent meaningful on-court production on his résumé."
Related: Can Taylor Rapp Prove Asian Men Can Thrive In Sports?
Not The End Of Jeremy Lin
Despite how informational that post was, it was incredibly negative and pessimistic. And now, Jeremy Lin is set to prove people like that writer wrong.
Lin was recently offered $3 million a year to play in China for the Beijing Ducks. He'll thus be moving away from the U.S. to play in the Chinese Basketball Association. The athlete shared his thanks for this change in career to the team and fans who have supported him.
"All I can say is THANK YOU to the NBA, my family, inner circle, every fan who came to watch or rooted for me during these last 9 years! To challenge stereotypes, make history, rep Asians at the NBA level and pave the path as others have done for me has been an absolute privilege. Im overwhelmed with gratitude for each person who has been with me each step of the way."

"Equally excited for this next step with the Beijing Ducks! I always knew my path would go through the CBA solely bc I knew how much of an honor it would be to hoop in front of all my Chinese fans. Im here now and there is more history to be made!"
Lin also made sure to mention how his little brother, Joe Lin, has extended his contract with the Fubon Braves, a team in Taiwan's Super Basketball League. Jeremy Lin notes that his dream is to one day play together on a team with his younger brother.
Congratulations to Jeremy Lin and best of luck for the future. We hope you can prove the NBA wrong about you.