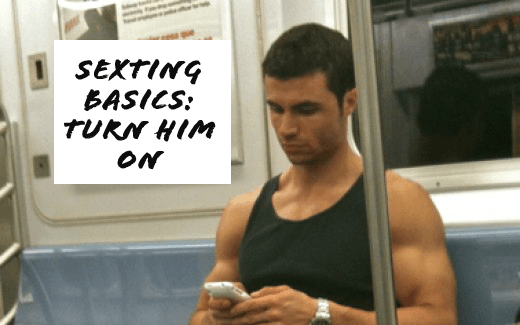 Gay Sexting: How to Turn a Guy On
Have you been flirting with a hot guy through text or an app? Ever wondered how to get him really turned on, even though the two of you are at different locations? We see texting in movies and on TV all the time. And sexting has become part of culture – big time! It was the gays who invented most of the early aps used for sexting and image sharing. Talk about trendsetters!
Let's be honest – we gays are constantly on our phones, checking email, sending SMS messages and hanging out on social media. We know that what we input into our smart-phones has the power to bring a cute guy close, peak his curiosity and eventually, make a connection!
In this post, you'll learn different things that can make your text message super sexy for dudes. Examples of some fun, steamy texts are offered to help you generate ideas. You will need to use your imagination a bit.
Some celebrity names have been used to add some fun to your texting efforts. If you play your cards right, that guy you have been eying will be drawn closer to you by selecting the right text for the right occasion.
Too many of us are too quick to send out naughty photographs when it is far better to start out with some narrative as a way of generating heat. All of the methods listed here are designed to solicit a positive response from smoking hot guys that you are chatting with.
Try a few out. Your ego will thank you and so will your libido – and his! Be sure to vote in our gay texting poll and look at our book recommendation for sexting hot guys!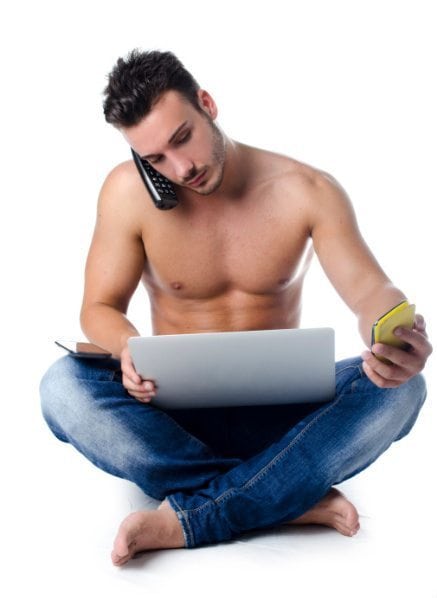 20 Sexy Texts to Send to a Guy to Turn Him On!
I had a steamy dream the night before last and guess what hot guy was in it? Here's a clue. I'm chatting with him at this moment.

I'm lying in my bed bored to tears. I wish you were next to me to cuddle baby.

I feel like something is missing when I look down – namely you between my legs.

If we were in your car right now, where would you let me touch you?

I want to take a shower with you right now baby.

I want to dry you off when you get out of the shower stud.

Licking a lollypop right now – and for some reason, I'm thinking of you!

I need to confess something – I used lube last night and though of you just before getting busy.

I'm watching Colton Haynes on TV right now and can't help but think you are way sexier.

My lips are so dry – too bad you are not here to moisten them up!

I bet you are way better in the sack than my fantasies of you. What do you think?

I'm touching myself right now – and thinking of you while I'm doing it.

Do you mind if I had a wet dream – with you in it?

It sucks being at work – I can't concentrate because of this hot guy I'm texting right now.

If you could lick me anywhere – what part of my body would it be?

If you are having a hard time – I mean a really hard time – I can help soften the blow.

Your mouth must have been gifted by a magic fairy – I tingle every time I think of you touching me.

I could use some help putting on this suntan lotion – you can help me shower it off later.

I don't need any dinner tonight when dessert is waiting for me in the form of you.

What's the dirtiest thing you have ever thought of doing with a guy? Can I volunteer to be him?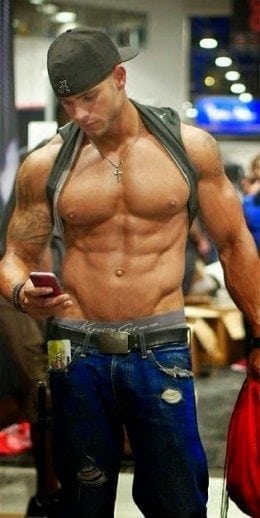 23 Gay Sexting Boyfriend Texts

You look fantastic today. I know because you look incredible every day!

Today I figured out that the sexual tension in my life can be released – by you!

There's this hot dude I have been texting all day – any ideas what I should do about it (hint)?

If you were in front of me right now, we would not be flirting baby. We'd too busy getting physical.

I want to invite you over tonight but I'm afraid I would be all over you like white on rice.

I had a banana for lunch today and it reminded me of how much I like you:)

Do you want to know what we're doing later stud? You will have to come over and find out!

I keep having this daydream that one of us is inside one another – in some way:)

I just read chocolate can boost a guy's mood. No wonder you remind me of a sweet candy bar.

Can you help me stop thinking of you naked? Wait – don't – I like this!

Do you know who the sexiest guy in the world is? Look at the reflection on your phone babe. Woof!

You are not very good at pretending we don't have sexual energy stud.

Just wanted to text and let you know I think you are crazy sexy. Can I eat you now?

My horoscope said it would be a good day because of a special guy. I wonder who that might be? (smile).

It's Wednesday – hump day! Does that mean we can hump tonight?

I just saw Channing Tatum on TV and thought you are so much better looking!

My friends say you are too good looking for words. I tend to agree babe.

What's up for dinner tonight? Want to get something to eat in your bedroom?

Good morning! I just woke up with something hard and pointy in my underwear. I wonder why?

I was thinking of seeing you tonight but realized I need to clean up first – you know where.

Want to role play with pretend ice-cream cones? I'll bring the flavors.

Let's blow off work today and spend the day – in your bed.

Let's play Twister – loser has to do whatever they are told.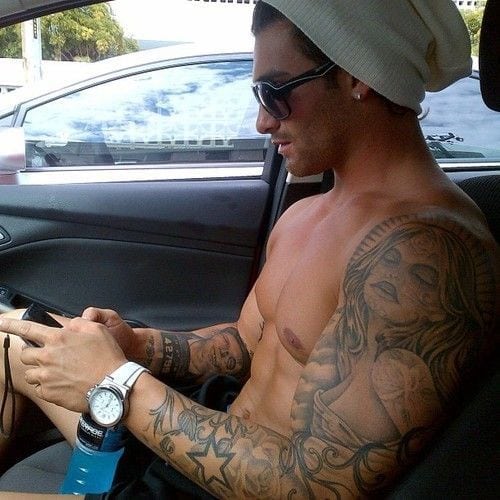 22 More Fun Gay Sexting Examples
I dig your body stud.

How is your night going? I'm undressed by the way.

Do you want to try and make one of those "first time" fantasies come true tonight?

I can still smell you on my body. I don't want to shower!

I'd love to lick you all over – in every place.

Do you have any secret fantasies that I can help make real?

When you come over tonight, just open my bedroom door and jump in.

My lips, your body – my living room – tonight.

It's hot in my apartment right now – I'm going to take everything off.

Do me a favor – when you come over today, don't wear any underwear.

I have a secret tattoo on my body – I can show it to you tonight.

My roommate is gone for the weekend. Want to take his place?

I've got a surprise for you and it's tucked in my underwear.

You might want to take the morning off from work – we're going to have a very late night.

Whenever I see you in your jeans, I can't help but undress you in my mind.

Are you wearing boxers or are you just happy to see me?

I'm not even touching myself and I am totally hard. Wonder why?

If you are not busy later, I'd like to help you release that pent up energy. I'll do all the work.

Can I lick your scruffy face the next time we meet? Woof!

Want to make some new memories in bed baby? I have some ideas.

Is it hard to be burdened with such crazy good looks?

I'll invite you over on one condition – you have to let me touch you wherever I want.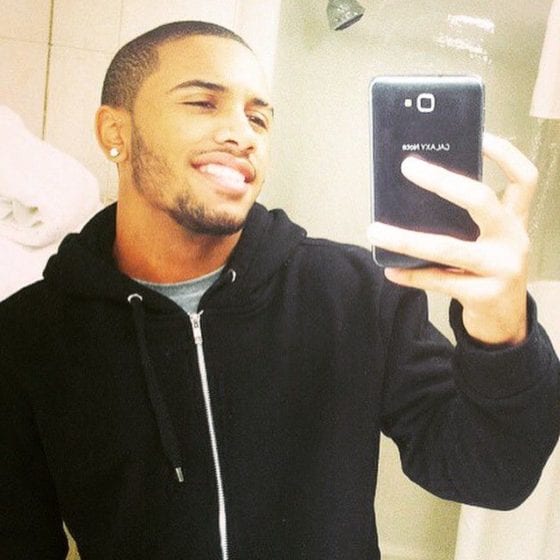 22 Funny and Hot Text Messages
I'm attracted to this hot man but I don't want him to know. Oh snap! I messed up and sent you this! Can we hookup?

Didn't I see you on the cover of this month's GQ magazine (smile).

It must be annoying stopping traffic all day long because of your sexy looks baby.

Fun with riddles – what's hot and firm and hard all over?

I'm watching something naughty on my DVD player now and getting ideas for things we can do together:)

I hear your Zodiac sign is highly sexual. We should test that theory out in your bedroom.

Heaven must be missing an angel because you look like you fell out of the sky!

Did you know today is national ice-cream day? We should celebrate in our underwear – at your place.

Can you tell me your secret for developing such a hot behind?

Do you believe in love at first sight – I never did – until I met you.

You could easily have doubled for Prince Charming – seriously. Your just too handsome!

Your body is so hot – there's no need to turn the heat on. I can just snuggle next to you for warmth.

The top 3 sexiest things on the plant are your smile, your chest and your … guess the third:)

Whenever you walk into the room, I've noticed it goes silent. People are stunned by your looks.

I got plenty of sleep last night in preparation for our all day get-together. Let me do most of the work.

I made your picture into my phone's wallpaper – I can't stop looking at you!

Have you ever played strip monopoly? I'm hoping we could try and that you would lose:)

I was watching Chris Pine today and thinking of you. J/K. Just needed an excuse to say you are ridiculously hot!

101 things that are hot about you. 1. Your face. 2. Your arms. 3. Your shoulders. You get the picture.

I was watching Eric Decker playing football and thought you are so much better looking than him!

I may need to be taken to the emergency room for oxygen – because you truly take my breath away.

I think you need a head to toe massage tonight – in your birthday suit with a

happy ending.

You bring out my inner-animal. I bet you have this effect on all the boys!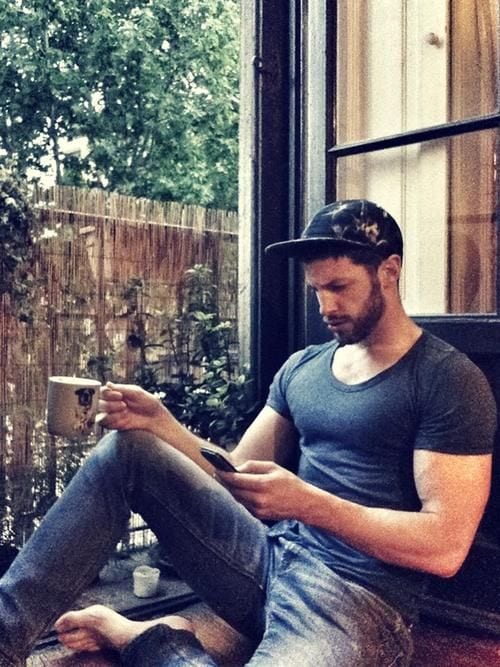 Guide to Get a Hot Gay Guy to Text Back
Here are eight proven ways to turn that hot guy you like on by text. Once you get the hang of it, you will be able to flip his switch on no matter what he is doing, who he is with or how busy he might be.
1. Let him know he is super sexy.
Tell the guy you like how hot he is – it works because guys like their ego stroked. The turn on happens by letting him know someone digs him in that way. It will also increase his level of self-esteem and his hormone levels!
How to say it:
"I couldn't help but notice how well you wear those jeans in all the right places . . . you look delicious dude!" "
"My buddies and I saw a Chris Evans movie and his sexiness reminded me of you so much. Grrrr!"
2. Let him know he turns you on.
The way to get that man you like is to appeal to his confidence. Gay guys love it when they know they have the power to pleasure man. By texting him that you are way into him, he'll know you mean business and want to pleasure you.
How to say it:
"I was just lying on the couch without anything on … thinking of you … with nothing to do…"
"I am too heated up right now to get dressed. That's what you do to me. How fast can you get here?"
3. Let him know what you are wearing – or not.
By nature, guys are visual. By texting him clothing related themes, you grab his attention – fast!
How to say it:
"What are you doing now? I'm just standing in front of the mirror getting dressed by something hard is stopping me from getting my underwear on."
"Just finished showering and thinking when we meet, I might not wear any underwear. Less cloths to take off (smile)"
"FYI: I sent this text while wearing a jockstrap."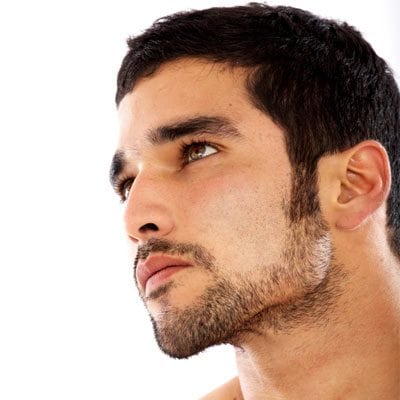 4. Let him know what you want to do
By texting the guy you like your intentions and what you want to do with him, your man will be instantly turned on. Guys love it when they can visualize themselves being pleasured. It feeds into their manhood and need for attention.
How to say it:
"Make sure you wear button down pants tonight – I want to take my time unfastening each one."
"If you were here right now, I would undress you with my mouth from head to toe. Would you let me try that sometime?"
5. Text what you want him to do
You can send the message you are a confident guy by letting him know what you want. Gay men love it when they sense confidence in another man. Don't be afraid to send a text letting him know exactly what you are hoping for!
How to say it:
"I love it when you give me whisker burns – all over my body. Grrr!"
"Just thinking about how you kissed me last night drives me insane. Let's do that again!"
6. Ask him a dirty question.
If you are unsure what to text or how to approach him, using a dirty question. It works everytime because it appeals to the guy's ego. Guys love that big time!
How to say it:
"Hey, I was just wondering if you would let me edge you until you can't hold it anymore?"
"Super important question – what's your favorite part of a guy's body?"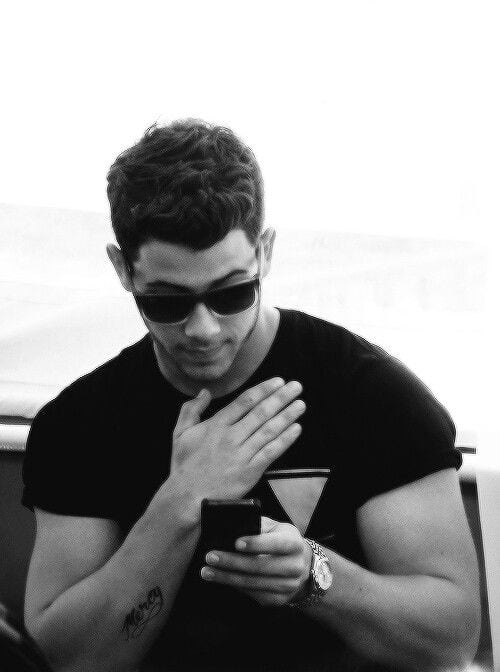 7. Text him a hot pic.
Sending him your nude pics right off the bat just gives away too much too soon. The idea is to create a sense of play and to build things up a bit. Otherwise, you are giving away the candy store. Here are some tips to take a good selfie!
If you want to send a picture, use a torso shot. You can also send a hot muscle selfie that shows your chest, biceps, abs and so forth. Be mindful of the pictures you send. People on the Internet and using phone aps can sometimes be flaky so use discretion and listen to your inner voice.
Also, be careful of sending videos under this point. A lot of gay guys will ask for this and like pictures, you never know where they will end up
8. Comment on his pics
If he sends you some pictures, make sure you take note of the things you notice. What is he wearing? What's in the background? Does he have on a necklace or chain?
Casually point those things out so he knows you are paying attention and focusing on more than his body.
Have Fun!!
Texting is a major part of being gay. We all do it and it can be a lot of fun. Start out slow with the intensity of your texts and see how he responds. If he is playful, you will notice things will be reciprocated.
The idea is to go for the "tit for tat" approach and meet him where he is at. Obviously, if he isn't feeling it (for whatever reason) ease up on your efforts.
The important thing is to have fun with the process and make the experience enjoyable. Trust in yourself and your abilities. See what happens!
Gay Texting Poll
Below is a gay texting poll. Obviously, it is not scientific in nature but is designed for fun. Read each choice carefully and make your pick! Come back to see how your choice compares against others.