Men's Skin Care Regimen Hacks
Are you looking for an easy to follow men's skincare regimen? Hoping to put in as little effort as possible to your grooming routine? Want to experience maximum results?
If the answer is yes, you've come to the right place. That's because this post is all about developing a basic skin care routine for regular/daily use that won't take up much time.
As a man, I completely understand how important it is to look attractive. Sadly, we don't talk about our regimens because of outdated societal norms and leftover standards from the past.
And while things are getting better, we've still got a long way to go.
Here's what I know – the personal care market has exploded in recent years. Once considered taboo on the part of some companies, the men's grooming space has exploded into a sixty-billion-dollar endeavor.
That said, conversations between men about "what works" with a skin care regimen are woefully lacking. Let's be honest; it's not like we stand next to one another in the gym locker room say, "Hey dude, your face looks amazing. What's your routine?"
Catch my drift?
And so that's the inspiration for this post – to share with you an easy skin care regimen that is designed to help you look way younger than your years.
In this article, you will learn:
How men's skin differs from women
The importance of cleansing daily
Why you should moisturize twice per day
Why eye moisturizers are a must
Tips for exfoliation
How using a face mask will up your game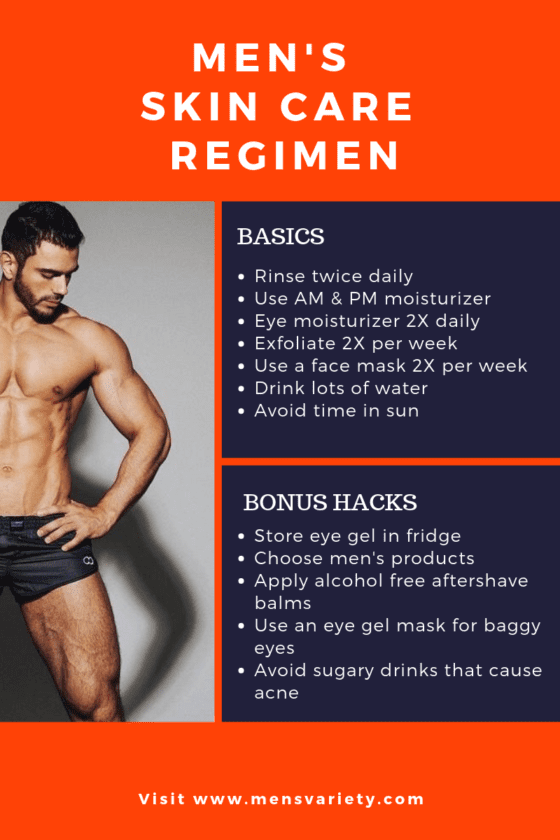 Men's Skin 101
If you are reaching for products that are made for women's skincare, it's time to stop. Here's why: men have completely different skin types than our female counterparts.
The primary differences include guys having a dermal layer that is (roughly) 25% thicker than women. Moreover, men tend to have oilier skin. Lastly, our skin tends to be rougher and denser than the ladies.
QUICK COMMENTS ON ACNE
Are you a man in your thirties or older that still struggles with mild acne? If so, there's likely a good reason for this. Remember when I shared above that our skin tends to be oilier? Well, that's the likely reason behind the breakouts.
I won't bore you will the detail except to say that guys secrete more androgen (a hormone) than women. As androgen gets created and churned out through your pores, it can back up and get mixed in with debris that causes unsightly pimples.
To complicate matters, our pores have smaller oil-secreting sebaceous glands, which equates to us having longer lasting acne.
So, the long and the short of it is this – the products created for women's skin care aren't designed for the unique needs of men.
I'm not saying you should ever use your girlfriend's moisturizer or your mom's cleanser. I'm merely suggesting that in almost all cases, they aren't the best choices for your mug.
Let's move on to the skincare regimen you came here to learn about.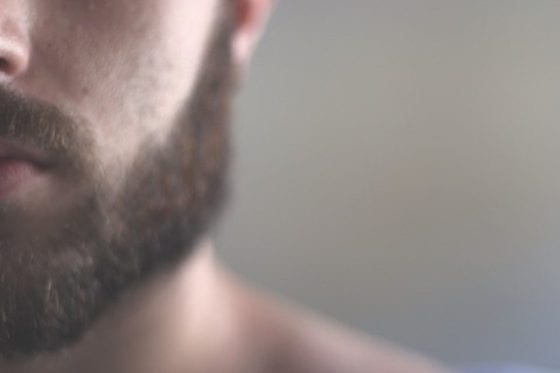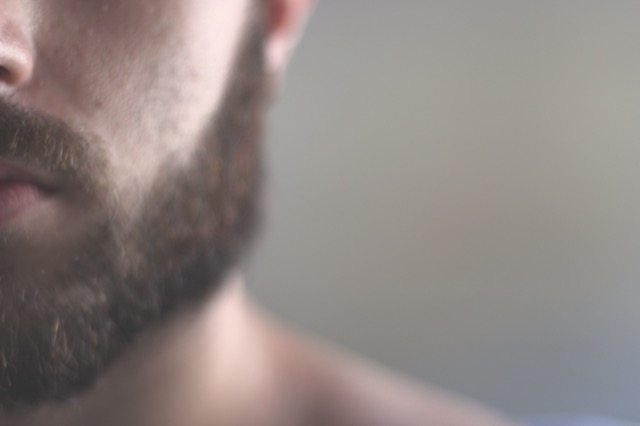 1. Rinse Twice a Day
The most significant thing you can do as part of your skin care regimen is to rinse at least twice a day. Notice that I didn't say "wash".
Rinsing implies that you are splashing water on your face with a light cleanser. Washing, however, is all about deep level cleaning.
The reason you want to rinse is that some of your skin's natural oils (and collagen) needs to remain on the surface to maintain its suppleness.
Cleanser application hacks:
Rinse once in the morning and once at night
Rinsing can occur as you shower
Use warm water only. Hot water will dry your skin out and encourage the formation of lines.
Use light, upward circular motions when applying to face.
Splash water on your mug to thoroughly rinse.
Pat dry your face with a clean towel and never rub. Rubbing can irritate the dermal layer, damage skin, and interfere with collagen production.
MV recommends Tiege Hanley Skin Care System 1 for normal skin types.
For oily skin or acne problems, choose Acne System Level 1
[Get a 20% discount by using promo code MENSVARIETY]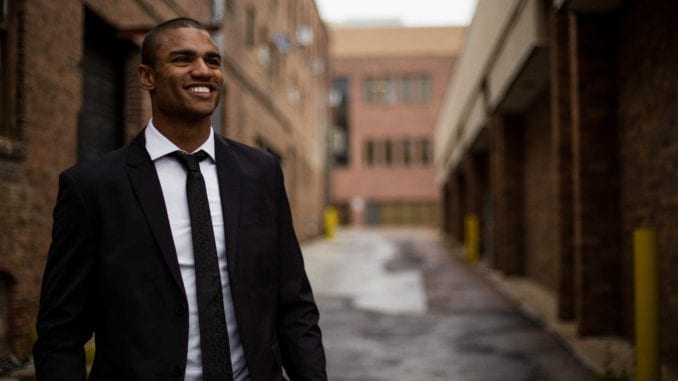 2. Moisturize Twice Daily
Each time you rinse your face, you'll want to apply a moisturizer right after to lock in hydration.
It's essential to use two different products: one for the morning and one for night.
The daytime moisturizer should contain an SPF 30 or higher to block the harmful effects of the sun that can cause premature wrinkling and cancer.
Morning moisturizers are generally lighter and designed to absorb quickly into your dermal layers.
Evening moisturizers do not contain an SPF because the assumption is you won't be around sunlight. They typically are denser and designed to provide maximum hydration to the skin overnight.
Nighttime moisturizers absorb (somewhat) slowly, allowing for gradual infusion to the first and second dermal layers.
Moisturizer application hacks:
Make sure hands are clean to avoid contaminating face with microbes, oils and pore clogging debris.
After rinsing face in the morning, apply morning moisturizer in upward strokes to cheeks.
Use a fanning motion to apply to the forehead.
Use an upward movement when moisturizing the neck.
The best morning and nighttime hydration products for men are sold with the Tiege Hanley kit.
MV recommends their system 1 for normal skin types. If you struggle with oil or have issues with mild acne, consider their acne system level 1.
[Get a 20% discount with promo code MENS VARIETY]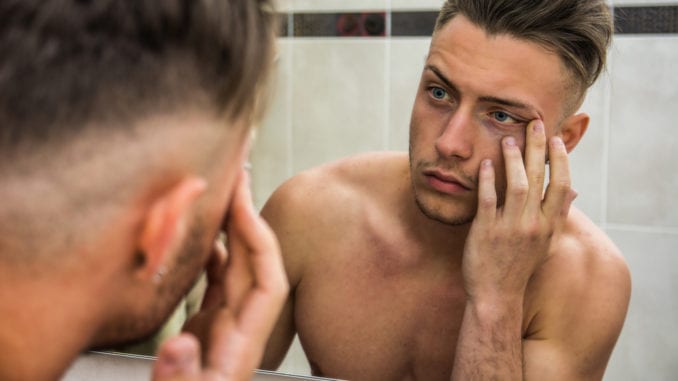 3. Get Your Eyes Twice Daily
The easiest way to tell someone's age is to look at the skin around their eyes. I'm talking about underneath, and the sides.
One of the biggest mistakes you can make when developing a regimen is neglecting this area of your face.
While using a general moisturizer for these areas is OK, the products usually aren't specifically designed to address the delicate dermal parts of the eye region.
That's why you really want to get a product that delivers vitamins and nutrients while coupling as a moisturizer.
If you can find a cream that prevents crows-feet and reduces puffiness, even better. Some products can also help to address unsightly issues like bags.
Quick eye moisturizer hacks:
Keep eye cream in the refrigerator. When you apply, it will go on cool and get help to rid of puffiness, bags, and swelling.
Apply eye cream to face twice daily; once in the morning and again at night.
Dot the product around the eyes with a clean finger.
Gently use upward motions, making sure you hit the skin under the eye and around the sides.
Pat dry any excess.
MV highly recommends Anew Ultimate Eye Cream, which believe it or not is made by Avon. We've read rave reviews on this product. Moreover, this cream is designed for men and women, making it unisex.
Anew eye cream is fragrance-free and has been clinically tested by dermatologists.
Finally, if you are looking for an eye cream that comes as part of a kit, you can also get the Tiege Hanley Level 1 System and use the Promo Code MENS VARIETY for a 20% discount.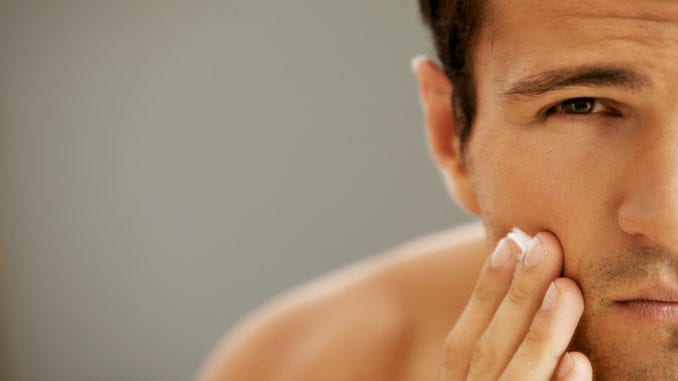 4. Exfoliate Twice Per Week
Exfoliation is nothing more than the process of removing dead skin and other debris from the dermal layer with a specially designed scrub.
But you probably already knew that, right?
What you may not have known is that exfoliation also encourages collagen growth; a gel-like substance that your body produces and gives your skin a youthful, elastic appearance.
To learn more about collagen and it's importance to your appearance, see this anti-aging mistakes page for men.
Using an exfoliator twice weekly will help brighten your skin's tone and minimize dullness. It's also critical for keeping pores clean and minimizing their appearance.
Quick exfoliation hacks:
Choose a scrub that contains natural ingredients and not a bunch of harsh chemicals or alcohol.
Pick two nights a week to exfoliate and make it part of your regular regimen.
Wash hands before applying the product to avoid skin contamination through germs or debris.
Rinse face before applying scrub to create surface wetness.
When applying a scrub, place a dime-sized amount on your fingertips and use a circular, upward motion.
Once you are done exfoliating, rinse face thoroughly with warm water. Use a cleanser if necessary to remove excess product.
Use a clean towel to pat dry your mug.
Apply evening moisturizer from step two above.
You have lots of choices for exfoliation. MV recommends that you pick something that designed for men's skin. An excellent one to consider is Elemis Energizing Skin Scrub (see Amazon).
If you want to simplify your skin care regimen, you can also you the exfoliator that comes with the Tiege Hanley system 1 kit for normal skin (see link).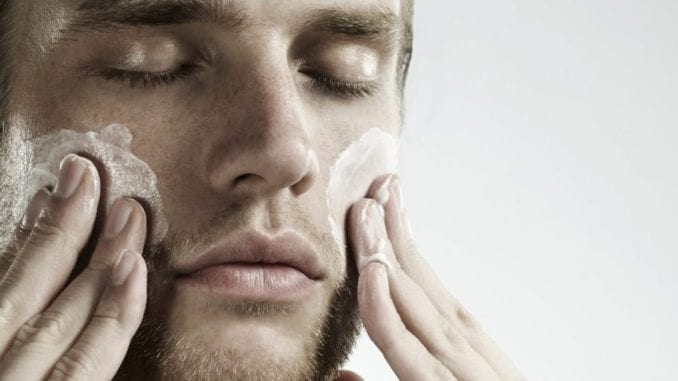 5. Use a mask once weekly
One of the smartest things you can do to increase the attractiveness of your mug and vibe out a more youthful look is to use a face mask.
Masks are designed to pull out impurities from the top and bottom dermal layers. They also tighten pores and encourage collagen production.
For many guys, the problem with using these types of grooming products is not knowing what to get.
The best way of figuring out the answer is to know your skin type.
Dry skin types should use a collagen sheet mask to lock in moisture.
Oily or combination skin-types should use a simple clay mask. MV recommends Rugged and Dapper's detoxifying mask designed for men (see Amazon).
Quick Men's Mask Hacks:
At a minimum, use a mask once weekly, preferably at night when you can put it on and relax for 10-15 minutes.
When putting your mask on, make sure hands are clean.
For a sheet mask, rinse face and pat dry before application.
For a clay mask, follow the specific directions provided by the manufacturer. Some masks couple as cleansers.
Allow skin to "breathe" after mask application. Wait five minutes before rinsing. Afterward, reach for your moisturizer.
Some guys like to mix and match masks, meaning one evening they will use a sheet mask and another night they'll use clay.
The choice is yours – much will depend on your skin type and unique needs.
BONUS HACKS
To help you look your best and get your handsome on, we're including several more tips here. Use what feels right for your situation.
Consider using a cold pack designed to address puffiness and reduce swelling. See Amazon for price.
Take vitamins made for men to nourish your skin. Bodybuilding.com makes an EXCELLENT supplement that offers everything a guy needs. See link to learn more.
After each shave, make sure to use a balm and not an alcohol-based aftershave (they dry your skin). MV recommends products with mostly natural ingredients. Check out our review of Proraso Aftershave
Avoid touching face whenever possible because your fingers and hands can transfer pore-clogging debris (plus germs) to your mug.
Drink at least 8-10 fluid ounces of water daily to hydrate your dermis and prevent dryness.
Get plenty of sleep (7-8 hours nightly) so that your skin has a chance to regenerate and renew.
For red, blotchy skin, consider using a product designed to address the problem. Eucerin Redness Relief overnight cream is FANTASTIC. Check out Amazon for price.
Wrapping Things Up
Let's recap what we've explored here and get you on your way to younger, more attractive skin.
As you can probably see, developing a men's skincare regimen is unique to each guy. At a minimum, you'll want to:
Use products designed for men
Rinse your face twice daily
Moisturize with a morning product and something for night
Apply an eye cream twice daily
Exfoliate two times weekly
Consider use of a sheet or clay mask
Address other skin problems that are specific to your situation.
I could go on forever and a day about how your diet influences your skin's appearance and the importance of reducing stress. I suppose that will have to be another blog post. Otherwise, this one will never end.
Hopefully, the information shared on this men's skin care regimen post has been useful to you.
Thanks so much for stopping by!
–
References:
Global Male Grooming Products (2018). Research and Markets
Photo credits: Deposit photos
Related Men's Grooming Posts
10 best products for thicker, fuller hair
A Man's guide for coloring your own hair
Skincare for men in their thirties