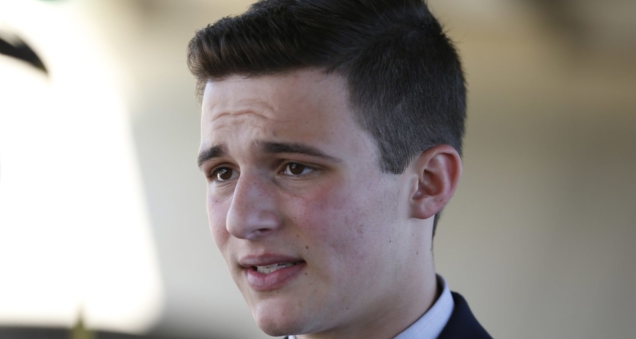 A Parkland High School shooting survivor is calling out GOP politicians who have offered "Thoughts and Prayers" about the recent massacre of students with an AR-15 assault weapon.
The killer (who we will not name because he is not worthy of being remembered) was a student at Stoneman Douglas High School in Parkland, Florida.
He used an automatic rifle (just one of five he purchased over the past year), to slaughter innocent people, according to a report shared by CNN.
In the past, the murderer previously expressed his hatred for gay people, agreeing with one Instagram poster's anti-LGBT views, saying gay people should be shot in the back of the head.
A senior at the school, Cameron Kasky, has spoken out about the entire incident and told CNN's Anderson Cooper, that the time for empty rhetoric from GOP politicians is over.
He shared, "There's a section of this society that will just shrug this off and send their thoughts and prayers, but will march for hours when they have to bake a rainbow wedding cake."
He also said: "Everything I've heard where 'We can't do anything' and 'It's out of our hands, it's inevitable' – I think that's a facade that the GOP is putting up.
I think that's what they want us to think. I think that after every shooting, the NRA sends them a memo saying: 'Send your thoughts and prayers, say let's not talk about it now, say this happens.
This is the only country where this kind of thing happens. I've been hearing things from people; they don't have gun drills the way we do. "We had to prepare extensively at Stoneman Douglas, and that shocked people. This is something that can be stopped, and this is something that will be stopped."
Kasky also attacked Republican Senator Marco Rubio and Governor Rick Scott, who he believes are "the only people who don't care".
Earlier this week, Rubio was the target of a protest in the style of the Oscar-nominated film Three Billboards Outside ebbing, Missouri.
The messages read: "Slaughtered in school," "And still no gun control?" "How come, Marco Rubio?"
When Cooper mentioned that GOP politicians continue to suggest that gun control shouldn't be discussed so soon after the killings, Kasky made his thoughts clear:
"This is the time to talk about guns," he said.
"Thoughts and prayers are appreciated… but there's much more that can be done, much more that needs to be done, and much more that people like Marco Rubio and Rick Scott are not doing.
And it's scary to think that these are the people who are making our laws, when our community just took 17 bullets to the heart," he said.
Kasky also paid tribute to guards at the school and staff, including football coach Aaron Feis – who gave their life to save students.