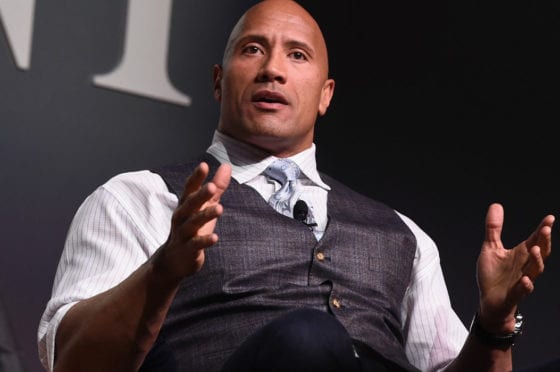 Dwayne Johnson, President, 2020?
Word on the street is Dwayne Johnson is seriously giving thought to a run for the presidency. We're not joking! According to a report in GQ Magazine, the 45-year old California born actor is not joking around.
As silly as you may think that sounds, it can't be ruled out entirely. Dwayne "The Rock" Johnson, one of the biggest movie stars in the world, has declared that running for President of the United States is not out of the question.
He actually went so far as to say it is a "real possibility."
The former professional wrestler turned actor has made comments in the GQ piece to promote his upcoming Baywatch movie – something we just reported on today.
During the conversation with the magazine, Johnson was directly asked about the possibility of running for President of the United States. He's brought it up in the past by the way in a joking way. Now, apparently, things seem to have turned more serious.
He gave a clear, definitive answer. Here's what he had to say.
"A year ago, it started coming up more and more. There was a real sense of earnestness, which made me go home and think, 'Let me really rethink my answer and make sure I am giving an answer that is truthful and also respectful.' I didn't want to be flippant, 'We'll have three days off for a weekend! No taxes!'I think that it's a real possibility."
As Movieweb pointed out:
"It may sound crazy to hear at first, but Dwayne Johnson has clearly put some thought into this answer, as he has been asked about it a lot. That is not to say he is going to put his name on the ticket in 2020, but he won't rule it out, and maybe he shouldn't. The current president is a former reality TV star, and Arnold Schwarzenegger was governor of California for two terms, quite successfully.
Were it not for laws preventing him from doing so, Schwarzenegger would probably be running for president at some point as well. What Johnson has going for him, at least right now, is popularity. Lots and lots of popularity.
Not reality TV popularity, mind you. People love this guy.
Who's to say he couldn't leverage that into a political career? When People named him sexiest man alive recently, the subject was also addressed and, he seems to have a genuine interest in making this country a better place."
Folks, stranger things have happened! Huffington Post realizes this too. And he's apparently getting a lot of attention for the possibility of making a run.
If Antonio Sabato Jr, can toss his hat in for congress, why not Dwayne Johnson for President?
And just in case you are wondering, everything we know about him suggests he's very cool with LGBTQ people.