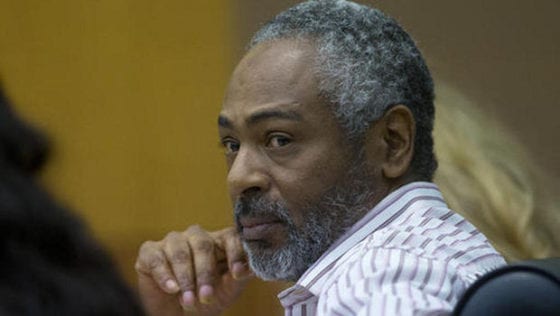 As the couple slept on a mattress, he threw boiling water at them – fresh from the stove 
It only took a jury 90 minutes to convict a Fulton County Georgia man of 10 felony charges for pouring a pot of scolding hot water on a gay couple as they slept.
The crime, as described by prosecutors, occurred in February and was called a "violent, hateful, premeditated attack."
Judge Henry Newkirk then sentenced Mr. Martin Blackwell to 40-years in prison – the maximum allowed under Georgia state law. Blackwell is 48 years old.
Said Newkirk:
"I don't know if you are a soulless individual but you a were a soulless malicious person on Feb. 12."
The trial lasted three days. Blackwell, who is a truck driver by trade, faced eight counts of aggravated battery and two additional counts of assault for the violent attack on the couple – Marquez Tolbert and Anthony Gooden.
"I find that the evidence was overwhelming and the jury found that also. Throughout the time leading up to throwing hot water on these men, the voice of reason could have taken over. You could have filled up that pot of water and emptied two ice trays into and it would have had the effect you wanted," said the judge during sentencing.
He then added:
"They might have been mad but they wouldn't have been hurt. They wouldn't have been scarred."
The gay couple shared they are pleased with the verdict and will sleep better at night. According to news reports,
Said Gooden, "I appreciate everybody who worked with the case. I am happy we finally got justice."
As reported by Project Q, Atlanta: "Tolbert and Gooden described the pain from the attack as the worst they had ever experienced. The incident severely burned both men and the injuries included several surgeries and skin grafts. Tolbert was hospitalized for 10 days, while Gooden was placed in a coma and remained in the hospital for nearly six weeks."
Defense attorney Monique Walker tried to argue that the gay couple's behavior was "disrespectful" and that "there's certain things people sharing a house shouldn't do."
They jury didn't buy it.
Photo credit: CBS News and Project Q