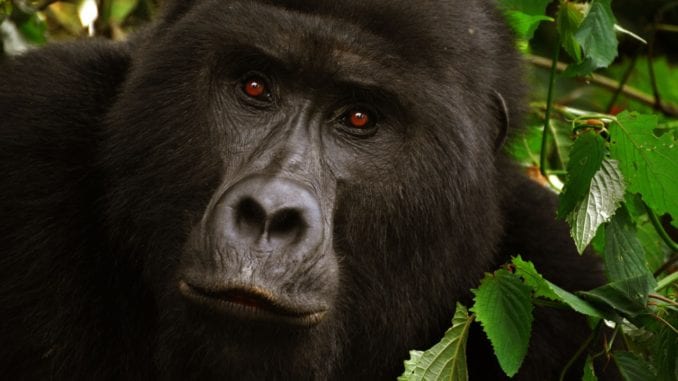 If you are looking for a unique vacation idea, here's some ideas to consider
For many adventure travellers, getting up close with the mountain gorilla in their natural habitat is high up on bucket lists.
However, if spending time with some of the strongest animals on the planet is your goal, you're going to need to know some things before you hop a flight to Africa.
Mountain Gorillas
Made famous by the work of the late primatologist Dian Fossey and the award winning film "Gorillas in the Mist," the mountain gorillas are a critically endangered species that live in a small region in central Africa.
Known for her research, activism and protection of the rare animals, Fossey was mysteriously murdered in 1985 and her death was never solved. Over the years several theories have been put forward that she was killed by poachers as well as the possibility of a rival research scientist being involved in her death.
After worldwide outcry at the plight of the gorillas, due in great part to the efforts of Fossey and her tragic story, active conservation and protection has given way to a dramatic rise in their population numbers.
Down to about 250 during the time of Fossey's work, the population has rebounded to over a thousand of the gorillas today.
Interaction with the species is now highly regulated and protected by local governments and rangers, but tourism is an important way to raise funds and attention for the endangered animals.
Where To Go?
There are two main mountain gorilla populations in an area where several countries border each other. You can start your journey in Rwanda, Uganda, the Republic of Congo or the Democratic Republic of Congo.
Make sure that you use a repeatable tour company such as Wild Whispers Africa or Insight Safari Holidays. These are by no means the only ones, but do your research. You can always check with groups such as the Bwindi National Park if you have concerns about the legitimacy of a company.
If a package offers you more than an hour or special interaction with the gorillas, it's not a legal tour and could be a scam or poachers.
Another way to know you are getting a legitimate tour is to look for ones that are endorsed by world-renowned primatologist Dr. Jane Goodall. Tours that work with her organization will proudly feature her stamp of approval.
What To Expect
Government issued Gorilla Permits are required and also limited in availability. So make sure you plan in advance. This is not the type of trip you can arrange at the last minute.
Ranger teams track the gorilla populations in the wild and communicate via radio as to their whereabouts so you are guaranteed to see them. However, be prepared to spend most of the day hiking for that small amount of precious time with the animals.
Due to laws to protect the gorillas, your interaction is highly supervised and limited to about an hour. Official rangers will escort you and watch closely during your time with the gorillas.
Rangers are very stringent about the rules. If you miss a briefing or even show signs of a cold, you will not be allowed to participate.
While the gorillas are still wild, they are used to human interaction and viewing. You will not be allowed to approach the gorillas for your safety and theirs. However, you will be instructed on how to interact with them safely if the gorillas approach you.
Related: How to plan a jungle vacation
Photography is absolutely allowed and encouraged as long as you pay attention to the rules and the instructions from rangers.
What's It Going To Cost?
In addition to your airfare and travel to the region you are going to need to purchase the government issued Gorilla Permit. You cannot venture on an expedition without one and prices vary greatly by country, ranging from a low of $600 in Uganda to $1,500 in Rwanda.
A simple excursion of three days with a gorilla trek and basic accommodations will run you between $1,100 and $1,700 depending on the country of origin and the number of people in your expedition. Make sure to inquire if your gorilla permit is included with the package price.
Your tour company can arrange these permits. Some companies such as Magical Gorilla Adventures will help pay for your permit as part of your package.
If you want luxury accommodations or want to add other activities like a safari, cruise or other expeditions, your price will increase. GA Adventures offers an extended 15-day overland trek that includes time with the gorillas as well as a cruise that starts at about $2,700.
What Is Included In A Tour?
The great thing about these types of tours is that since you actually can only spend so much time with the gorillas, it allows you the opportunity to see what else the region has to offer. If you are going to fly this far to have an experience, make sure you take advantage of the trip.
A shorter expedition gives you one day with the gorillas in the wild, while longer tours can also include boat cruises where you will see other African wildlife including hippos, rhinos, birds and animals as they come up to the water's edge.
You can also add hiking trips and safaris where you will be able to view elephants, giraffes and all the wild animals for which Africa is known. There are also trips to local volcanoes and jungles.
Some tours offer a chance to see the compound where Fossey conducted her work and met her untimely demise while she fought to protect the gorillas. As a memorial to her legacy, Fossey is buried in the area and you can pay your respects.
While the full experience is not inexpensive, it's a chance for a once in a lifetime journey.