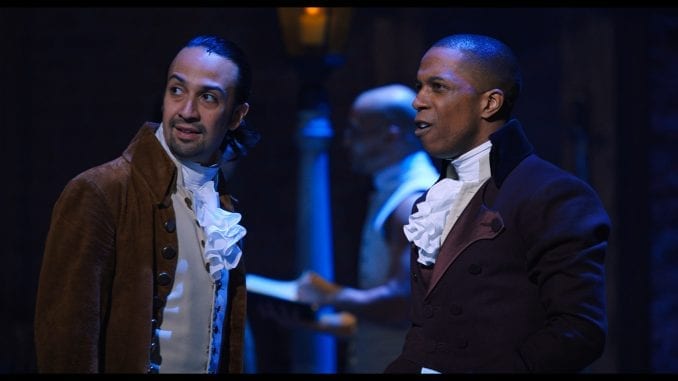 Hamilton On Disney+
Get ready for the next big entertainment moment.
We've seen it happen time and time again. From people getting enamored with reality streaming programs like The Circle, Love Is Blind, or Too Hot To Handle, to juggernaut documentary programs like Tiger King, and hard R rated films like 365 Days, there have been plenty of big moments in the streaming world since coronavirus-related lockdowns started.
But, we're about to see a tsunami of a streaming moment take over the internet.
A few months ago, Walt Disney Studios announced that the theatrical version of Broadway hit musical Hamilton will release a year early. Instead of premiering the film in movie theaters, Disney will air it on the Disney+ streaming service this July 3rd.
On top of this, the actual performance is a high-resolution recording of the original Broadway cast, including creator Lin-Manuel Miranda as the starring role.
But what do you need to know before the film drops later this coming week? Here's all the info down below.
Where and When Can You Stream It?
Again, the movie will appear on Walt Disney Studios' streaming service Disney+, which launched last November. As Miranda himself joked earlier this year, it will be right there along with A Goofy Movie and Tailspin. Specifically, the film will drop at midnight PT (3 a.m. ET) on July 3.
What Is It About?
The hit musical is based on Ron Chernow's 2004 biography about the titular American founding figure. Miranda discovered the book in 2009 and started developing hip-hop music based on his reading. That later became a concept album and then a musical.
As Chernow told the Sydney Morning Herald, "Almost the first thing he said to me after we were introduced was, 'Ron, as I was reading your book on vacation, hip-hop songs started rising from the page.' " Chernow laughs at the memory. "And I said, 'Really?' That is not exactly a typical response to one of my books."
The musical follows Alexander Hamilton's life from being an orphaned immigrant to becoming an ambitious leader within the American Revolution.
It also follows his many relationship with fellow founding fathers, his many love interests, and his rivalry/friendship with fellow founding father Aaron Burr, played by Leslie Odom Jr. It even includes Hamilton's tragic death.
Is This A Movie Adaption?
No, this is what Disney's calling a "live capture," meaning it's a recorded live performance of the original Broadway cast performing the entire stage production. It was filmed at the Richard Rodgers Theatre in New York in June of 2016.
Related: Is Tubi worth downloading? 
As Miranda told Good Morning America, "it was basically a three-day film shoot with the best-rehearsed cast in the history of the movies, because we had all been doing the show for a year at this point."
In addition, the director, Thomas Kail, has done a great job of playing with the camerawork for the movie. From close-ups to wide shots and more, this experience will be both intimate AND dynamic.
Any Content Warnings?
While primarily family-friendly, the original stage production of Hamilton includes three f-bombs within its story. In order to keep the show at a solid PG-13 rating for Disney+, two of those f-bombs were cut.
That, of course, means that one remains.
How Long Is It?
The full play runs to almost 3 hours. But don't worry! There WILL be an intermission and a one-minute on-screen countdown towards the end of that break.
How Do I Get Disney+?
If you don't have Disney+ or don't know anyone who does, don't worry! You can get the service for just $6.99 a month. That way, you can enjoy the musical without having to commit to more than a month. Or if you decide to keep Disney+ later and don't want to spend $6.99 a month, you can sign up for a $69.99 a year deal instead.
This means, you'll pay for a whole year upfront, but basically play what sums up to $5.83 a month.
Get Hyped For Hamilton
Hamilton is just around the corner. Get your Disney+ subscriptions ready, or get with your friends who have the streaming service in your corner. Feel the excitement, folks! 'Cause Hamilton is about to premiere and the world will never be the same!