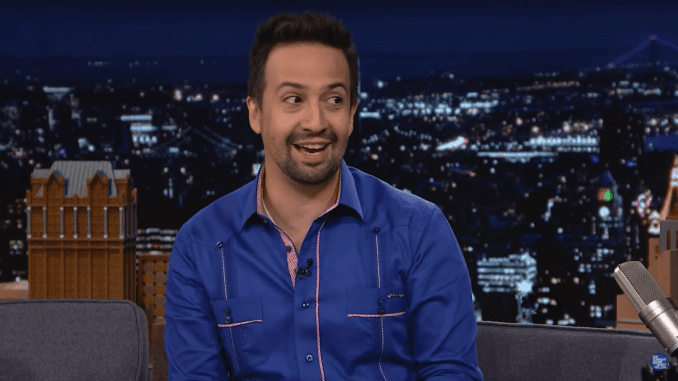 Lin-Manuel Miranda Facts
It seems like Lin-Manuel Miranda is taking over the entertainment business. Whenever there's a musical popping up in Hollywood, there's a good chance that Miranda is involved. And while the creative isn't so invested in Broadway anymore, he's known for one of the most popular musicals to come out of New York City in the past decade. And, his first Broadway hit has just premiered in theaters with a film adaption.
But who is the man behind the growing musical empire? What are some fun facts about the Emmy, Grammy, Oscar, and Tony award-winner? If you want to find out, check out our facts list down below!
Pop File: Lin-Manuel Miranda
Birthday: January 16, 1980
Birthplace: Washington Heights, New York, NY
Zodiac Sign: Capricorn
Height: 5 feet 9 inches (175.26 centimeters)
Eye Color: Dark Brown
Body Type: Average
1. Lin's Name Came From A Vietnam War Poem
A great start to the facts list about Lin-Manuel Miranda is a fact about his name. The name Lin-Manuel comes from the poem "Nana roja para mi hijo Lin Manuel" by Puerto Rican poet José Manuel Torres. Miranda was born in New York to Puerto Rican parents and they wanted to raise him with an appreciation for art and their motherland. Thankfully, it looks like they succeeded in that.
2. His Education
Lin-Manuel Miranda was a smart child growing up. He attended Hunter College High School, which is meant for intellectually gifted adolescents. And, funny enough, he's not the only celebrity to come from that school. Supreme Court Justice Elena Kagan, Frozen composer Robert Lopez, and Journalist Chris Hayes are also alumni. Even Lin-Manuel Miranda's high school bully turned out to become rapper Immortal Technique.
Related: 10 Facts About Hollywood Star John Krasinski
3. He Was Always A Performer
It looks like performance was always in Miranda's future. One of the earliest videos of the future musical icon is of Miranda performing on his childhood bed. And, thankfully, Miranda himself posted the precious video on YouTube.
To caption the YouTube video, Miranda wrote, "'He-Man' bed sheets. Nintendo AND Malcomn Jamal-Warner [sic] poster. Suppress your jealousy. 'All In The Family' is on, in my room, so I occasionally space out and watch that, and check the lyric sheet that came with the album."
4. He Loves The Little Mermaid
Lin-Manuel Miranda is a big Disney fan and he especially loves The Little Mermaid. He even named his son after the character Sebastian. While talking to Good Morning America in 2016, the musical creative explained that The Little Mermaid is why he started making music. In the same year, he got to co-write the score for the fellow Disney princess movie Moana. He got to do that under the guidance of co-directors Ron Clements and John Musker, who directed The Little Mermaid.
"The thing that the directors really imparted to me was this is a part of the world that almost never gets represented onscreen, the Pacific Islands, so we want to honor them. We want to make a movie they can be proud of and that they can point to with pride," Miranda said.
But that's not all, Lin-Manuel Miranda is also writing the lyrics for the live-action remake of The Little Mermaid. He's also working with the first film's composer Alan Menken.
Related: 7 Facts About 'Hamilton' Star Anthony Ramos
5. Miranda co-founded a hip-hop improvisational comedy troupe
While studying at Wesleyan University in Connecticut, Miranda formed a hip-hop comedy troupe called Freestyle Love Supreme. Members would beatbox and freestyle rap after reading topic suggestions from audience members. All they had to support them was the help of a keyboardist.
The group has continued to be so successful that they held their 15th anniversary during a Broadway run between 2019 and 2020. They also had a documentary about them called "We Are Freestyle Supreme."
6. He wrote In the Heights In College
While being a part of Freestyle Love Supreme, Lin-Manuel Miranda created the musical In the Heights. The hip-hop-heavy slice of life story about the prominent Latino neighborhood Washington Heights, New York later became a Tony-winner for Best Musical. And, it is now running in movie theaters through a film adaption.
As he said during a 2012 Q&A with The Harvard Crimson, "I had the sort of dream-come-true situation of someone who wrote a show in school and actually got it up professionally, which does not happen often," Miranda told The Crimson.
Related: 8 Facts About 'The Mandalorian' Star Pedro Pascal
7. He Was Once A Teacher & A Jingle Writer
Before he'd made it big in the entertainment industry, Lin-Manuel Miranda was an English teacher. In fact, he finished In the Heights while teaching English to seventh-graders. As Miranda told Education and Career News, being a teacher was one of his most rewarding jobs.
"It wasn't about getting up in front of the class and having all eyes on you — that's not how great teaching happens," Miranda told the outlet. He continued, saying, "The finest moments of teaching are when you're not saying much at all; when you're lifting the discussion up and keeping the ball in the air for the kids to draw from each other. Like great actors, great teachers know how to listen. It's not about being in the center, it's about being part of the moment and being present."
But on top of teaching, Lin-Manuel Miranda worked as a restaurant reviewer for the Manhattan Times. Miranda also supported himself by writing campaign jingles for politicians.
8. He Married His High School Crush
Lastly, Lin-Manuel Miranda married his high school crush. Another win for Miranda!
Miranda married lawyer and scientist Vanessa Nadal in 2010. But, the two first met at the Hunter College High School. Vanessa was two years younger than Lin-Manuel, and he couldn't build up the courage to ask her out. Thankfully, the two met later on in life and Lin-Manuel found the courage to talk to her. And now the two are married and parents.
Good for Lin-Manuel Miranda.