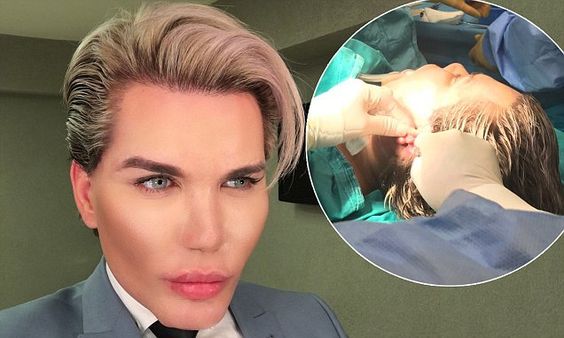 " I must have had far too much to drink"
Rodrigo Alves, the gentleman known as the "Human Ken Doll" has gone public with a personal story of horror. Specifically, he was apparently drugged and robbed by several prostitutes while he was partying in Marbella, Spain last week, according to U.K. tabloids.
Alves, who reports being with a female friend, shared that he believes his beverage was spiked at the exact moment a group of women began taking selfies with him.
He goes on to claim that the women stole four hundred bucks from his female companion's handbag and stuck him with a six-hundred-dollar bar tab. The prostitutes allegedly convinced staff at the club they were friends with the reality television personality.
"I got really drunk, we got our drinks spiked, we got mugged," he told the the tabloid. "They stole $400 out of her purse, and they left with me a $600 bar tab to pay. There was nothing I could do about it.
via GIPHY
"So I went to pay the bill, and my friend said, 'I'll help you,' but when she went to get money out she said, 'Oh my god, those girls have taken my money too,'" Alves, 34, added.
In talking with The Daily Mail, Mr. Alves, who has had nearly $600,000 worth of plastic surgery, said he awoke up the next morning with his faux teeth (veneers) smashed all over his pillow.
More: Human Ken Doll flashes 30K worth of fake abs!
"I am man-made from head to teeth, and [on Thursday] morning I woke up without three of them," he stated. "I had to run to an emergency dental clinic, who were able to glue and fix my big porcelain veneers."
Asking how his teeth popped out of his mouth, Alves revealed it must have been self-induced.
"I have been partying far too much and I guess that I must have had far too much to drink," he told The Daily Mail. "During the night, I must have been having some kind of nightmare which made me rub my teeth against each other leading to them falling out."
He added: "I have been getting a lot of critics about the look of my teeth, saying they're too big and too fake. The dentist here in Marbella said that I should wear a mouth guard from now on to avoid having further issues."
Despite the unfortunate incident, he told The Mail he'll continue to have more surgeries.
"Being a live human Ken Doll has never been easy. It takes constant maintenance. Bits fall off and need repairing now and again," he said. "I am 34 years old now and I have had two hair implants and I'm due to have another one in few weeks, simply because I was not born this way. I made my self this way with nearly 60 plastic surgeries and more the 100 aesthetic procedures."
h/t: The Daily Mail